The Jim Moran School of Entrepreneurship Has Grown Dramatically
Producing top-notch entrepreneurs that think beyond the classroom.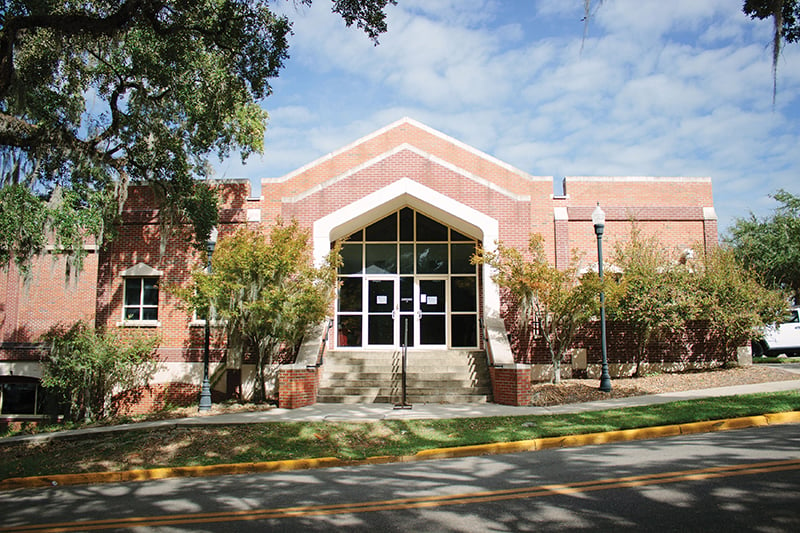 More than one year into its life, the Jim Moran School of Entrepreneurship believes it's doing what it was conceived to do. It's producing entrepreneurs.
Plus, its leaders say, it's bigger and bolder, and it has been on the move. The school settled at the start of this academic year into a new home in Florida State University's Shaw Building.
Meanwhile, it maintains a key presence at its original state-of-the-art location in the downtown Jim Moran Building, site of its startup incubator and headquarters of The Jim Moran Institute for Global Entrepreneurship.
Since fall 2017, the school has grown from 80 students to about 600, largely the result of the absorption in January of FSU's Retail, Merchandising and Product Development department and its 450 students.
The school said it plans new initiatives such as an entrepreneurship and innovation learning community for freshmen. It also plans to continue established programs such as its InNOLEvation Challenge, a business-model competition for students from all majors that started when FSU's entrepreneurship program fell under the College of Business.
The school touts itself as "the first interdisciplinary entrepreneurship school in the country with entrepreneurs as faculty from almost every college at FSU," and school officials say they've gotten the national academic community's attention.
"When I go to conferences where there's faculty from other universities, they're hearing about what FSU's doing," said Wendy Plant, director of the Jim Moran School's Center for Student Engagement. "I've had many people approach me with, 'Gee, are you hiring?' So the word is getting out that this is an exciting place to be."
The school opened in fall 2017 after a $100 million gift to FSU from Jan Moran and The Jim Moran Foundation. Jan Moran is the widow of the school's namesake, an automotive-industry pioneer who built his businesses in Chicago and later in South Florida.
The university hailed the donation as the largest single gift to a public university in Florida's history.
"I think we're very, very lucky," said Susan Fiorito, director of the Jim Moran school. "Mrs. Moran's gift was not only generous but also very insightful as to what our community needed to support entrepreneurship."
School officials tout the Jim Moran school as a resource for all students, not only for entrepreneurship majors. Any FSU student can apply to become a member of the school's business incubator, where they can attend presentations on areas such as accounting, finance, marketing and law.
"It's my goal to be able to touch every student on this campus with some entrepreneurial idea, to give them access to ideas and people and competitions and classes, maybe workshops," Fiorito said.
Molly Cloonan, an economics major who graduated in May, said she had no interest in staring her own business in the spring of 2017, when her academic adviser suggested a course on social entrepreneurship.
She came out of it with her own business: Social Safe, an app, aims to prevent sexual violence on college campuses.
"Of all of the classes that I took at FSU, it was by far the most effective class I had because it was a lot more personal and a lot more hands-on," Cloonan said. "I always tell people that I basically got a degree in entrepreneurship."
The social entrepreneurship course directed students to identify a social problem and to build a product to help solve it. Creators of the top three products competed in a business-pitch competition, which Cloonan won.
She said professors Mark McNees, founder of RedEye Coffee and an entrepreneur in residence at the school, and Sam Staley, who wrote a book on sexual assault at colleges, helped her with a business plan and with her business-pitch preparation.
Then, through an individual study course with McNees, she said, she learned how to register her business and made contact with lawyers and tech-industry players, including a graphic designer. Along the way, she won awards and prize money.
Cloonan's app helps potential victims of sexual assault to contact friends and family before a situation escalates. It gathers audio and video evidence and includes GPS features that help law enforcement locate a potential victim.
Success stories from the Jim Moran school's first year also included, among others:
a group of students who won $15,000 in one competition for DiaTech, a biotechnology company that focuses on diabetes care;
Hannah King, recipient of a national Future Founders fellowship after she created Woven Futures, which supports indigenous Guatemalan women in craft making and sales;
Jessica Bachansingh, who won the Most Viable business prize for Gifts for Confidence, which teaches young Ethiopian women how to sew infinity scarves that they can market and sell.
The Jim Moran school offers majors in retail entrepreneurship, social entrepreneurship and commercial entrepreneurship. Fiorito said the school is pondering whether to let students build their own majors.
"I think we need to be innovative and creative in how we're growing," she said.
The school's new location, which keeps undergraduate students on campus, includes 31 offices, a student-collaboration room, two labs and a conference room.
Fiorito said the downtown location will continue to host speakers and statewide competitions. She said it also soon could house a graduate entrepreneurship program.
"It's been an absolutely amazing experience being a part of a college startup that's actually an entrepreneurship school," said McNees, the RedEye founder and entrepreneur in residence. "It's been fast and furious like all of the other startups I've been part of — creating systems and curriculum and pivoting and learning along the way. We've had some amazing success out of the gate."