The Gulf Rush
Real estate sales hit historic levels on the Emerald Coast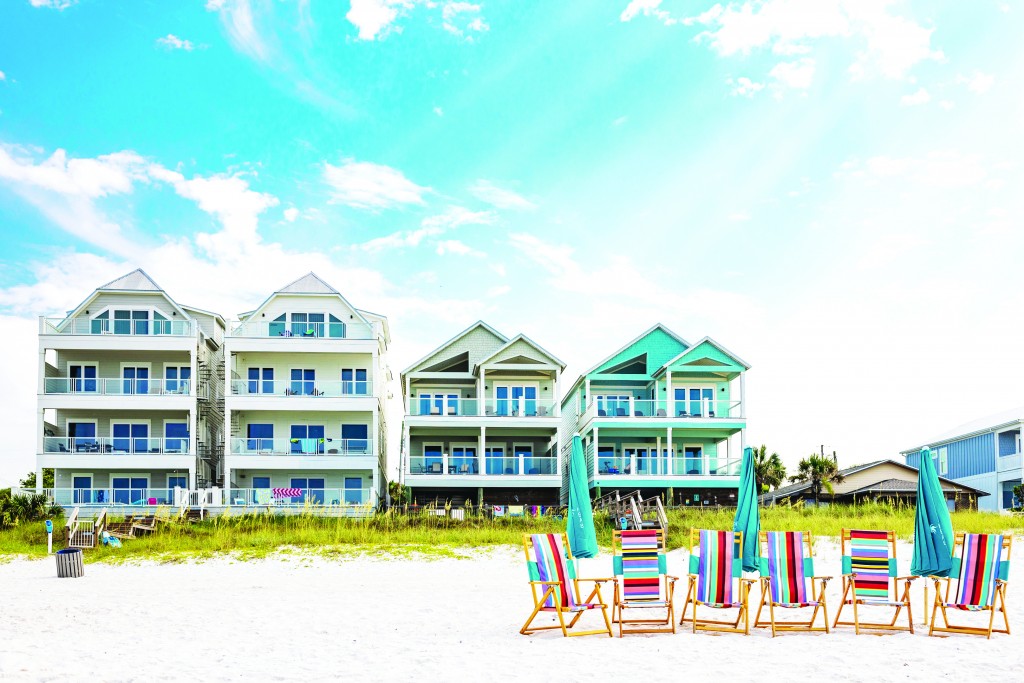 The Florida Panhandle's Emerald Coast is, well, a gem. With impossibly clear, blue-green waters, white sugary beaches and glorious sunsets, this area is a treasure, and people are rushing to claim their little piece of it.
Much like the Gold Rush in the mid-ı800s, people are coming from all over to this stretch of coastline, seeking to enrich their lives — not just monetarily, but with less commuting, less taxes, more beauty, more peace and, especially following the pandemic, more freedom.
New homes in the northwest part of the Florida Panhandle are as sought after as gold 200 years ago and can be almost as hard to find.
"20ı9 was our biggest year ever with $5.9 billion in residential sales," said Keith Dean, CEO of the Emerald Coast Association of Realtors (ECAR), which covers Okaloosa, Walton and parts of Escambia, Santa Rosa and Bay counties. "Even with the pandemic and everything shut down for the whole month of April, we still did $8.4 billion in 2020."
He said by mid-May 202ı they were already at $4.5 billion and on track for a
$9 billion year.
"Everything is happening so fast," he said. "It's unbelievable to see."
The neighboring Realtors association is seeing equal activity. According to the Central Panhandle Association of Realtors (CPAR), which is the multiple listing service for five counties in the Florida Panhandle — Bay, Calhoun, Holmes, Jackson and Washington — the residential sales volume as of June 7 was $ı.99 billion. Sales for June were already up 60.8 percent over last year with three weeks left in the month.
Figures for March showed closed sales of residential property in just Bay County were $255 million, an increase of ı00.8 percent over March 2020, which was up nearly 5 percent from the year before.
Residential listings are on the market an average of only 2ı days. Many of the homes are sold as soon as they are listed.
CPAR President Amanda Corbin said, "People are putting the offers in before they come to town because by the time they can drive here or fly here, the property's gone. So, I recommend to all my people to put the offer in and then come because, if they don't do that, they've lost it before they could ever even get in the car."
She said a buyer put in an offer more than $5,000 over the asking price on a home as soon as it came on the market. By the time the Realtor got the offer written up and submitted to the seller, they had already sold the property for way above the asking price. That Realtor's buyer wasn't even in the running.
Dean said this buying frenzy is different than those during past real estate bubbles.
"Before buyers were very speculative — buying property, hoping they would flip it for a nice profit in a matter of months," he said. "But what we're seeing now is people buying primary residences. They're selling their other home and moving here. Homes are selling for well above asking price within 24 hours."
CPAR CEO Debbie Ashbrook said this strong demand is due to several factors.
Interest rates are very low and will remain low. And, even though prices in the Panhandle are going up, homes are still priced at a good price point compared to a lot of other beach areas.
Panhandle residents devastated by Hurricane Michael a few years ago are just now receiving their insurance money and are looking for new, larger homes.
Also, because of Hurricane Michael, Tyndall AFB is rebuilding and growing, which increases demand for new homes even more.
The Florida Panhandle is rated the top location for vacation investment by several rating groups. Ashbrook said the area's ability to attract tourists draws real estate investment dollars in addition to tourism dollars.
She said with the pandemic, people realized they can work remotely and are coming from across the country to live and work at the beach.
Ashbrook said the pandemic also created a demand for smaller towns and rural areas.
"Because they can work remotely, we get a lot of people moving here from states like New York and California. I'm not meaning to bring politics into it, but I think because we have a governor who's opened our state back up, I guess you could say, they're coming here because of his leadership in the state," she said.
Driving up prices even further is a lack of inventory. In Bay County, there are only 630 homes on the market. That's down 7ı.ı percent from the year before.
Dean said the only reason ECAR may not hit $9 million in sales this year is inventory. He added not only was the inventory very low, but affordable housing was even more scarce. He said he believed there were only three houses in South Walton that were under a half-million dollars.
Builders are trying to keep up with demand but are being slowed by a lack of building materials. The increased costs of those supplies are also driving up costs.
Dean said, "Builders are just as busy as our Realtors are. Our issues are inventory; their issue is labor and materials. The only thing slowing down building in this area is the availability of labor and materials."
The Realtors said low inventory has played a large role in the inflated prices but believe once there is more inventory and more competition, it should level off.
But Dean does not expect demand to drop much at all.
"They're peeling out of the big cities. We've got people from New York, tons of people from Atlanta, Birmingham, Nashville, all over everywhere — all are moving to this area because, you know, it's taxes, it's a beautiful beach and the prices even though they're much higher than they've ever been, they're still relatively low compared to some areas," he said.
"People can live where they want to live, and they want to live here."