The First Domino
A chance meeting led Bay County to a 'whale,' and its harpoon hit the mark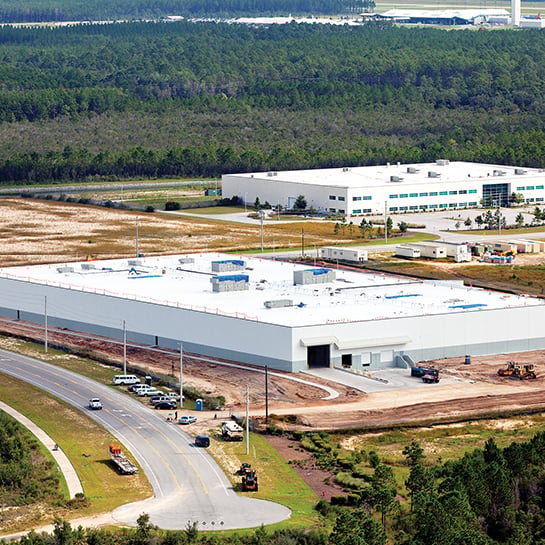 When Neal Wade was executive director of the Bay County Economic Development Alliance, he kept track of every job that was added to the local economy with an outsized thermometer — like those that the United Way once used in connection with community fundraising campaigns. It was his way of saying, in the manner of Gov. Rick Scott, that every job is important.
At the same time, Wade talked about the importance of that first big domino that, once landed, would put Bay County on the economic-development map and stimulate interest by many other companies.
When Wade accepted a position at the University of Alabama, he brought in as his successor Becca Hardin, a one-time broadcast journalist who had served for 13 years as the executive vice president of the Greater Columbus Georgia Chamber of Commerce.
"Neal did a great job of getting the foundation of the Bay EDA stabilized, so when I got down here, I was ready to blow and go," Hardin said.
Good thing. Developments were about to unfold quickly.
Hardin and her husband were brand new to Bay County when a neighboring couple arrived at their townhouse door with a cake as a welcoming gesture. Hardin struck up a conversation with the guy next door — a man in his 60s and with a British accent — and learned that he had moved to Bay County from Alabama following his retirement.
"Where did you work?" Hardin was curious to know.
"You probably never heard of it," said Paul Cocker. "GKN Aerospace."
Hardin, as it happened, was thoroughly familiar with GKN, owing to her industrial recruitment experience in Columbus. Cocker had retired from the job of CEO of London-based GKN's North American operations.
Presently, Hardin asked Cocker to travel with her to the biennial Paris Air Show in 2015. He accepted.
In Paris, Cocker proved to be a "rock star at the exhibition halls and the chalets," Hardin said. "Aerospace is a big industry, but it's a small network. He knew everybody."
The temptation here is to refer to Cocker as Hardin's wing man. Indeed, he served her as a door-opener. Hardin was introduced by Cocker to his successor and learned that GKN had a project it was looking to site.
Bay County was about to bag a whale.
In May, the governor and GKN officials gathered at the VentureCrossings industrial park adjoining Bay County's Northwest Florida Beaches Airport in West Bay and took part in an official and much heralded announcement of the aerospace company's commitment to Bay County: a $50 million investment and 170 jobs with an average salary of $65,000, with operations to commence in November 2017.
At this writing, the 135,000-square-foot building is up, the product of an aggressive construction schedule driven by commitments to customers. (Construction of the building actually began before the announcement event was held.) A few Bay County jobs have been offered internally at GKN to established employees, and GKN may have to look outside the region to find the specialized mechanical engineers they require, but the vast majority of jobs — technicians and manufacturing front-line workers — will be filled from the local labor pool.
While every job may be important, some jobs are better than others and, as Hardin said, "For Bay County, $65,000 is very competitive."
"We're working very hard to help GKN recruit and hire people and get them in training," Hardin said. "We had a career fair in Bay County in April and 300 people showed up. The fair didn't start until 10 and we had a line around the block at 8."
Until loaded trucks are seen leaving GKN's new plant, few people will know exactly what GKN, a manufacturer of aircraft structural and engine components, will be making at VentureCrossings.
And Hardin, frankly, doesn't give a damn.
"As long as they create jobs and are building in our area, it doesn't matter what the product is," Hardin said.
Bay County's large military presence — Tyndall Air Force Base and Naval Support Activity Panama City — was an attractant to GKN, Hardin said. A number of its employees will require security clearances, leading GKN to focus recruiting efforts on personnel exiting the military and members of the military contractor community. For a person without a security clearance, the process can consume two years, time that GKN doesn't have.
Hardin is highly encouraged by GKN's corporate culture.
"When they invest in a community, they are there for the long haul," she said. "And they are very philanthropic. They get involved in the community. They aren't going to be the kind of company that comes to town and just takes, takes, takes. They are already involved in our schools, from K-12 to Gulf Coast State College and FSU PC.
"Already, they are working with (GCSC president) John Holdnak to develop specific curriculum that will relate to their workforce of the future. They will be developing internships and mentorships at the high school level. And they are talking up Bay County to companies they have relationships with. GKN is that first domino we have been waiting on."
Earlier this year, Hardin and a Bay County delegation that included Jennifer Conoley, the Panama City-based senior economic development representative for Gulf Power Co., were back in Paris, and GKN's Bay County project was the talk of the show.
Dominoes, it seems, may be falling. Hardin met with 20 companies during the weeklong show and left with eight solid leads. At previous shows, one solid lead would have been considered a success.
"We have tremendous momentum and we are just trying to make sure that we keep all the balls in the air," Hardin said. "GKN is an anchor project and we are starting to talk to GKN suppliers and MRO (maintenance, repair and overhaul) companies that need to be at an airport. The GKN success is going to breed more success. GKN is going to help convince companies to visit Bay County, and when that happens, Bay County sells itself. We've already garnered international attention."
Hardin is quick to acknowledge the chapters in the GKN success story written by the St. Joe Company, developer of VentureCrossings, and by Bay County community leaders.
"St. Joe has been a critical partner," Hardin said. "We never could have done the deal without them at the table with us. I should write a case study on what we had to do to win this project. There were times when it was in the ditch, but leadership in this community stepped up to the plate and pledged to make it happen. Never was there a time when I said I needed help that people didn't jump in with both feet. They never tired of me calling them on their cell phones."
Hardin is confident that the economic activity at the airport will extend to include other assets in Bay County.
The Bay County EDA is hawking a certified site with existing warehouse space located on 54 acres owned by Port Panama City off U.S. Highway 231, north of Panama City. The site is served by rail that connects it with the port, a situation, Hardin said, that is "almost impossible to find."
And there is more to come at the airport, way more.
"We have multiple sites with access to the 10,000-foot runway," Hardin said, "and three active projects are looking at them. We will fill them within a year or two, there's no doubt in my mind. And, right now, we're applying for permits to develop another 350 acres with access to the runway."
And, wait, there's still more.
BP is sending $300 million in oil spill recovery money to Florida, and Bay is among eight counties that will receive a share of the settlement.
Hardin and Glen McDonald, recently installed as a Gulf Coast State College vice president, have hinted that Bay will be seeking BP money for an advanced manufacturing (3-D printing) project that will revolve around the Advanced Technology Center at GCSC.
"There is a lot of energy with AM and our community right now," Hardin said, referring to the cutting-edge manufacturing process.
"It's a great time to be in Bay County."