The Expansion of Economic Development in Bay County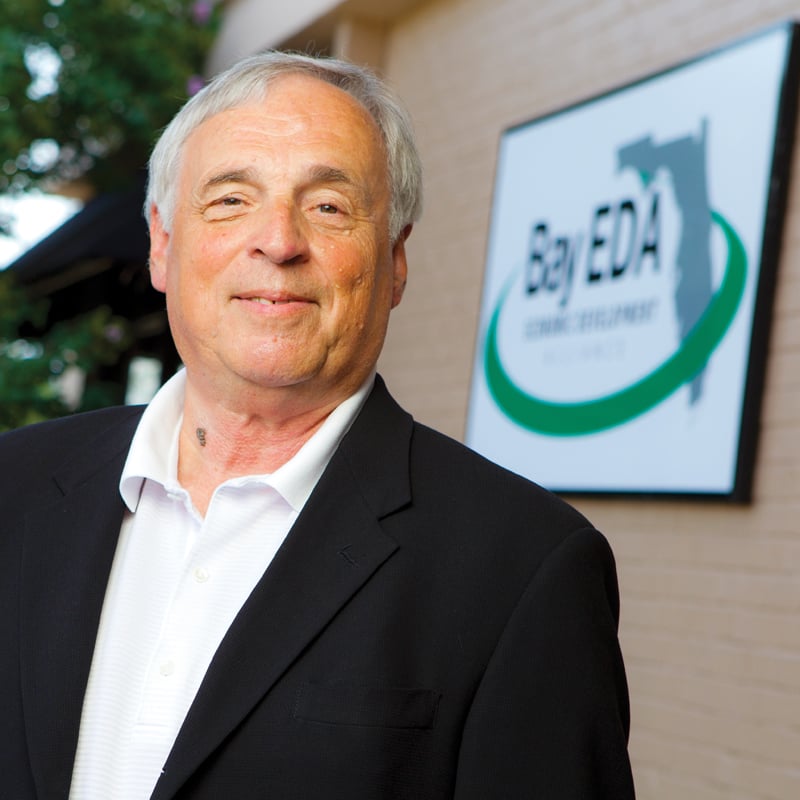 Scott Holstein
Neal Wade, Executive Director of the Bay Economic Development Alliance
Bay County has a lot simmering on the front burner.
"We've got it in the pot. Now we've got to get it cooked and served," says Neal Wade, executive director of the Bay Economic Development Alliance. "We have a lot of things going on. Our whole effort is obviously to convert those projects into real announcements we can make."
Located in the heart of Northwest Florida, Bay County in 2010 was named the No. 1 metro area in the U.S. for its economic growth potential. It is surrounded by seven military bases, is home to the newest international airport in the country, sits in the middle of the southeastern U.S., aggressively seeks out new economic projects, boasts a bustling and growing seaport and has plans for the development of new retail, housing, marina and commercial projects in the works.
"And, of course, our quality of life in Bay County is very attractive to companies that may be looking to move into Florida and the Southeast," adds Wade, whose agency has helped create 3,500 new local jobs since he took over nearly three years ago. "Bay is on an upward trajectory. It's not going as fast as I would like, but I think we'll see some great things over the next three to five years."
Carol Roberts likes to compare the county's economic development efforts to a perfect positive storm getting ready to unleash its power.
"Once we get all the pieces together, it will have an amazing effect," says Roberts, president and CEO of the Bay County Chamber of Commerce.
Panama City officials are working on redevelopment of the marina, asking for proposals that will bring a "substantial economic benefit" to the downtown. The idea is to develop a location, somewhat like The Landing in Jacksonville, that will have restaurants, retail and water access that caters to residents and tourists alike.
"It's kind of a diamond in the rough right now," Roberts says of the marina. "But there is a potential there to generate all sorts of growth and a new image."
courtesy Bay County Chamber of Commerce
Northwest Florida Beaches International Airport
Meanwhile the St. Andrews Bay Land and Development Company is working on a 700-acre project at the old airport in downtown that will have plenty of parks and commercial space, along with public access to the waterfront. And The St. Joe Company has unveiled a 50-year development plan for a mixed-use housing project near the airport that everyone agrees will be "huge" for the community and likely to draw higher earning homeowners to the market.
Panama City and Panama City Beach have seen some shops close, "but it isn't long before a new one pops up," Roberts says.
Pier Park in Panama City Beach even bucked the economic downturn brought on by the Great Recession and has kept opening new stores. Now a North Pier Park has opened and appears to be thriving.
"We have had 50 or 60 new stores open up," says Lance Allison, president and CEO of the Panama City Beach Chamber of Commerce. "Most are in Pier Park."
Tourism-wise, the "shoulder seasons" — basically spring and fall — are gaining more traction with beach visitors. "Businesses don't even shut down any more like they used to," Allison says. "In the fall we now have lots of events and concerts. Spring break keeps getting bigger. And this year we had our biggest July ever."
Wade holds monthly meetings with the EDA's investors (members) to update them on projects. While the individual projects are given code names for the sake of confidentiality, Wade discusses what targeted industry sector each one would touch and how many new jobs it might entail.
For instance, at the meeting in June it was revealed that there were 13 active projects in the works — two involved the retention and expansion of existing businesses and 11 were new location projects. Project Curve involved a manufacturing business. Project Second Base was aerospace-related. Project Apple Blossom was a tech project. The bad news came when Wade announced that Bay was eliminated from consideration for Project Blue Sky because of its time zone, the potential for hurricanes and the relatively small size of the metro area.
But that doesn't dampen his spirit. Wade says the county has four facilities already built that would be perfect for a call center. Meanwhile, state officials say aviation/aerospace is the fastest growing industry sector in Florida — and Northwest Florida is perfectly positioned to attract related companies. Wade has let no grass grow under his feet there, actively reaching out to aviation and aerospace companies to relocate to or set up branches in Bay County. But as part of that drive he says, "We've got to make sure we have the workforce. We're trying to put together a plan to make sure we can train the workers. One of our focuses when we went to Hamburg was to meet with the people who do the training in Germany. I'm hoping we're going to see an internship program begin to emerge in Bay County and do more training even in high school."
And, of course, there is the new airport, with 1,000 acres available for commercial development, much of it with direct runway access.
"The airport remains a magnet for us," says Roberts. "There is a lot of potential, and companies have been looking at it. We haven't literally landed one yet, but there is no way a 10,000-foot runway is going to sit there and not be recognized by the aviation industry."
---
Local
Business
Incentives
Beside many state incentives that are available to new, expanding and relocating businesses, Bay County offers a handful of local incentives for businesses to consider when deciding on a location:
Bay County Economic Partnership
The Bay County Board of County Commissioners, in partnership with the EDA, offers a discretionary, negotiated, performance-based cash incentive to new and expanding businesses that meet minimum job creation and wage criteria. Qualified companies may be awarded from $500 to $5,000 for each full-time equivalent, permanent job created. The award amount is based on many factors, including number of jobs, wage levels, employee benefit packages, capital investment, financial history, economic impact and amount of incentive awards from competing communities.
To be considered for a Bay County economic incentive award, an applicant must:
Operate within a sector that the EDA or State of Florida has designated as a target industry.
Create at least 150 new full-time equivalent, permanent Bay County jobs paying an average wage of at least 115% of the Bay County average annual wage excluding benefits.
Derive at least 50% of its sales or revenues from exporting goods or services out of the region.

Make a cumulative capital investment within Bay County over the life of the project that is greater than the amount awarded through the incentive program.
Economic Development Ad Valorem Property Tax Exemption
The Bay County Board of Commissioners, the City of Panama City and the City of Lynn Haven offer an abatement of the local property tax at the business location on tangible personal property and improvements to real property for a period up to 10 years. In order to qualify, a company must first meet the definitions of a new or expanding business as stated in
s. 196.012 (15) and (16), F.S.
CareerSource Gulf Coast Board and Center Services
The CareerSource Gulf Coast Board is one of 24 regional workforce boards around the State of Florida. It is chartered to address the workforce and training needs of Bay, Gulf and Franklin counties. The vehicle for providing employer and job seeker services is the CareerSource Workforce Center.
Streamlined Permitting
The Bay County Board of County Commissioners works together with the State of Florida's regulatory agencies to provide quicker, less costly and more predictable permitting processes for significant economic development projects without reducing environmental standards.
Special Regional Incentive — Oil Spill Recovery Incentive
The University of West Florida's Office of Economic Development and Engagement was tasked with managing and administering $30 million over three years (2012–2014) to aid in job creation and economic diversification within the eight Northwest Florida counties disproportionally affected by the 2010 Deepwater Horizon oil spill. Bay County is one of the eight designated counties. The grant program was intended to support new job creation, not to be a substitute for oil spill damage claims.
Source: Bay County Economic Development Alliance