The Cutting Edge
Catalyst Fabric Solutions brings new technology and needed jobs to Marianna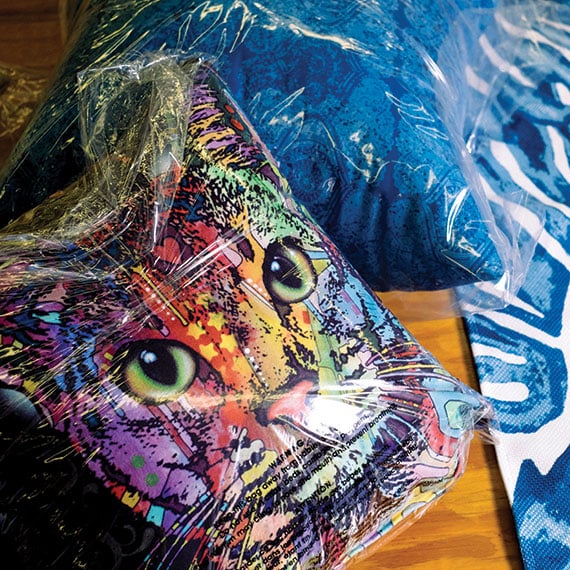 Marianna might not be a place that immediately comes to mind when you think of state-of-the-art technology. But the town of about 9,200 people in Jackson County has recently become home to a company at the forefront of a revolution in textile manufacturing.
Catalyst Fabric Solutions is working with digital dye sublimation, a printing technology that uses heat to transfer dye to fabric or other surfaces. The company has coupled this technology with a custom order automation system. When a customer places an order online, it is digitally communicated to the company's equipment to immediately begin printing the order.
Since personnel are not needed to take and set up the order, the technology enables orders to be printed faster and cheaper than ever before. The company can receive orders as small as one item (say, for example, a decorative throw pillow) and have it manufactured and shipped within 72 hours. Catalyst's efficient technology allows it to be profitable, despite the fact that the company doesn't conform to conventional manufacturing practices.
"That's what makes our business very unique," company director Bill Finley said. "As opposed to a traditional textile operation, where you make one product but you make 10,000 of them, I make 10,000 products, one at a time."
More Variety, More Choices
What this means for the consumer is that rather than having only a few hundred product options, he or she now has almost limitless options to choose from.
"The reason why I think we are growing is because at the end of the day, because of the way our process works, we're giving the end consumers exactly what they want," Finley said. "And we're delivering it directly to their house."
Finley said Catalyst's products are sold through major online portals such as Amazon and Wayfair, and customers have a number of options to customize the items they are ordering, whether those are throw pillows, duvet covers, afghans, patio furniture pillows or other products.
Bringing Jobs to Marianna
While Catalyst has achieved its success by utilizing technology to make a wider variety of products available to the public, the company still has to hire a number of employees to make sure the machines are running well, keep track of the business accounts and take care of the numerous other activities needed to keep the business up and running.
Currently, Catalyst employs close to 40 people, and the company is planning to hire 15 to 20 additional employees every month until the end of the year.
"We plan to employ over 100 people here within the calendar year," Finley said.
This comes as a welcome boon to the Marianna job market, as in the past two years, another textile manufacturer, HomeSource International, ran into financial trouble and laid off about 25 employees. Catalyst hired five of those employees.
In the 1980s and '90s, Northwest Florida was home to large manufacturing and distribution centers for Russell Sportswear, the largest sportswear manufacturer in the world, according to Jackson County Development Council director Bill Stanton. At the zenith of its operations there, Russell Sportswear employed about 1,100 people in the Marianna area. But in 1999, the company moved all of its stateside operations overseas because of the lower labor costs, leaving its Marianna employees jobless.
As a result of those textile operations closing down, Marianna has quite a few people with experience in the apparel or textile manufacturing industry, Stanton said.
Crafting the Perfect Deal
Stanton and Marianna City Manager Jim Dean found out about Catalyst through a connection at HomeSource International. They began having conversations with Chuck Smith, who owns both Catalyst Fabric Solutions and its parent company, Meno Enterprises, which also specializes in textile manufacturing.
Dean said he was impressed by Smith's character, track record and desire to contribute to the community.
"He's just a very genuine person," Dean said. "And everything that he said and advised us of in the past has actually panned out. He didn't oversell himself but at the same time was optimistic."
After researching Meno and Catalyst and engaging in several meetings with Smith, Dean and Stanton put together a deal that Smith and his associates couldn't refuse.
"We certainly have given them an (ideal) business situation in terms of the construction of the lease and the benefits that they've got," Stanton said. "It's a sweetheart deal … They were given every kind of incentive to come in and take this displaced workforce desperately needing jobs."
Stanton said Catalyst was offered a very low-cost lease on the building it occupies, which is located in the industrial complex north of the city proper, near Marianna Municipal Airport. The terms of the lease specify that Catalyst must employ at least 77 people by the middle of next year and eventually expand to 150 employees or more.
"If they perform, they're going to have a very low cost in staying in that building," Stanton said. "If they don't perform, then they're going to lose the building."
Smith said that in addition to Marianna having a suitable facility and qualified workforce, the ease of working with the city of Marianna and the state of Florida helped them decide to base the company in Jackson County.
"Everyone we have encountered has been very open to helping Catalyst succeed and prosper," he wrote in an e-mail interview. "Bill and Jim have both directed us to local and state programs to help us hire and train potential employees and take advantage of all local and state incentive programs."
Looking Ahead
At the moment, Catalyst Fabrics is one of only a handful of companies pairing digital dye sublimation with order automation, and the company's future is looking bright.
"We're hoping that Catalyst Fabrics will become one of the leading employers in our community," Dean said.
Smith said Catalyst is building a business that will be the benchmark for years to come in the "make on demand" industry.
"We are creating a new manufacturing model that allows customers to purchase and dropship items without carrying inventory," he said. "Our model has no international competition, including China."
Finley is looking forward to seeing what the future holds.
"We have grown tremendously, and we forecast a tremendous amount of growth in this area," he said. "And it's just a really exciting time."