The Bleeding Edge
An engineer talks about high-tech innovation and entrepreneurship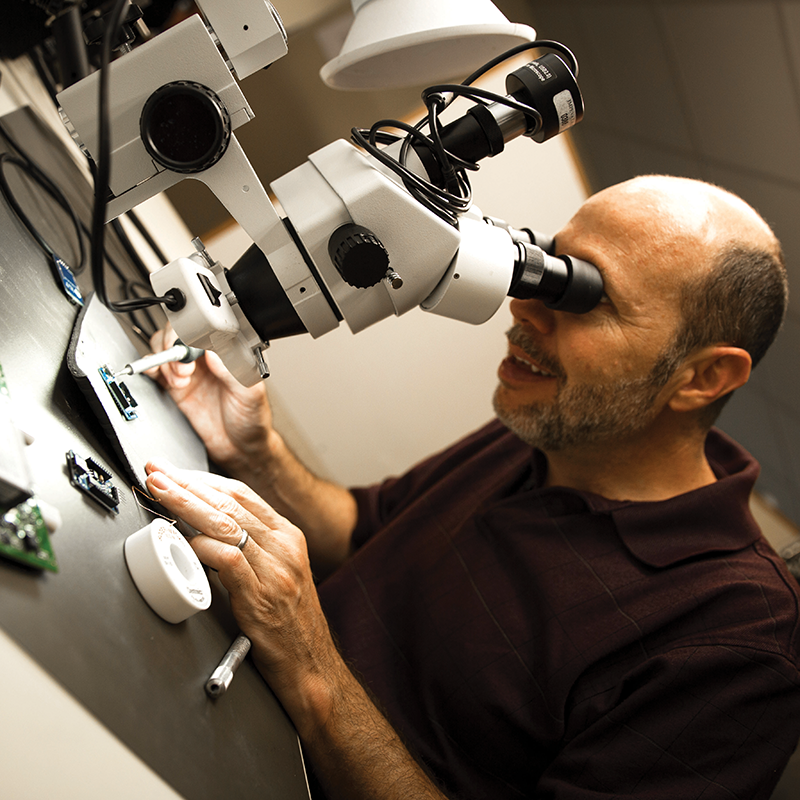 As a kid growing up near Dearborn, Michigan, Randall Shepard admired the innovators and inventors of the auto industry and dreamed of following in their footsteps.
"One of my favorite places to visit is the Henry Ford Museum and seeing all the innovations and development and engineering from over the years," said Shepard, today the CEO of RSAE Labs Inc., a high-tech start-up in Panama City. His company provides global monitoring and tracking services for critical cargo and high-value equipment.
Dreamers like Ford, as well as giants in the field of aerospace technology, inspired him to become an engineer. He earned a bachelor's degree in aerospace engineering from Georgia Tech in 1973 and in 1979 was a standout at Stanford University where he earned a master's degree in astronautical and aeronautical engineering.
He spent 20 years in the U.S. Air Force as a pilot and aeronautical engineer and was an assistant professor at the Air Force Academy's Astronautical Engineering and Computer Science Department. Later, as a senior Air Force pilot, Shepard spent a lot of time at Tyndall Air Force Base testing and correcting electronic combat systems with the F-15, F-16 and other air weapons systems. After he left the service, he went into business for himself and opened Science Applications International Corporation in Panama City. There, he developed upgrades for military test ranges and facilities for the Air Force and Navy.
Shepard talked recently about his aviation idols, "pushing the envelope" and what the future holds for high-tech entrepreneurs in Bay County.
He admires especially the legendary Clarence "Kelly" Johnson, the team leader of Lockheed's Skunk Works research and development facility. Johnson's U-2 and SR-71 spy planes were revolutionary designs, but more than that, the rapid prototyping systems he developed can be used to solve problems in most high-tech businesses today. It all boils down to a four-phase "spiral" design process that generally involves planning, risk analysis, engineering and evaluation.
"I always had a lot of respect and envy for what those guys pulled off and so I studied the Skunk Works model and tried to emulate that in a lot of things we do," Shepard said. "There's a saying in Silicon Valley: 'Fail early, fail often and fail forward.' And what that means is, don't be afraid to put a partial solution out there to get some customer feedback, and get some testing done. Quick, short spiral design allows you to fine-tune the product quicker, and that's one of the concepts that came out of the Skunk Works."
Elon Musk is another aerospace pioneer that Shepard holds in high regard. "I look at the guy who's doing what I'd like to be doing, and he's like a modern day Edison. One of the things that would be a goal come true is to collaborate and work a project with Elon," he said.
Whether you're shooting for the stars, or using wireless sensor networking protocols and tags to keep track of global cargo movement (as Shepard does), the key to innovation is developing "bleeding edge" technology — which is beyond "leading edge."
"I differentiate the two in that with leading edge you cross the adoption chasm and you're usually pushing or enhancing an established or an accepted product or service," he said. "With bleeding edge, you're working on raw technology and new services that basically haven't been adopted yet that will take some additional ecosystem development to basically make the final product."
For example, Shepard said that back when he was using ARPANET — the precursor to today's internet — it was just a way to pass data back and forth. It took time for it to develop into something profitable. "The point is, we weren't making a bunch of money compared to the internet, so it was on the bleeding edge. That's where I often work," he said.
Today, when he looks at what the future holds, Shepard said some ideas and trends interest him more than others. One thing he's noticed is the need to increase our ability to handle and process information.
"I think everyone would agree we've transferred from the Industrial Age to the Information Age, and now it's about what do you do with all this information," he said. "There's an awful lot of work being done on 'big data' analytics. I think it's obviously beyond the ability for people to do with spreadsheets anymore. We have to build tools and systems that basically can absorb and analyze that data. And what that grows into are things like artificial intelligence. That's a scary word for some folks, but you know a lot of what it means is, you set up a program to optimize itself based on certain rules."
A Model for Success
Shepard was no stranger to Silicon Valley during his career and if possible would replicate it in Bay County. It's a worthy model to emulate, he said.
"One of the best models on the planet is Silicon Valley. If you look at what they have there, you've got the richest concentration of venture capital in the world," he said. "You also have a demographically diverse domestic and international market, as well as networking power. When it all kicks in together, it's magic."
"The type of business meetings you can have, the relationships you can have, the face-to-face interaction, the markets for rapid prototyping and spiral design are endless. So it's hard to basically replicate Silicon Valley totally," he said.
Hard, yes, but not entirely impossible. Other regions of the country have built their own research and technology corridors. Notable among these is the Research Triangle Regional Partnership in North Carolina. Austin, Texas, is home to a wide range of advanced technologies research and manufacturing and, closer to home, Florida State University has taken a leading role in advanced research and manufacturing as well.
"And I say right here in Bay County we're doing our version, if you look at the organizations that are here to help entrepreneurs," Shepard said. "You look at Panama City and the things that are happening at the Navy base, the things that are happening at Tyndall and the things that are happening in the community, whether it's the biotech area or the aerospace area or information area. We have a very rich environment for innovation and entrepreneurs and application development. So I guess the next thing is to get word out and start to generate some local funding and folks that can invest in these technologies. But, we keep these jobs and the growth as much as is appropriate in the local area."