The Best of Intentions
NWFSC encourages students to define pathways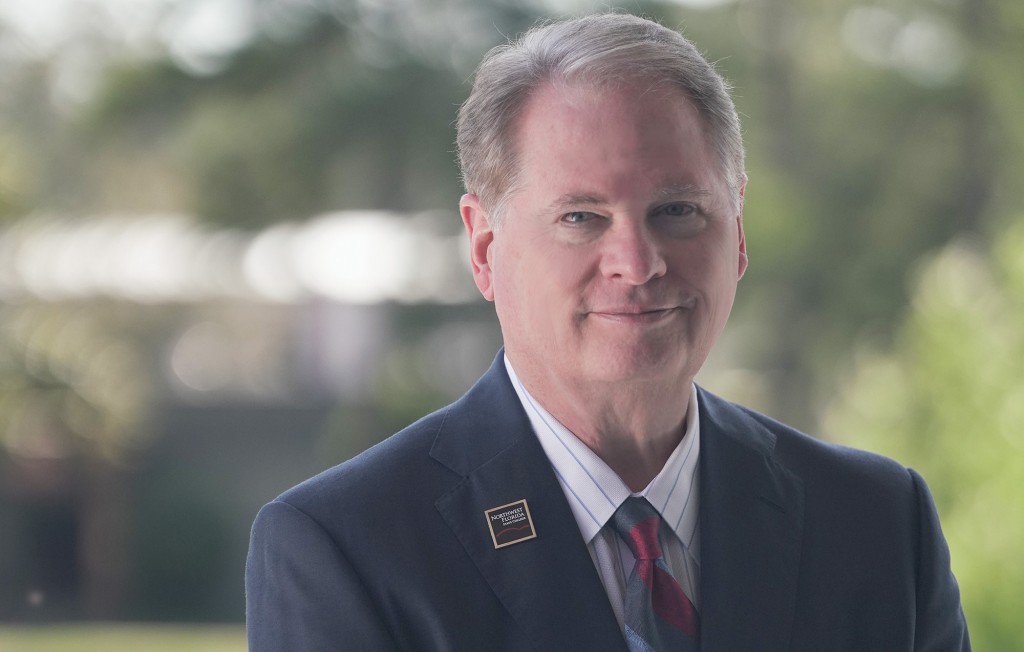 At Northwest Florida State College, Dr. Devin Stephenson, the school's president since January 2017, is waging a war on whirling.
And, it seems that he, along with lieutenants called navigators, may be winning. His chief weapon: intentionality.
"In post-secondary education, we've always had students who enroll and stay a little bit, and then stop out. Or drop out," Stephenson said. "In most of these cases — I call them whirlers — students do not have a clear goal, a clear path to success in mind."
Today, college presidents are acutely aware of calls by government overseers and their own boards for greater accountability and improved rates of educational attainment.
"We've been told to do a better job of moving students through the process to the finish line," Stephenson said. "If students have a plan, they will work that plan and they will find individuals within the college environment who can help them reach their goals. Without a plan, they wind up in insecure, poorly defined territory that in many cases is a great abyss. So our goal here is to create pathways."
That is, to make the college experience of students outcome-oriented or "intentional," and to turn whirlers and wanderers into success stories.
There was a time when Stephenson was without a pathway. He had graduated from a liberal arts school, Birmingham Southern College, with a general business degree.
"I asked myself, 'What am I going to do now?' " Stephenson said. "I really had no idea. Fortunately, I had someone who took an interest in me. Otherwise, I don't know what I would have done. Now, we have to be more specific."
Stephenson went to work at a technical college, where he established a financial aid office; he's been in higher education ever since.
"At the point of application, some students know that they want to become a nurse or a welder, but most, especially those in university parallel programs (for students who move from UWFSC to four-year universities), don't know exactly what they want to do yet," Stephenson noted. "That can be OK. It gives us time to help them explore."
NWFSC navigators assist students identifying what they want to do and what they want to be, and then help them get there by closely monitoring their progress along the way. They were instrumental in moving the school's combined graduation/transfer rate from 40 to 58 percent between 2018 and 2019.
Leaving Coal Country
Stephenson was serving as president of the four-campus Big Sandy Community & Technical College in Eastern Kentucky when a headhunter made him aware of NWFSC's search for a new president.
"I worked in a decimated, coal-mining part of the state," Stephenson said. "At the peak, there were 28,000 people working in coal and, when I got there, it was 6,000. The challenges were great. You go to Pipeville, Kentucky, and you see the wealth of the coal barons and then you go to the hollers and you see abject poverty."
Big Sandy created fiber-optic technician training and a coding academy as elements in its efforts to retrain one-time miners for new careers. Stephenson regarded the miners highly as people with strong work ethics and was committed to helping them. He was reluctant to consider the NWFSC opening, but a friend convinced him that he should at least take a look.
"My wife Judy and I came down here in tourist clothes — sunglasses and ball caps — and toured about four of the school's sites and realized that this was a place where we could make a difference," Stephenson said.
The Stephensons learned that NWFSC had a strong financial position and a robust foundation. Its academic programs had an outstanding reputation.
Too, the Stephensons were excited to discover NWFSC's intercollegiate athletic programs and the quality of its fine arts programs and the presence of the state-of-the-art Mattie Kelly Arts Center on the Niceville campus. In Kentucky, community colleges are prohibited by state law from having athletic teams and, said Stephenson, the arts programs there were not equal to what NWFSC offers.
Devin, as it happens, is a pianist and Judy is a big women's softball fan.
"The fit was there," said Stephenson, who plays piano at the annual "Holiday Pops" concert at Mattie Kelly.
"We engaged along with 130 applicants and somehow I wound up being selected. And, it's been the most rewarding position and opportunity that Judy and I have ever had."
Stephenson is a passionate promoter who speaks with unchecked enthusiasm about NWFSC's highly ranked nursing programs, its top-ranked welding program and the introduction of culinary management and hospitality/tourism degrees.
"The American Welding Society named us as the No. 1 educational welding facility in America, and named our Scottie Smith the No. 1 welding faculty member," Stephenson said. "We've expanded welding to include a night program, and we have a phenomenal inmate welding program in conjunction with the Walton County Sheriff's Office. Our students graduate with industry certifications, and are eligible to work at employers including Eastern Shipbuilding in Panama City."
The Welding Society has made NWFSC an authorized testing facility, the only one between Tallahassee and Mobile, Alabama.
"Scottie treats the welding shop as a work site," Stephenson said. "One welding student is the straw boss each week. He manages the team. They clock in, they clock out. Students learn employability skills and how to work together as a team."
Of 56 recent nursing program graduates, 55 went on to pass licensure exams. The 56th, at this writing, had yet to take the exam. The average pass rate percentage in Florida is 79.
"We identified culinary and hospitality as areas that had a lot of potential for local support and external funding," Stephenson said. "There are 885 members of the Florida Restaurant & Lodging Association along the Emerald Coast. It's the largest industry in our area behind the military."
Retired Air Force Maj. Gen. Don Litke, an NWFSC trustee, endowed scholarships for culinary students and is now funding construction of a hydroponic greenhouse where all the vegetables for the culinary program will be grown with enough left over to support pantries on campus and off.
Chef and culinary arts professor Layne Eggers calculated the greenhouse's yield — it can produce a tomato in five weeks versus the usual nine — and found himself thinking about how to deal with the surplus food it will generate.
Stephenson said the culinary program is capable of drawing students from around the country and has speeded consideration for developing on-campus housing.
Culinary and hospitality students combine to serve meals in an on-campus "pop-up restaurant" whose offerings, Stephenson said, are superior to meals he has enjoyed at the Culinary Institute of New York.
Business and Industry
Stephenson has worked to ensure that NWFSC's relationships with business leaders in its service area are close and strong.
"All of our programs must be relevant, lead to a job and support business and industry," Stephenson said. "Our mantra is 'improving lives,' and I have expanded that to include improving the quality of place: where we play, where we live, where
we work."
At Stephenson's direction, NWFSC has expanded its Division of Workforce Development Training. A staff member, Bill Allison, formerly with Okaloosa Gas, collects data on the business and industry community and finds out what its needs are so that the school can deliver programming that will help them secure and retain employees and become more efficient, effective and productive.
Referring to leadership training made possible by benefactors Dave Costa and Eileen Arpke, Stephenson commented, "The work we do transcends the assembly line or an engineering office. We devote a lot of resources to ensure that the business and industry community can be heard."
Stephenson encourages members of his leadership team to become members of chambers of commerce or other civic organizations. He is an officer at the Niceville-Valparaiso Chamber of Commerce and serves on the Okaloosa County Economic Development Council's board. Cristie Kedroski, NWFSC's vice president of college advancement, is a director at the Walton County Chamber.
"You don't know what you don't know if you don't get out. If you're not externally facing and engaged with the bigger picture and the people that you serve, you're not going to know what their needs and demands are," Stephenson said.
"As a community member, I want to keep this institution strong and flourishing because of the role it plays in economic development. Each of our programs has an advisory committee made up of people who work in that area."
Community engagement also takes the form of the President's Speaker Series, now in its second year. Lined up to address audiences at Mattie Kelly were Apollo astronaut Winston Scott; John Quinones, the host of ABC TV's "What Would You Do?" and
Dale Berra, who has written a memoir about growing up as the son of Yogi.
At this point in his career, Stephenson believes he is at the end of his professional pathway.
"I don't intend to go anywhere," he said. "We have laid some foundational work here, and that work will lead to what will be some wonderful successes for
the institution."