The Air Force and Navy Team Up to Drive The Economy
Air Force and Navy join forces to drive a regional economy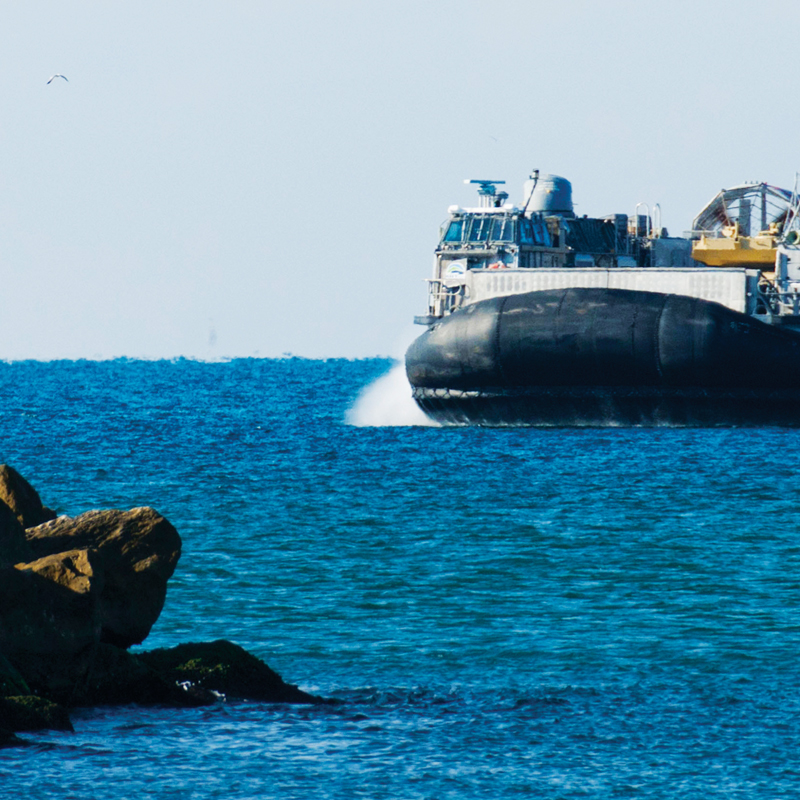 An undeniable aspect of Bay County commerce is the significant U.S. military presence here, which puts more than 27,000 people to work and helps America stay strong in the face of growing terror threats abroad. Here, the U.S. Air Force and Navy have found a happy home, and the local community isn't about to let them go. Their combined presence attracts and supports a sizeable cluster of research centers, defense contractors and related companies.
This means a lot of money flows through the local economy. The University of West Florida Haas Center crunches the numbers on a regular basis and provides the data in the Florida Defense Fact Book. The most recent publication suggests that, as a whole, Florida's defense industry provides an estimated $73.4 billion statewide impact. Closer to home, Northwest Florida contributes $18.86 billion or 32 percent of the Gross Regional Product. According to a 2013 Haas Center study, Tyndall Air Force Base and Naval Support Activity Panama City (along with the Coast Guard and National Guard) generate more than $1.16 billion in military spending and about $2.6 billion in total gross regional product; i.e., the total value of all goods and services produced in the region.
By the Numbers
Combined Economic Impacts – Bay County Military Cluster
27,338 direct and indirect jobs
$2.1 billion in total sales
$2.578 billion economic impact
32 percent of Total Gross Regional Product
Naval Support Activity Panama City
$498 million annual economic impact
2,872 military and civilian labor force
$150 million annual payroll
657 acres and 234 buildings
Naval Surface Warfare Center Panama City Division
$450 million annual economic impact
2,292 military and civilian workforce
840 scientists and engineers, 290 of which have advanced degrees
74 buildings
Tyndall Air Force Base
Encompasses more than 29,000 acres
Approximately 7,300 military, civilian and contract personnel are employed at Tyndall, making it the largest employer in Bay County. The base provices support facilities for more than 9,000 military retirees and had a local economic impact that exceeded $642 million in the fiscal year 2009.
Compiled by Steve Bornhoft
Meanwhile, the average military job offers annual earnings of $77,241 — significantly above the state average earnings per worker, according to Tom Neubauer, president of the Bay Defense Alliance.
"While the economic multiplier is certainly important, the socioeconomic implications are far more significant," Neubauer said. "Our bases provide a stable economic environment for all types of business and provide the strong foundation necessary for the growth and development of our medical centers, schools, colleges and civic and charitable organizations."
Tyndall Air Force Base, located in the southeastern part of the county, teaches the art of aerial warfare and is home to the 325th Fighter Wing, which trains F-22 Raptor fighter pilots and support crew. The 53rd Weapons Evaluation Group also calls Tyndall home and conducts air-to-air and air-to-ground weapons testing and evaluation. Tyndall got a boost in 2014 when 1,000 new jobs were added due to the arrival of a combat-coded F-22 squadron. Neubauer said there are few, if any, installations in the nation that actually grew last year because of cutbacks, so Bay County is fortunate in that regard.
"There is tremendous economic pressure on military as leadership is required to find ways to complete the assigned mission with significantly reduced resources," he said. "This trend continues to place emphasis on the need for a 20-25 percent reduction in infrastructure."
But Bay County bases remain open, and the reason for that is simple. They are significant contributors to national defense and operate productively in an efficient environment.
"While much of this is the result of geography and the Gulf Range Complex, the significant support of defense communities and outstanding support by the Florida Legislature, governor's office and other defense communities who share base practices, add to the value proposition," Neubauer said. "Additionally, communities are doing a great job of telling the story, pre-empting potential encroachment or security issues through the JLUS (Joint Land Use Study) process, maintaining close contact with our congressional delegation, visiting defense leadership in Washington both as individual communities and as members of the Northwest Florida Defense Coalition."
Neubauer said that each community, together with their military partners, is searching for new ways to make each installation more efficient. They're also using community and base resources for mutual benefit.
"There are already many successes with public-private partnership opportunities, and we're just getting started," he said.
As Base Realignment And Closure (BRAC) processes started to hit close to home some 20 years ago, the communities of Bay County faced a pretty big economic hit if its military industry disappeared. Community leaders realized early on, though, that Northwest Florida makes significant contributions to national defense. Fortunately, the Department of Defense came to the same conclusion — thanks in no small part to the efforts of the Bay Defense Alliance, a coalition of local economic leaders.
"There are several key attributes that make Northwest Florida unique. One obvious asset is the Gulf Range Complex," Neubauer said. "The Gulf of Mexico military ranges are essential for surface, subsurface and air operations by multiple commands for R&D, test and training purposes."
Another positive factor is Northwest Florida's long military training tradition and its reputation as a "defense-friendly military culture." The physical environment is a great asset as well. After all, who doesn't want to be assigned to sunny Florida?
"It would be difficult to imagine Northwest Florida without the 192,000-plus defense jobs and these outstanding Americans in our communities," Neubauer said.
In Tallahassee, state officials want these efforts to continue and be successful. Earlier this year, Gov. Rick Scott announced that defense partners in Bay County were awarded $100,000 through Florida's Defense Reinvestment Grant. The money will go toward enhancing the missions of Naval Support Activity Panama City and Tyndall Air Force Base, and to attract and retain industries that complement the military installations. The grant has been used for 15 years and helps sustain Florida's reputation as a military-friendly state. Last year, the Economic Development Alliance of Bay County was awarded a $500,000 grant from the Florida Defense Support Task Force to enable construction of LambdaRail, a high-capacity data link which will connect with Naval Support Activity Panama City. This data link will allow the base to benefit from increased information technology connectivity.