The Accidental Entrepreneur
Tallahassee's Ed Mansouri has spent his career turning his passions into successful businesses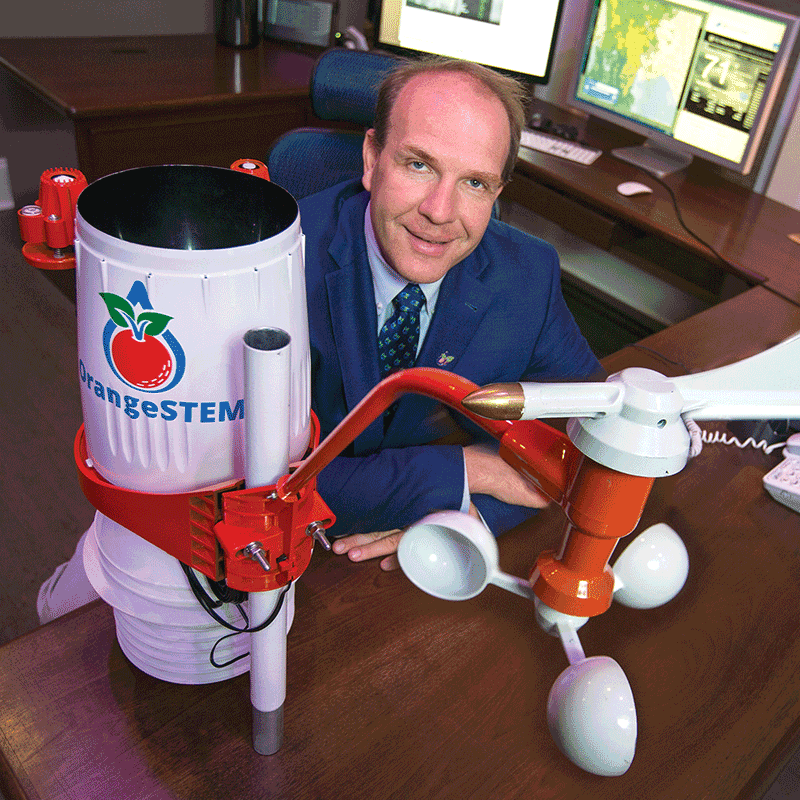 When Ed Mansouri came to Florida State University in 1997 as a graduate student in meteorology, he had already dipped his toe into entrepreneurship. While attending Penn State as an undergraduate, he wrote a book, the "Penn State Compass," that was ultimately sold to the university's orientation program as a guide for students and their parents. He set up a company and website called UCompass to create versions for other college campuses.
Since then, the name stayed the same, but Mansouri used his computer programming skills to evolve UCompass into a pioneering Internet learning company. It would ultimately provide the technology and software to support the online education of millions of students across the United States and Canada, including the Florida Virtual School (FVS). Last year, he sold UCompass to the state of Florida for $5.75 million. He is now founder and CEO of WeatherSTEM, a passion project that began by providing weather stations and online curriculum to schools throughout Florida and is now using those weather stations for a variety of other uses.
Over the years, the 43-year-old has learned lessons — some the hard way — for successful entrepreneurship. Here are a few of them:
1. It helps to be passionate about the business you are creating.
Mansouri was asked to speak to a group about starting a business, and his comments "probably pissed some people off," he recalled. "I said, 'Alright folks, if you want to see the person or people that are going to build the next greatest company… the next greatest product, look around this room. They're not here. They don't need to listen to some schmuck like me. They are not going to be told no, they are piecing together their plan, they're in their parents' basement, they're in some crummy apartment, they're finding their way' … so I am a little bit cynical about this idea of forced entrepreneurship."
At the start of his graduate studies at FSU, Mansouri agreed to teach the large introductory meteorology lecture class, MET 1010.
"My research (in graduate school) was very programming-oriented … and I recognized that it would not be that big of a deal to start writing some software that could help me teach my courses," he said. "Shortly after that, I recognized there were actually companies out there, like Blackboard, that were doing that and making money."
2. There's no right answer to whether you should diversify or commit to one client.
In the early days of marketing his education software, called Educator, Mansouri was doing most of the programming and sales, flying cross-country to sell and service 150 clients with students from kindergarten through college.
"I was running myself ragged. I had built a very small team, but I was still very involved in every detail," he said.
About 15 years ago, FVS asked UCompass to submit a request for proposal.
"I looked into their vision and recognized that if we responded to that RFP and we were to win it, it was going to represent a seismic shift in our focus," he said. "They had about 3,000 to 4,000 students at the time and I recognized that, with the right technology, with the right leadership, they could be at 100,000 in a few years."
When UCompass got the contract, they dropped their higher education clients and focused on K-12 education.
"In a short amount of time, we were making more money with a much smaller number of customers … working with statewide K-12 implementations in New Jersey, in Minnesota, in Florida versus these smaller school-by-school implementations," he said. He was right. The company's annual income jumped from $2.5 million with 150 customers to $4 million from FVS alone.
But, after years of a mutually beneficial relationship, new FVS management "started to look at us as a vendor, and that started to create some good, old-fashioned hurt feelings," Mansouri said. After going through another RFP process, winning it, and then being asked to submit one again, he washed his hands of the project and sold the company to the state. A Canada-based vendor would take over FVS, but Mansouri allowed his staff to tear up their non-compete agreements and work through the transition.
"I've been on both ends of the spectrum," he said. "There's pluses and minuses with both. The one thing you never know is when one of those smaller customers could blow up into something big. I have had that happen before."
3. Don't hold grudges.
During his FSU days, Mansouri got in hot water and nearly left the graduate program because administrators thought he might be creating a commercial product as a grad student.
"The culture for fostering entrepreneurship could not be more different now than it was then," he said. "Instead of the university reaching out to me with curiosity and support, they came at me with almost sort of a 'how dare you?'"
Today, "I'm extremely proud of my relationship with Florida State," he said, collaborating with the College of Business as well as the emergency management division and campus police with his weather stations. He also returned as a student, seeking a doctorate in meteorology. (Something he considers one of his rare failures. He had to drop out of the fall semester after a calendar mistake led to him missing a midterm exam.)
During the latter, more difficult, years of UCompass, Mansouri decided to revisit one of his passions — meteorology.
"I started yearning to do something with meteorology, and one of the things that gave me the idea for WeatherSTEM actually has to do with when I recognized that the state of Florida did not offer a high school-level course in meteorology," he said.
That high-school meteorology course he envisioned is close to being implemented in Florida's brick-and-mortar schools — and through the FVS.
By burning bridges, you only hurt yourself, he said. "You just gotta get over it . . . Things change; people move on; different interests develop."
4. When opportunity knocks, answer the door.
WeatherSTEM started teeny-tiny small: Mansouri set up a Facebook page that shared information captured by his backyard weather station, including a camera focused on the sky. (His home is loaded with scientific things; in addition to the weather station, there is a lightning detector, a telescope and an underground geothermal heating and cooling system). It caught on with parents at his son's school, who could check on weather conditions before heading out for school.
He decided to donate 15 weather stations to schools in Leon County, along with an online curriculum that students could use to study scientific concepts with real-time, on-the-spot weather information. They proved so popular, the county's education foundation bought 15 more to be installed in other local schools.
From there, WeatherSTEM installed the stations in each of Florida's 67 counties. Each weather station has its own web and social media presence, offering temperature, wind, rain, solar radiation, and other meteorological information as well as livestream video condensed daily into a 20-second "sky movie."
Mansouri is discovering and exploring myriad uses for his weather stations beyond education. After reading a local news story about WeatherSTEM, FSU's emergency management director saw the potential for utilizing weather stations on campus for safety and disseminating information. Now they're located on eight different Florida State properties and campuses across the country.
Weather stations also are being deployed to farmers — measurements can include soil moisture and temperatures and leaf wetness, among the usual weather information. And, in another unique use, WeatherSTEM has teamed up with a Tallahassee restaurant, The Edison. The restaurant's Twitter and Facebook pages send out automated messages to potential customers customized to the weather and what patrons are ordering.
"I'm definitely looking to position WeatherSTEM to be an acquisition target," he shared. "What industry that ends up being in — Is it going to be education? Is it going to be agriculture? Is it going to be health and safety? — is a story that remains to be written.
"Passion. It counts for everything with me. I love weather and I love technology and I do love education," he said. "To be pursuing a business where I can blend those three and be getting feedback that people think I'm actually doing some good, that's awesome for me. I've not proven yet that WeatherSTEM is going to be as financially successful as UCompass, but I feel eventually it will be more successful than UCompass ever was."