TechFarms Capital Incubates New Talent
Venture capital fund seeks teams with the capacity to execute bright ideas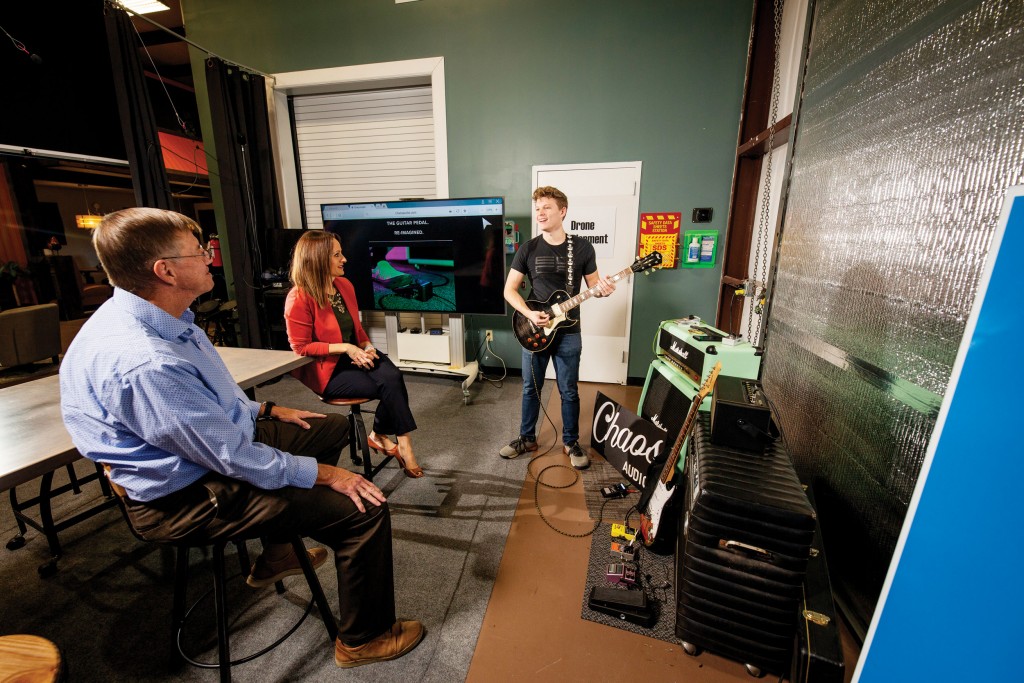 As a Panama City-based managing director of an investment fund that seeks to enhance entrepreneurial ecosystems by providing startups with capital, Steve Millaway is also a talent scout.
He maintains close ties with Gulf Coast State College and serves as a member of the school's district board of trustees.
As a product of that relationship, Millaway met a student, Landon McCoy, a fast-talking, quick-thinking student with a bright idea. He has come to regard McCoy, now an engineering student at Florida State University Panama City, as the "best graduate I have seen come out of Gulf Coast in ı0 years."
Said Millaway: "He impresses me as someone who could be the next Elon Musk."
McCoy is the founder of Chaos Audio, one of the first three businesses in which TechFarms Capital, an outgrowth of a business incubator that Millaway began six years ago, chose to invest.
Chaos Audio's product, called Stratus, is a customizable pedal, suited to electronic instruments, to which multiple effects — such as reverb, phaser or auto-wah — may be downloaded via a proprietary app. As of this writing, Chaos has completed prototype development and is gearing up to enter production.
Millaway views the Stratus as a significant "disrupter," which, for him is a term of endearment. Gone soon will be the days in which players had to have a separate pedal for each effect they chose to use.
McCoy and his team built their prototype at the TechFarms incubator, strategically located near the Navy base in Panama City Beach. Millaway explained that the device was cut from aluminum using 3D modeling software and a computer numerical control (CNC) machine that was available to Chaos at TechFarms.
He added that four musicians who test-drove the Stratus all expressed a desire to invest in the company.
"Landon was up against lots of other prospects from the fund perspective," said Kelly Reeser, a managing director, along with Millaway, of the investment fund. Reeser, who is located in Pensacola, emphasized that the decision by TechFarms to invest in Chaos followed months of due diligence.
Pedal manufacture will take place in a new ı3,000-square-foot building erected by Millaway behind the original TechFarms location. As people who know Millaway would assume, the structure is built with leading- edge materials, including structural insulated panels (SIPs), which are made of stainless steel, front and back, with four inches of foam in the middle. The building will include a kitchen and apartments in addition to manufacturing space, and will house the latest prototyping equipment.
To the Desert
Millaway always wanted a career in technology and, after high school, got a job as an engineering aide at Naval Support Activity Panama City. He was a cooperative education student there while a student at the University of Florida.
Upon earning a degree in electrical engineering, Millaway "didn't want to have to move to the Arizona desert — my friends and family and the beaches were here — but there was no opportunity here in the private sector." He went to work in Tucson designing integrated circuits and chips.
In ı994, Millaway founded Gain Technology Corp., an integrated circuit design center that developed semiconductor chips for Maxim Integrated Products, Raytheon, Intel and others. The company designed the first USB 2.0 chip, which it later licensed to Intel. That chip ultimately became the basis for the USB 2.0 ports found today in more than a billion PCs, laptops and other devices.
In 2007, Millaway returned to Panama City to help care for his ailing father.
"Instead of retiring, I got involved in the community to try to find out why we still didn't have any high-paying tech jobs. I went to lunch with Dr. Jim Kerley, who was the president of Gulf Coast State College at the time and he said, 'Oh, you might be interested in this, we're thinking about building an advanced technology center.' "
For six years, Kerley would help design the center and felt strongly that a business incubator should be made part of it.
"At the very end, when they got ready to break ground on the ATC, they took the incubator out and put in a culinary institute," Millaway recalled. He understood the decision, given the many restaurants along Bay County's 27 miles of beaches, but still he was disenchanted.
"I felt like we had missed out on a great opportunity," he said during a December interview.
Others encouraged Millaway to start an incubator and eventually he told himself that "if I am really going to make a difference, that's what we need." He committed to founding TechFarms.
Along the way, he met Reeser, who was running a co-op lab in Pensacola for the FloridaWest Economic Development Alliance.
"We started comparing notes, and the biggest problem we both saw was a lack of capital," Millaway said. "There is no angel network in Northwest Florida, and most of the angel investors here don't know what they are doing. They pick favorites and invest in one or two companies not understanding that nine out of ı0 startups fail."
Reeser joined TechFarms Capital shortly after Millaway launched it.
Millaway worked for 40 years in tech and was responsible for "ı0 or ıı" startups.
"We are very good at judging whether someone knows the market, knows his product and can be a leader, hire a team and keep it together," Millaway said. "The initial great idea is just one one-thousandth of what you do in starting a business. Years of work are required to execute that idea. We spend a lot of time on due diligence. We have gone overboard looking at every company we have invested in."
Reeser believes TechFarms Capital has a role to play in diversifying and fortifying the regional economy.
"The Pensacola and Panama City economies are very similar," she said. "They rely on tourism, the military and a smattering of other things. Tech companies can help weatherproof and pandemic-proof the economy."
Reeser said a friend of hers operating in the remote education space has gained ı5 years worth of adoptions in three months because of the pandemic.
In Millaway's view, homegrown companies often have the most value to a community — and to an investor.
"One of the most successful companies in the entire Southeast is Eastern Shipbuilding in Panama City," Millaway said. "Several people have asked me how we lured Eastern to Panama City, a company with a $20 billion contract to build cutters for the U.S. Coast Guard. I have to tell them that Eastern was started here."
Beats Fishing
"I could be retired and fishing and relaxing, but I would rather do this," Millaway said about his work. "We have companies coming in, one or two a week, every single week, and we get to see what they're doing and they are mind boggling."
Millaway gets excited and the pace and tenor of his speech amplifies as he talks about another of the companies in which TechFarms Capital has invested, Perceptive Sensor Technologies.
A friend in Arizona made Millaway aware of PST, and representatives of the startup flew in and visited TechFarms. Prior to their arrival, they asked Millaway to purchase six empty paint cans, fill them up with different liquids — 87 octane gasoline, 92 octane, oil of a given viscosity, water and a couple of others. Millaway was to then seal the cans.
The PST team told Millaway that they would identify the contents of the cans without unsealing them. To do so, Millaway was to find out, PST uses ultrasound technology.
"They attach a transducer, basically, that pings a container like a sonar and hits the other side of the can and comes back," Millaway said, his enthusiasm building. "The acoustic wave is altered by the liquid, and every liquid has an acoustic fingerprint. Once they characterize the signature for 87 octane gasoline, for example, they know what it looks like."
"Fingerprints" are stored in a lookup table.
"They have the basic underlying patents for this, and it works," Millaway said. "We studied them for a year and made an investment in the company."
Millaway listed several applications for the technology, commenting, "We're excited about the number of verticals this thing has."
Pipelines may be used to transport both gasoline and jet fuel. When one fuel is replaced in a line with the other, mixing occurs over a portion of the pipeline. The resulting "transmix" must be discarded. PST technology can be used to eliminate the guesswork otherwise involved in locating the mixing zone.
Tank farms can use the technology to prevent overfilling that can result in spills that necessitate costly environmental cleanup work.
Bars and restaurants that purchase expensive wines and bourbons will be able to detect counterfeit product.
And, PST technology will make it possible for chemical companies to ensure that expensive substances transported across open seas are not replaced with saltwater, a not infrequent occurrence. Millaway said such piracy costs the industry an estimated $ı00 billion a year.
Millaway has been invited to join PST's technical advisory team and the company, he said, is likely to open an office in Bay County.
Reeser and Millaway combined to describe the appeal of investing in TechFarms.
"You're in a position to get to know the companies you are invested in. We are assembling a portfolio of companies large enough to distribute risk, but still you'll be able to tell stories at the cocktail party about the local kid who invented the foot pedal."