TCC Offers Higher Education for All
Meeting the Academic and Workforce Development Needs of Leon, Wakulla and Gadsden Counties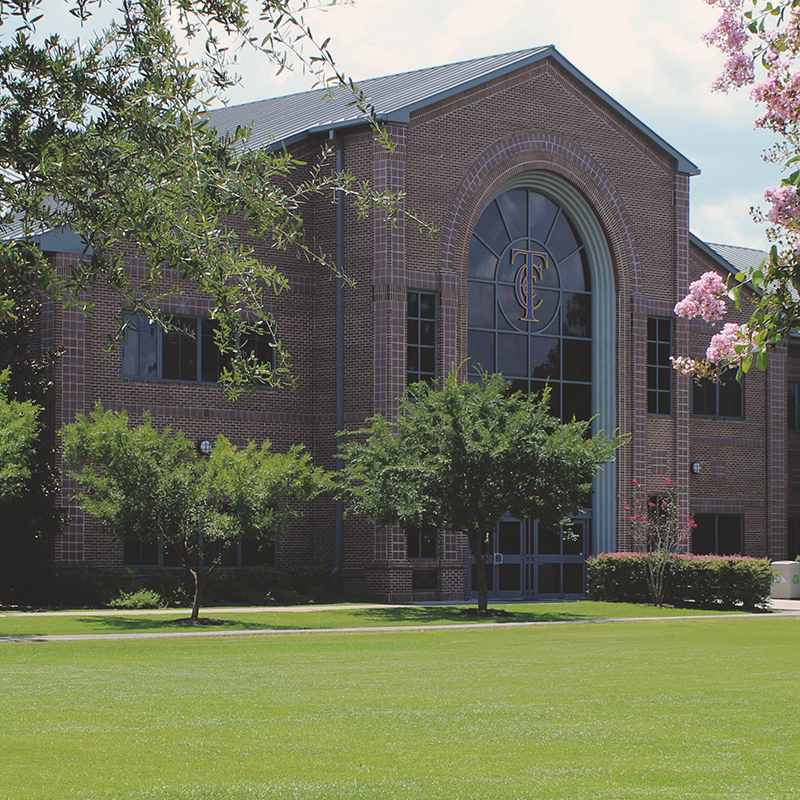 As it celebrates its 50th anniversary serving the Leon, Wakulla and Gadsden tri-county area, just about the only thing that hasn't changed about Tallahassee Community College since its inception is its commitment to affordable, accessible higher education for all. Today, TCC boasts 14,000 students; six campuses; a 75 percent success rate for A.A. degree students moving on to universities; exceptional passing rates for graduates of its professional education programs; a burgeoning commitment to local workforce development; and a plethora of awards and accolades for the college, its students and faculty.
"It's a remarkable story. Everywhere I go in this community, the reputation of the college is strong," said TCC President Jim Murdaugh. "It's an exciting time. Is the college where I want it to be? Yes. Would I change things? Of course. Anybody who's satisfied needs to move out of this office. Your job is to push and to continue to look for ways to improve what we do for students and how we meet the needs of our community. I'm happy where we are (and) excited with the plans that we have to do those things."
Technology and the new breed of millennial student have transformed the college, said Monte S. Finkelstein, who has spent his almost 35-year professional career there as a history professor and dean of the division of history and social sciences.
"When I taught, we had a chalkboard and an overhead projector," he explained. "Now, you've got to be ready to put videos up there. (Students) want PowerPoints. We've got smart boards; we have smart podiums.
"It used to be 'the sage on the stage,' " he said. "You can (still) impart your knowledge, but you have to do it in such a way that you keep your kids' attention — and that's, I think, the biggest change in the classroom.
"You want to know what has changed? In '84, things changed so slowly. If we needed to do something on campus, we were all relaxed. Now," he said, snapping his fingers, "that fast, things change on the campus. We pick up a new initiative now, we run with it, (and) we keep picking up new initiatives. We work at the speed of light around here sometimes."
In November 2012, Florida Gov. Rick Scott challenged the state's colleges to offer baccalaureate degrees that would cost just $10,000. With tuition less than half the cost-per-credit-hour of Tallahassee's two state universities, Murdaugh said that goal is doable for TCC.
Even within Florida's state college system, TCC's $98.83-per-credit-hour tuition is one of the lowest, and it hasn't increased in five years.
"We're very proud of our affordability," Murdaugh said.
That said, it doesn't necessarily mean the road to success for all students is paved with academic bachelor's degrees. With a laser-like focus on workforce education, the president suggests that four years of schooling isn't the ideal path for many students.
"I believe college isn't for everyone, but education is," Murdaugh said. "People come here who've been told that the only way to a better life is through a degree and, quite frankly, I don't believe that. I don't think that serves our students well, and I don't think it serves our employers well."
What Murdaugh considers ideal are "stackable" credentials — everything from "microcredentials" that require only a few hours of study, to a work-related certificate, to a two-year A.A. or A.S. degree.
"All of this stuff ought to count toward something. It shouldn't be a certificate to nowhere," Murdaugh said. "You can take that certificate and go to work. Later, if you wanted to come back and work on your degree, you'd get credit for that as part of your degree program."
TCC has an entire department dedicated to job-related education and training.
"I'm directly aligned with business," said Kim Moore, TCC's vice president for workforce development. "We are not job placement, though we play an important role in getting people into jobs."
Starting in January, for the first time, TCC is offering its own four-year degree program leading to a Bachelor of Science degree in nursing. In the past, TCC was training nurses who were awarded a two-year A.S. degree. Today, a BSN is becoming the preferred credential for nurses at local hospitals and other facilities.
"A number of health care providers indicated to us that their demand for baccalaureate-prepared nurses isn't being met by FSU or FAMU or other providers," Murdaugh explained. Even though there are BSN programs at the two universities, "students who come here to FSU and FAMU come from other communities, and many of them go home when they graduate." TCC anticipates that many of the program's first enrollees will be working nurses seeking to upgrade their A.S. degrees.
Despite the excitement of a newly minted four-year nursing degree, Murdaugh is in no hurry to expand TCC'S bachelor's degree offerings — unlike most of the other 28 institutions comprising the Florida College System. As far as he's concerned, Florida State University, Florida A&M University and the college's four university partners get first dibs.
"(There are) no additional four-year degree programs that we are actively talking about, and the only way we will consider them is if the provosts from the three institutions meet and talk about a demonstrated need in our community," he said. "(If) the other institutions either cannot meet the need or . . . they don't want to, then we will step in. We want to be not the first choice but the last choice with regard to four-year degrees."
Also in the works is a reimagining of what used to be the Brogan Museum building at downtown Tallahassee's Kleman Plaza. (As part of a three-way agreement with the city of Tallahassee and Leon County Schools, TCC holds a long-term lease on the property.) Part of the first floor is already occupied by the glass-walled studios of WTXL-TV. Below the street level, the college has rooms for conferences, training and events, and envisions turnkey business cubicles and offices for lease in the future.
The building's top floor is home to the new Institute for Nonprofit Innovation and Excellence (INIE). TCC took a lead role in creating INIE and funds its executive director position. The center's mission is to provide a training center and resources to local charitable organizations, and so far, said Moore, more than 80 of the area's 600 nonprofits have signed on as members.
"I have a passion for nonprofits," Murdaugh said when the center was launched in June 2014. "They are a vastly underappreciated and underrepresented component of local economic growth, and I believe you cannot have a vibrant economy without them."
TCC is tasked with serving Wakulla and Gadsden counties in addition to Leon and has broken ground on two major brick-and-mortar projects in them.
TCC currently operates the TCC Wakulla Center, offering basic college classes more conveniently located for local residents in Crawfordville. But an even more ambitious project is also underway — the Wakulla Environmental Institute.
While programs have been in operation for the past few years, a Wakulla Environmental Institute facility opened in January. Its focus is offering environmentally focused degrees and certificate programs, including programs in environmental science technology, hospitality and tourism, aquaculture management and agribusiness.
One of its high-profile offerings is oyster aquaculture. The first class of nine students is now producing its first harvests of farmed oysters, the second class is about to begin, and the program has a six-year waiting list.
"I've eaten the oysters, and they're remarkable," Murdaugh said. "The oyster aquaculture effort down there is a new industry, and it's going to change the economy of Wakulla County. That's our goal — to make Wakulla a world-class destination for ecotourism."
The goal in Gadsden County, the president said, "is to create programs that move people out of poverty."
The new Gadsden Center also opened in January. It houses programs that were already offered in Gadsden, including GED preparation and English instruction for speakers of other languages, a computer lab for the community, and after-school and summer programs for school-age children.
"TCC has had a physical presence in Gadsden County for a decade, but this new facility (is) built to fit the types of programs we want to offer, so it will help us better serve the community, especially as far as job training," said Eugene Lamb, a TCC board member and Gadsden County resident, when ground was broken on the project in November 2014.
The first job training to be offered there will relate to HVAC installation and repair, one of the top 10 job needs in the area, said Heather Mitchell, TCC's vice president for resource development.
Although its name isn't on the building, TCC also operates the Florida Public Safety Institute, also located in Gadsden County. On its nearly 1,500-acre campus, you'll find training for law enforcement, probation corrections officers and firefighters, as well as training for state law enforcement agencies and advanced and other specialized training.
While some might fret about the workforce issues taking away from the purpose of a community college, "That's not the case," Murdaugh said. "I don't think you have to diminish one part of the operation to grow another."
"When I describe where we're going (and) broadening, the one thing I want to make sure I emphasize is that we are not deviating from our core mission of producing associate of arts degrees that send people on to higher education," he continued. "That's our core mission, and we will continue to invest heavily in it. We celebrate it. We do it well. This is an expansion and an addition to that effort."