Tallahassee's Urban Core is Pulsing With Activity
For Elizabeth Emmanuel, downtown is the heart of the capital city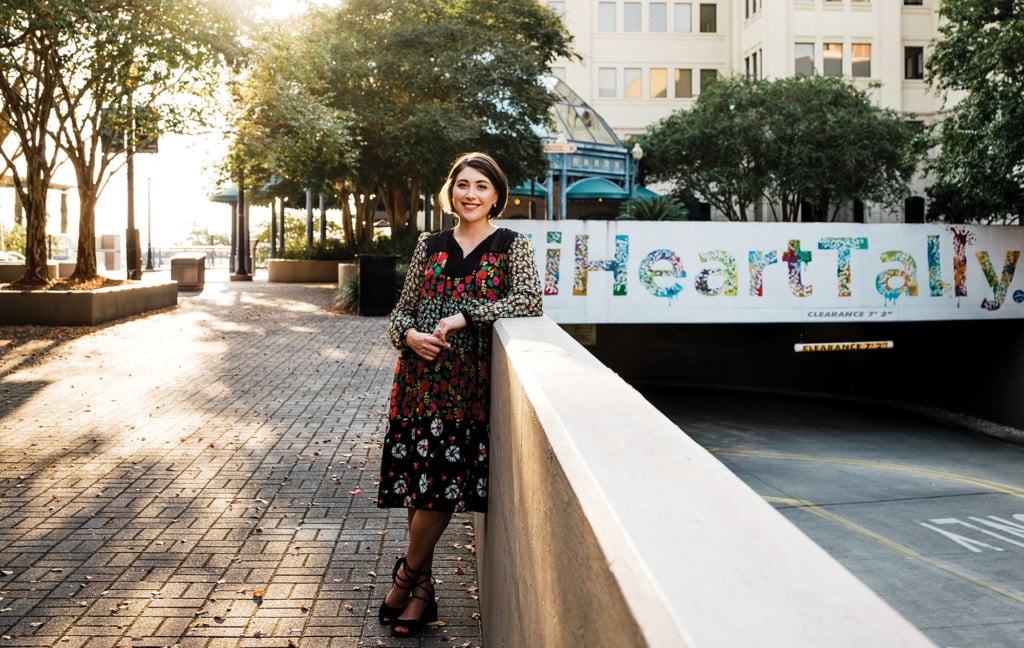 Elizabeth Emmanuel admits that she has never much succeeded in escaping downtown Tallahassee. Not that she's complaining.
She grew up in the capital city's Lafayette Park neighborhood and, in March, she assumed the helm of its Downtown Improvement Authority (DIA), working to move the organization past the headlines that enveloped her predecessor in that role.
Emmanuel strayed from Tallahassee just long enough to earn a degree at the Mid-America College of Funeral Service in Jeffersonville, Indiana.
Upon graduating, she found employment at a small, locally owned funeral home back where she belongs.
There, she worked for 10 years, taking on roles as funeral director, embalmer — and director of community relations — before considering whether her skill set would transfer to other industries.
"Of course, the embalming didn't, but the marketing and PR part did," Emmanuel said.
She went to work for Leadership Tallahassee, a program of the Chamber of Commerce and, as an extension of that job, served on boards including that of the DIA.
When Paige Carter-Smith resigned her post as the DIA's director after being indicted on federal charges, three of which she pleaded guilty to in August, Emmanuel decided to apply for the position.
She takes no offense at suggestions, made by persons with knowledge of her employment history, that she was the perfect woman to breathe new life into the organization.
Emmanuel immediately began "giving talks all over town," assuring audiences that "the bad press of the past year doesn't represent who we are and what we're doing. Give us a chance to prove that to you; attend one of our events."
All DIA events are free. They include the Sundown Concert Series at Cascades Park, yoga classes at Kleman Plaza and the long-running Downtown Marketplace happenings held at Ponce de Leon Park offering fresh produce, the works of local artists, music and more.
"We've got the right infrastructure, the right bones," Emmanuel said. "We have great restaurants with great operators, lots of museums, and we are rich in public amenities. We have more green spaces, more parks and more free parking than most urban communities have."
Emmanuel is always mindful of the approximately 650 urban-core property owners who pay ad valorem taxes assessed by the DIA's special taxing district, and intends that they get a good return on their investment.
Events generate foot traffic to their benefit. In addition, the DIA has undertaken beautification projects — traffic-control and utility boxes are being dressed up and murals are replacing graffiti — to promote civic pride.
Thirty girls from the Oasis Center for Women and Girls transformed a blighted wall into a beautiful public art element.
"They got to be part of making a lasting, positive change, and how great is that?" Emmanuel enthused. "They are growing up knowing what it feels like to be part of a solution."
In her first five months working for the DIA, Emmanuel had conversations with more than 100 downtown businesses and supporters from outside the taxing district about what the agency is doing right and what it could do better.
In so doing, she was reminded that there is more work to be done in discouraging the impression that downtown is for white men in suits.
"We want people to see downtown as the heart of our community, not just a place for business," Emmanuel said.
"We might have to clear some arteries and put in some stints, but when you get it beating again, it's a wonderful thing. That takes a lot of buy-in, and it's not something that any one organization can accomplish. You have to have the community on board."
Maximizing buy-in means making downtown inclusive. More attention needs to be paid to members of minority groups who live or own businesses downtown, Emmanuel said.
Public spaces need to be evaluated in terms of their accessibility by persons with disabilities.
"We are trying to better integrate the DIA into the community, make it less detached," Emmanuel said.
"We have been pulling together focus groups of restaurateurs, hospitality industry folks and representatives of cultural institutions. And we're asking what we can do to help."
Themes emerge, including public safety, walkability and the need to tempt greater numbers of visitors downtown.
"If we provide them with a good experience, people drawn to a free concert at Cascades Park are likely to revisit downtown and may attend ticketed events," Emmanuel said. "They may frequent a restaurant on their next trip."
Downtown development and re-development activities are sending visitors the right message: the heart of Tallahassee's pulse is strong.
"When you start to get large-chain hotels arriving downtown, it's a sign of a vibrant economy," Emmanuel said.
"They do market research. They're not guessing. We should feel good about meeting their requirements."
Emmanuel was impressed by the downtown business community's response when FSU's football opener versus Boise State was moved due to Hurricane Dorian from Jacksonville to Tallahassee with little notice.
"Our hotel operators and restaurants reacted quickly to a huge unanticipated influx of people," Emmanuel said. "It was a real testament to how good they are. They are a big part of the reason I look forward to doing what I do every day."