Tallahassee's Expanding Natural Food Selection
Natural Abundance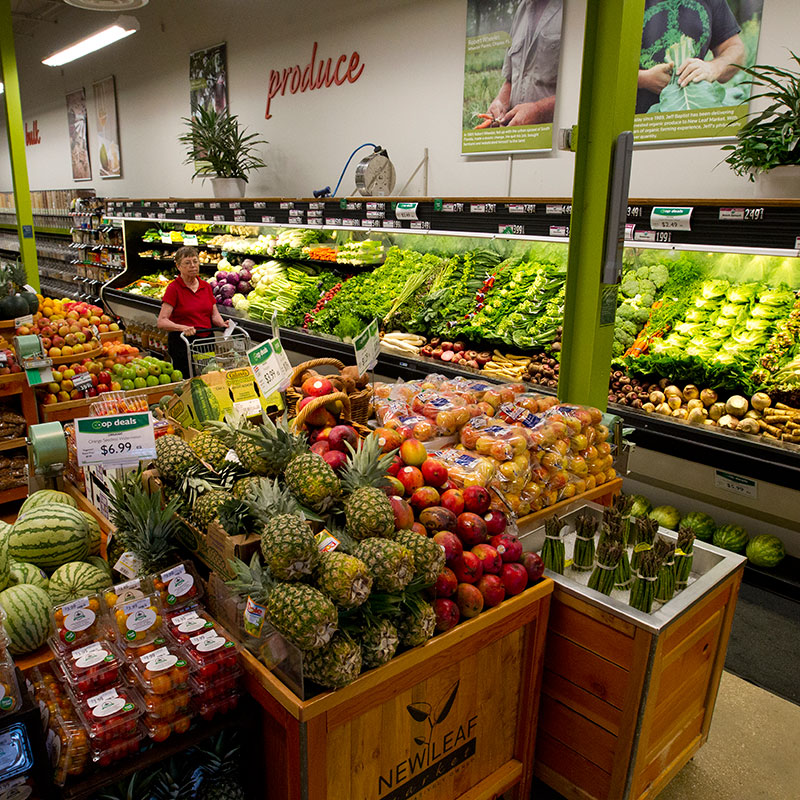 With Whole Foods Market moving in, Tallahassee now has four distinct options for fresh, natural groceries — a surprising selection for a city its size. On the surface, it might appear that the competition would be too stiff to allow all four to coexist. But on closer inspection it becomes clear that these businesses each bring something unique to the table, establishing their own niche markets with different approaches and selections that will combine to serve Tallahassee a hefty, healthful grocery selection.
The New Kid on the Block
With a much-anticipated debut on Oct. 15, the 40,000-square-foot Whole Foods Market promises to be Tallahassee's largest source for natural grocery options. While the chain's size might seem intimidating to some, executive marketing coordinator Russ Benblatt stressed that Whole Foods has very clear priorities — and foremost among them are the customers.
"We never want to get so big that we lose connection with our customers," he said, explaining that their business model is somewhat decentralized. Stores are grouped into regions and authority is decentralized across them. Florida is actually the only state with its own region, with 18 open stores and five more in development. Benblatt added that Whole Foods makes serious efforts to listen to customers — all feedback they receive gets read and answered.
Whole Foods operates with seven core values, the first of which is to provide the highest quality natural and organic products available. On a local level, this means doing some homework and linking up with local sources. "We try to source our products as locally as possible … we actually know the farmers that grow the products that we sell," said Benblatt. If a product cannot be found locally, the store turns to regional sources and finally national sources as a last resort if the product cannot be found nearby.
When the Miracle 5 space on Thomasville Road opened up, Whole Foods saw an opportunity in the location, close to both the Capitol and campus.
"We've been wanting to open a store in Tallahassee for such a long time," Benblatt added, although he would not discuss the research that led the chain to set up a Tallahassee location.
The details of the store are still in the works, but Benblatt said that there would be a hot bar with more than 100 options and a salad bar with over 50. Like all Whole Foods stores, the Tallahassee location will stock only unprocessed, organic and natural foods in their most natural state possible. Foods with artificial preservatives, colors and flavors do not make it onto the shelves. Additionally, the store will partner with local farmers and CSAs, functioning as a drop point free of charge. (A CSA is a Community Supported Agriculture program. People buy "shares" up front, sign up to take a certain amount of produce and can pick it up at the established intervals, such as weekly or monthly.)
Ultimately, Benblatt said, their efforts up until opening will be focused on getting to know Tallahassee's community. Selections are tailored store-to-store to suit community need. "What the community in Tallahassee is asking for is, I imagine, light years away from what South Beach is asking for," he explained with a laugh. In addition to retail selection, the store promises to bring its other usual programs, including cooking classes and demonstrations, community events and donations to local food banks and charities.
A Homegrown Open Air Market
Opened in the '60s, Tomato Land is Tallahassee's oldest source of fresh produce. Butch Reagan, its current owner, bought the store from his father-in-law in 1987. All possible produce is locally sourced, with a few stand-ins from California for products that cannot be grown nearby.
"We try to sell everything that is pretty much local to this area," said Reagan. "Fruits and vegetables, and things like mayhaw jellies — obviously Southern things."
Four years ago, the store added a certified kitchen to prepare vegetables, and now the little lunch spot comprises about 40 percent of Tomatoland's business, particularly in the winter months when people are less inclined to shop outside.
With Whole Foods moving in next door, Reagan knows things are going to change but also feels confident that everything will resettle after a while. According to Reagan, every local grocery source — even Publix — will probably feel the new competitor's impact for a time.
"In Tallahassee, you've got three colleges. You've got state government. You've got a lot of people coming and going; it's growing, and has been growing for as long as I can remember. There's a lot of people here; it's a big market."
This big market, Reagan believes, is going to be able to support all grocery sources, once the dust settles and everyone gets used to having a Whole Foods. And while Whole Foods is certainly a bigger enterprise than Tomato Land, he believes that each store has its own distinct advantages and disadvantages.
"Whole Foods has got a lot more bells and whistles, but my thought is that people can't get it any fresher," he said, adding, "A lot of people are concerned about the economy, and I can be a lot cheaper."
A National Chain With an Emphasis on Local
Founded in 1974 as Dinner for the Earth, Earth Fare is one of the largest natural and organic food retailers in the country, with more than 28 stores across the Southeast and Midwest. The chain is driven by a food philosophy that guides what hits the shelves and what stays off of them. Their "Boot List" outlines ingredients that will not be stocked.
"We do not allow anything in the store to contain high-fructose corn syrup, artificial fats or trans-fats, flavors and preservatives, as well as antibiotics and synthetic growth hormones in any of the fresh meats or dairy," said Kristi Kanzig, Earth Fare's assistant director of marketing. The store's goal is to provide a selection of great food as "close to the ground as it gets."
Kanzig stressed the importance of community commitment in Earth Fare's approach. Their website, she explained, is a perfect example.
"Our new EarthFare.com features three community goals that help us on our mission to connect communities and improve lives through food. These goals feature actions that bring people together around great food, and when we reach these goals we will reward the community as a whole by awarding $1,000 worth of physical education equipment to neighborhood schools," she said.
Customers keep coming back to Earth Fare for the great food, customer service and coupons, according to Kanzig. The store has both weekly deals and freebies available online, in-store coupons and paperless text coupons. Their commitment to ending childhood obesity has also led them to hold Family Dinner Night every Thursday from 4–8 p.m., offering a free dinner for a child with the purchase of an adult meal.
"It's a great family-friendly night for an easy, healthy meal for the kids," said Kanzig.
A Local Cooperative Effort
Tallahassee's natural and organic food co-op, New Leaf, began in 1974 as the Leon County Food Co-op and changed its name to New Leaf in 1989. As a co-op, New Leaf's structure is different from corporate chains.
"It means that any person can become part owner of this store," explained Cristin Burns, New Leaf's marketing and project manager. "We are owned by the people who shop here, and that means a lot of different things. It means that as an owner, you actually have voting rights for our board of director's elections. If we were to change something drastic about the way we function, that has to go to a vote to our owners. It also means that you get special sale prices that only our owners get."
Additionally, New Leaf's owners enjoy seminar discounts and a portion of profits in rebate checks. Becoming an owner costs a refundable $100, with an additional $5 administrative fee. Ownership can be fully refunded at any time, although many choose to leave their ownership fee with New Leaf even after moving away; of the 10,000 owners, only 5,500 are active, meaning the rest chose to leave their money to support the co-op.
Another part of being a co-op, says Burns, is that it gives the store a triple bottom line. Like any other commercial enterprise, making money to stay afloat is one goal, but additionally Burns emphasized New Leaf's commitment to educating the community and also giving back — to the tune of thousands of dollars each year, volunteer hours and product donations. In fact, the store has an entire department dedicated to community outreach and giving back.
"We're not only locally owned, but we're also supporting local businesses," she said. "I know a lot of places — a lot of corporate chains — talk the talk really, really well when it comes to local, but when you actually go in the store to look for local products, you have a hard time finding them."
Supporting local businesses is important, says Burns, because for every dollar spent at a local business, 68 cents stays in that local community. When local businesses support one another, this compounds to form huge benefits for the local economy.
New Leaf's selection is composed of clean products only — all natural and organic. Very rarely, a conventional item from a local vendor might be allowed in, but is always clearly marked so shoppers know that it is not certified organic. As many local items (from within 200 miles of Tallahassee) as possible are stocked and displayed prominently on shelves to support these local sources. No foods at New Leaf contain artificial additives and colorings. There is also a special order program, so shoppers can access other items not readily available in the store.
Burns emphasized that New Leaf also offers plenty of opportunities for families to save money with weekly coupons (and additional owner coupons). "Our prices are very competitive," she added. "If you're comparing our natural and organic to natural and organic at other locations, we are right there with them; we're as good and sometimes even better."
This, paired with a family atmosphere and co-op business model, makes the store a welcoming and fun place to shop — for dedicated owners and newcomers alike.