Tallahassee's Beloved Boutique Hotel Sold for $23 Million
Deal Estate: Just Sold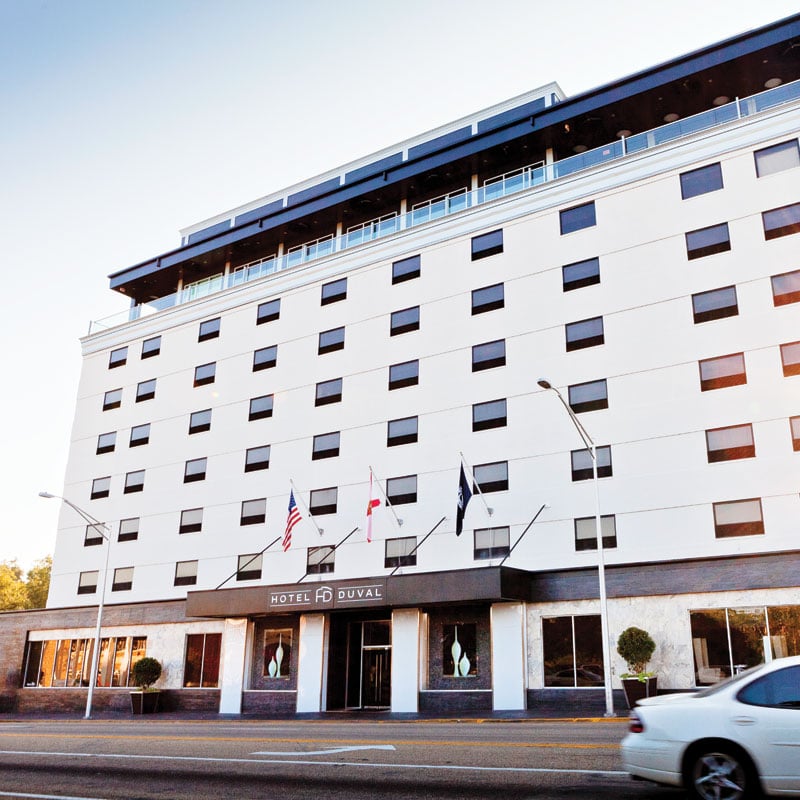 The leaders of Tallahassee-based Hunter+Harp Hospitality are well acquainted with large-scale business transactions, but when Schulete Hospitality out of Louisville, Ky., approached the group in the summer of 2013 regarding the future ownership of Hotel Duval, the principals of Hunter+Harp were beyond intrigued.
A few months and $23 million later, this iconic boutique hotel located on Tallahassee's main drag officially changed hands. The purchase, which included the 117 guest rooms and suites of the hotel, two upscale restaurants, a large ballroom and Tallahassee's highest bar, Level 8 Lounge, was sealed on Oct. 25.
Hunter+Harp spent millions revamping the historic 1950s hotel into a sleek and elegant lodging. The group, which originally purchased the property in 2007 for $4,750,000, elevated Hotel Duval's status so much so that the property became a member of Marriott's prestigious Autograph Collection of fine boutique hotels and resorts — a major asset in the competitive hospitality industry.
According to Chad Kittrell, co-founder and principal of Hunter+Harp, the unique concept behind this boutique hotel made it an easy sell.
What's equally as interesting and revealing as the transaction itself, shared Kittrell, is that out-of-state investors are realizing Tallahassee's potential in unprecedented ways. After opening its doors in 2009, this facility made $9 million in revenue in the first year alone — showing national investors the region's promising future.
"Several years ago major investors were not as interested in a destination like Tallahassee," said Kittrell. "This transaction proves our town is becoming more attractive and desirable to entrepreneurs."
As for Hunter+Harp, the company intends to stay an active member of Leon County's emerging hospitality industry.
"By developing, creating and selling a successful business like Hotel Duval, this affords us the opportunity to reinvest in new ventures in our community," shared Kittrell.
Quick Look:
Address:
415 N Monroe St.,
Tallahassee
List Price: Undisclosed
Sold For: $23,000,000