Tallahassee International Airport is Moving Up in The World of Aviation
Airport Redux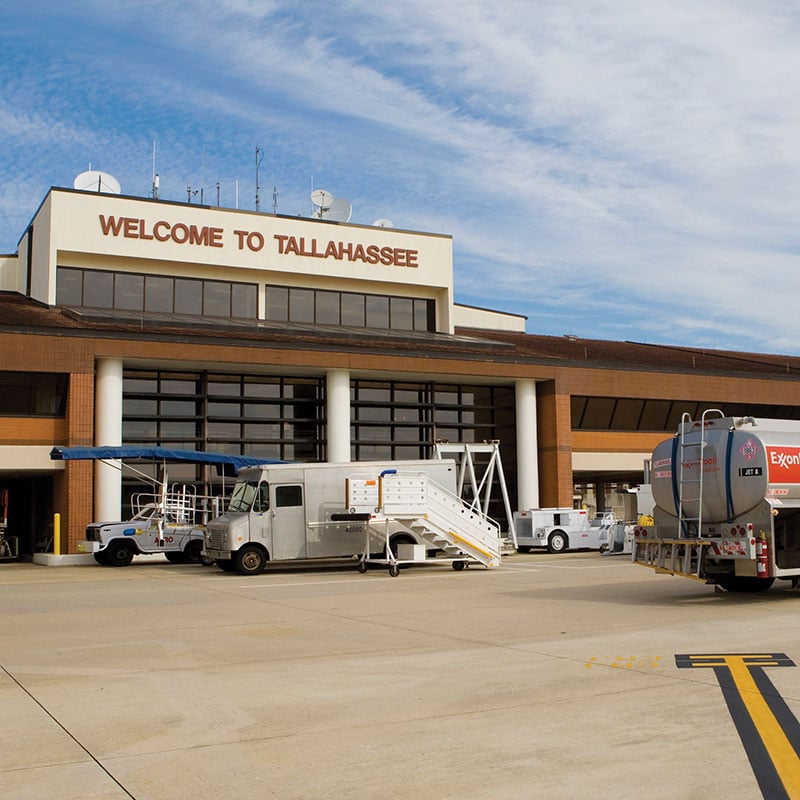 City officials are hoping big changes at the newly minted Tallahassee International Airport will produce greater business opportunities and customer satisfaction in the years to come.
"Our new 'international' designation is working very well," said Chris Curry, the airport's aviation director. "We have been assigned a new project manager with Customs and Border Protection to assist us with the design of a new International Arrivals Facility. We've also seen an increase in the number of developers and vendors interested in TLH. Developers and vendors that previously had no contact with the airport are now calling us, interested in partnering with us on future endeavors."
Meanwhile, the city is actively campaigning to attract the attention of new carriers.
Curry said Sachs Media Group and the Greater Tallahassee Chamber of Commerce are working on a campaign called "GetBlue," designed to encourage airline provider JetBlue to come to Tallahassee.
"To help with our case, we're asking citizens to tell us why they would like JetBlue in Florida's capital city," he said.
Anyone interested in providing input can go to GetBlueTallahassee.com to submit a plea in paragraph form or upload a short video. These stories will then be shared with JetBlue representatives. As the public makes its case, the city will continue in its talks with the carrier.
"So far, we've met with JetBlue and will continue to meet with them. Our goal is to obtain direct service from Tallahassee to Fort Lauderdale, which is our largest passenger market," Curry said. "This direct service would offer access to our area's top three destinations: South Florida, New York and Washington, D.C. One-stop connections would be provided via Fort Lauderdale."
JetBlue's low-cost fares would also help to reduce the overall ticket prices in the Tallahassee area, thereby creating a greater incentive for travelers to choose TLH.
"It's a win-win," he said.
Tallahassee International Airport was also recently awarded a Small Community Air Service Development grant in the amount of $750,000 to help establish a United Airlines service to Houston.
As the city continues recruiting new carriers, the airport itself will take on a new look by the end of 2016. A terminal modernization project recently got underway that ultimately will make flying in and out easier and more customer-friendly. The Terminal Modernization Project, which started in September, involves reconfiguring the lobby up to the Transportation Safety Administration checkpoint. A new baggage claim system, ticket counters for airlines and rental car agencies, safety screening machines, a new TSA screening room and some aesthetic upgrades, including new terrazzo flooring and LCD monitors, are all part and parcel to the upgrades.
"This is a step toward our overall goal of improving our airport," said City Commissioner Scott Maddox, commission liaison to the airport. "We are committed to enhancing the Tallahassee air travel experience, from our terminal improvements to adding more flights and lower fares."
Curry said that demolition has started in areas on the "airside" of the airport and in baggage claim. The demolition phase will continue until March 2016. Once that is complete, crews will begin working on the installation phase. The entire project is expected to be complete by October 2016. The $10.5 million construction contract has been awarded to local contractor Cook Brothers Inc. Funding came from several sources, including grants from the Florida Department of Transportation, agreements with the TSA and local funding. The concession renovation project just started, with a completion date of February 2016.
One other development is happening — outside the airport. There's a new parking vendor that will provide technology to help make parking more efficient. In addition, three electric vehicle-charging stations are expected to be added.
All these changes are going to play a big role as the airport continues to see an increase in passengers coming and going. Between 2010 and 2014, the airport experienced a 5 percent increase in passengers.
"We've seen 513,244 passengers go through Tallahassee International Airport since the start of 2015," Curry said. "Last year (2014), approximately 706,574 passengers went through our turnstiles."
Meanwhile, officials are casting their eyes on developable land adjacent to the airport. Curry said officials anticipate issuing a request for proposal soon to solicit a company with experience in marketing aviation-related property nationwide.
"Our goal is that this company would help us market the land surrounding the airport for development," he said. "Currently, however, we're moving forward in our discussions with interested developers, including one developer who would like to build a solar farm on 100 acres of airport property."