Taking Tech to Market
FSU offices help researchers monetize inventions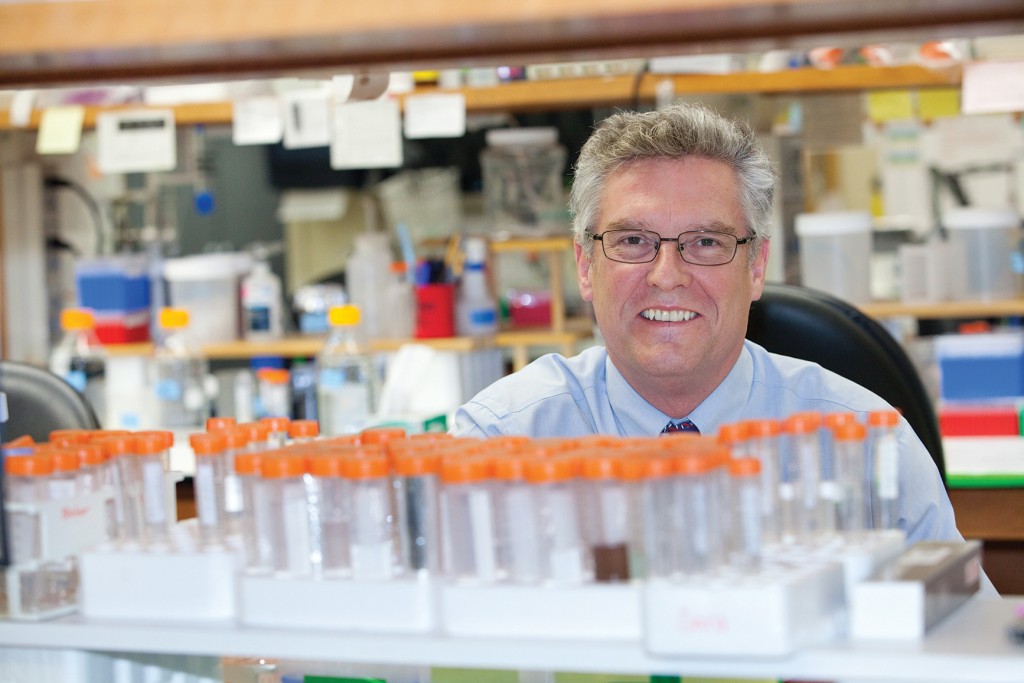 Florida State University is a top patent producer in the United States, ranked 84th in the world by the 2020 Intellectual Property Owners Association. Faculty and staff submitted ı,375 funding proposals in 202ı, winning ı,029 awards totaling over $275 million. Award-winning research from FSU faculty members resulted in 5ı patents last year with 22ı being granted in the last five years.
Behind the scenes are the Offices of Commercialization and Research. Not every scientist sees the commercial capabilities of his efforts. That's where Dr. Brent Edington and his team come in, filling the gaps between an innovation and a commercialized product.
Dr. Edington earned his doctorate in molecular genetics from the University of Connecticut and an MBA from the University of Colorado, Denver. He also has postdoctoral research experience in plant genetics and gene expression at the Samuel Roberts Noble Foundation. Before joining the Office of Commercialization in 20ı3, Eddington was involved in six startups and was a founding member in four of them.
"We want to be involved," Edington said, explaining that there are multiple approaches the Office of Commercialization takes to find and commercialize research across FSU.
"We try to be in at the beginning or at any stage to know about what's going on," Edington said. "Some professors will know what they are doing for a couple of years before it's to the point where they are going to submit an invention."
But not all of them will. That's why Edington's team is proactive in the campus community, looking for departments with promising ideas.
"I will get a list of all the grants in the university," he explained. "We'll go talk to the people with money. It's a good start to find out and understand what's going on. I encourage the licensing managers to go to seminars to know who the researchers are and to know what's going on in their departments."
The university is divided among four licensing managers, who work within their departments to assess which proposed innovations to pursue.
"Our attitude is we are going to license everything we can," Edington said.
There are two reasons for this. First, it's a great advertisement for the professor, helping to increase the prestige of the university. It also provides financial support to FSU and the inventors.
After an invention disclosure arrives at Edington's office, it is assessed for commercial viability. Not all ideas can become commercial products or licenses, but some of them can be copyrighted. Of course, the work of the Office of Commercialization does not stop there. They work closely with inventors to help monetize products and services.
"We are a service organization," Edington said of his office. "We have two clients: the university professors because we are selling our services to them and then selling their inventions to industry."
The best advertisement to potential entrepreneurial clients is to get the inventors published in a high-impact journal, where industries find innovations in their fields. When businesses wish to use algorithms and ideas that come from FSU, they have to apply for a license. That's where the Office of Commercialization comes in.
As important as it is to find and protect intellectual property, it's equally important to get innovations to the right industry. And while Office of Commercialization personnel do not market products directly to consumers, they work with the inventors and industries to bring the right people together, like an online dating service.
"We are going to make somebody's career at a company," Eddington claimed. "If we can get a technology to the right person, he or she is going to look like a hero if he or she brings that technology in."
That level of confidence in FSU's faculty is well-founded. World-changing research has come from there.
Physicist Paul Dirac, recipient of the ı933 Nobel Prize in physics, taught at FSU. His work contributed to the reconciliation of quantum mechanics and Einstein's theory of general relativity. Other Nobel laureates include Sir Harold W. Kroto, Robert S. Mulliken, John R. Schrieffer, Konrad E. Bloch and James Buchanan, all honored for their work produced as FSU faculty members. In 20ı6, Dr. Alan Marshall was inducted into the Florida Inventors Hall of Fame for synthesizing paclitaxel, an anti-mitotic used in cancer treatment.
Current projects include advanced materials auxetic from the High-Performance Materials Institute at the FAMU-FSU College of Engineering. Another invention uses a low-voltage gallium nitride device to facilitate a modular structure for applications in renewable energy.
In the biomedical arena, a device was patented and developed to aid patients with peripheral arterial disease.
"The best therapy is walking, but it's too painful to walk," Edington explained, especially for elderly patients. The dorsiflexion splint developed by Professor Judy Delp from the College of Medicine improves blood flow and oxygenation to the legs while at rest, allowing for improved ability to walk without a high level of pain, thus improving overall health.
FSU's Office of Commercialization developed a relationship with the Mayo Clinic to further develop this technology and is collaborating with physicians to conduct ongoing clinical trials.
Also in the college of medicine, Drs. Micheal Blaber and Jihun Lee have been developing a human fibroblast growth factor, currently in phase two clinical trials, which is used to stabilize disulfide bond mutants for therapeutic applications in corneal disease.
These are just a small sample of the inventions in the works at FSU. In all sectors of industry, several patent-pending innovations are being developed across the campus from an artificial intelligence-powered lie detector to medicine and advanced materials.
The Offices of Research and Commercialization work at all levels to take embryonic ideas to viable innovations, protecting intellectual property as a new technology develops into a viable product to take to market