Sylvester's NCI Designation Improves Florida Economy
South Florida's only National Cancer Institute designated cancer center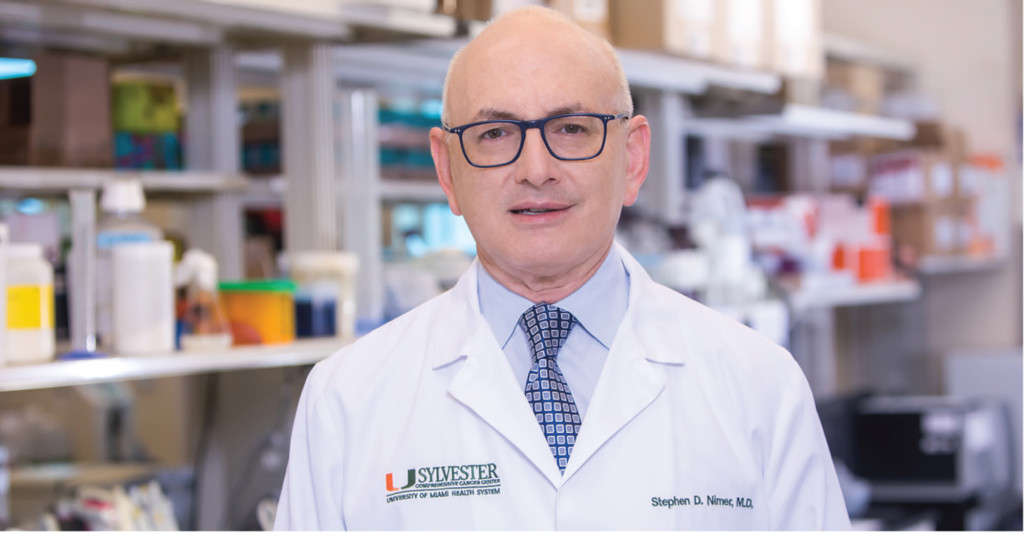 Florida has the second-highest number of cancer cases in the country. However, as the third-largest state in terms of population, our state lags behind peer states in terms of designated cancer centers.
In 2014, the Florida Legislature made a commitment to enhancing the quality and competitiveness of cancer care in our state by passing The Florida Consortium of National Cancer Institute Centers Program.
That investment has proven to be worthwhile. Florida's footprint on the cancer care map was expanded this past summer thanks to Sylvester Comprehensive Cancer Center's designation by the National Cancer Institute (NCI).
With this achievement, Sylvester, part of UHealth – University of Miami Health System, joined a highly select group of world-renowned cancer centers around the U.S. Sylvester became only the second cancer center in the state of Florida, and the 71st in the country, to receive NCI designation.
Sylvester Director Stephen D. Nimer, M.D., says NCI designation is the "gold standard" for cancer centers, and it places Sylvester into the top tier of cancer centers nationwide, alongside world-renowned centers such as New York's Memorial Sloan Kettering and Houston's M.D. Anderson.
"It's a recognition of our outstanding work conducting research in our laboratories, treating patients in our clinics and hospitals, and reaching out to medically underserved communities with innovative cancer prevention strategies," Dr. Nimer said.
The NCI, one of the 11 agencies that form the National Institutes of Health and the federal government's leading agency for cancer research, training, and health information dissemination, has now recognized Sylvester's outstanding research work with NCI designation.
A team of Sylvester physicians, researchers, and staff, led by Dr. Nimer, worked around the clock for months to complete the 1,300-page, single-spaced application.
"The standards that we've created for applicants that are aspiring to be NCI designated cancer centers are very high," said NCI's director of the division of cancer control and population sciences, Robert Croyle, Ph.D. "The NCI cancer centers are the crown jewels in the nation's war on cancer."
NCI designation is welcome news for Sylvester, the Miller School of Medicine, and the University of Miami.
It comes with a grant from NCI of $2 million a year over the next five years, with additional funding from the state of Florida – dollars that will be invested directly into life-saving research and programs that will benefit patients around the state and beyond.
In fact, it was the support from the state over the last several years that helped build Sylvester's robust research programs, which aided in the cancer center's application and directly impact the patient population of South Florida and the region.
It not only reflects the strength of the Center's research, cancer prevention, and training and education programs but represents a boost to the state economy, with an economic impact estimated at $1.2 billion.
Sylvester will generate more high-wage jobs; more interns, residents, fellows, and physician-scientists from around the globe will come to Sylvester to advance their knowledge; and more patients from outside the U.S. – particularly those from Latin America and the Caribbean – will come here in search of highly specialized treatments that can be found only at Sylvester.
Sylvester Comprehensive Cancer Center is South Florida's only NCI-designated cancer center and serves patients from seven locations: Miami, Coral Gables, Kendall, Hollywood, Deerfield Beach, Plantation, and Coral Springs.
To schedule a consultation at a location near you, call 305-243-5302 or visit Sylvester.org