Susan Davis
CEO/President, Sacred Heart Health System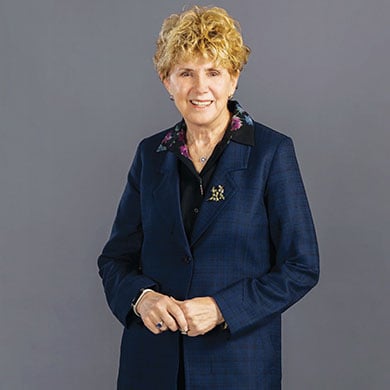 Courts awarded custody of Susan Davis to her father when she was 4. And, while he scrambled to make a living for many years doing odd jobs before he became a junior high math teacher, Dad was a chief influence in her life.
Davis credits him with teaching her about courage, care, compassion and values. He escorted her to mother-daughter events and tried to become a Brownies leader, but, says Davis, the Girl Scout Council wasn't quite ready for him in the early 1960s.
"My dad taught me that no matter how hard something appears to be, you have to try," Davis recalls, and she has tried many hard things.
Her most gratifying work has been in the area of patient safety. In 2007, she had the opportunity to work with a nuclear engineer and became familiar with principles of high reliability used by that industry to minimize the chance for safety events. They are principles that travel well. Susan came to Sacred Heart in Pensacola from a hospital in Connecticut, where she served as the chair of the statewide hospital safety committee in that state.
"Our employees try always to do the right thing, but when you are talking about 8,000 of them and hundreds of patients, there are a lot of things that can fall through the cracks," Davis says. "There can be unintended consequences arising from the best of intentions. Sometimes, there are procedures and processes that complicate efforts to positively affect the life of a patient and we may need to simplify things so that our people can reliably be successful."
Along with her father, Davis has been profoundly influenced by health-care consultant Quint Studer, whom she views as a "gift" and whom she credits with devising tools and systems that have improved the patient experience at the hospitals he has worked with.
"He's creative, he takes risks and if there is something he believes in, there is no stopping him," Davis says about Studer.
Among women, Davis grudgingly admired Miss Kischak, her first teacher in nursing school. Kischak was retired Army and she was tough. Students knew to try to avoid her, but Davis registered late for her first term and had no choice. At the end of the term, Susan had an 89.7 average and appealed to Kischak to round the score up to a 90 so that she would receive an A. She may as well have put her shoulder into a skyscraper. Kischak didn't budge.
"She told me that if I had tried just a little bit harder, I would have had an A, and that patients deserve nothing less than our best efforts," Davis recalls.
Says Davis, "The best lesson I have learned is to fail forward and to fail often. If you don't take a risk, you won't fail and you won't learn from your failures. And I've learned a lot."
For Davis's many failures, Sacred Heart Hospital, organizations including Covenant Hospice, the Pensacola Chamber of Commerce, and Gulf Coast Kids' House as well as countless individuals are most grateful.