Stumps Found in Wewahitchka's Dead Lakes Are Repurposed and Given a Second Life
Salvaging Cypress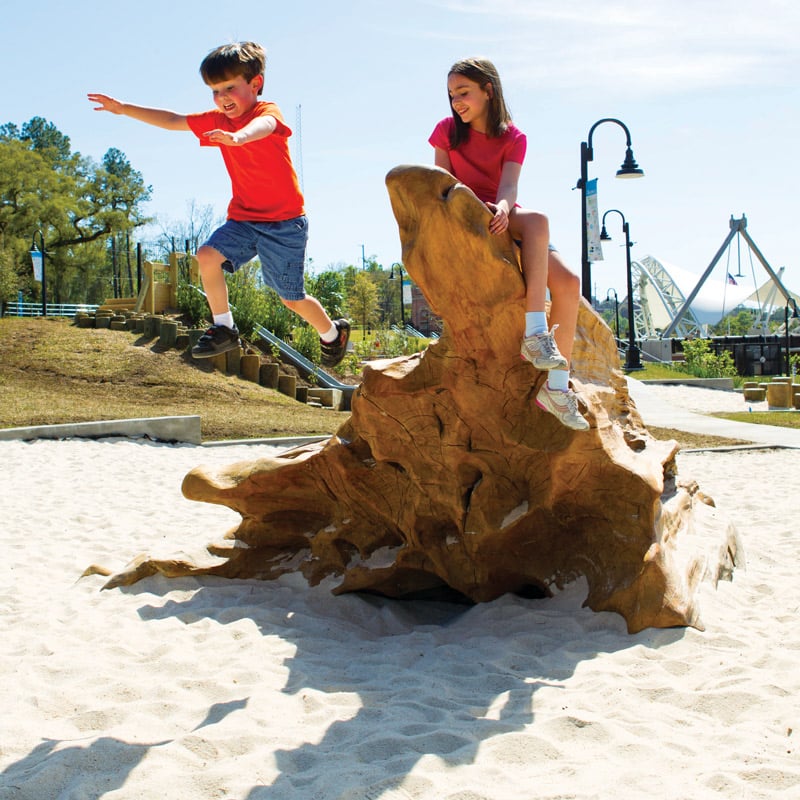 Rugged with a dash of cowboy charisma, at first glance Bob Sutton doesn't seem like your typical artist. Start conversing over the twists and turns and thwarted passageways found throughout the Dead Lakes of Wewahitchka, though, and the pace of your exchange is sure to hasten.
Once you've delved deep enough into his watery world, it's easy to see just how precisely Sutton's artistic wheels can turn. In this realm, it's said he sees things others don't.
Cypress stumps and snags are Sutton's canvas. A sturdy, ancient medium, these graying broken bits of lumber are sprinkled throughout the Dead Lakes and range from several ounces to several tons. Their eerie, mysterious appearance is the namesake for the surrounding tannic waters — a swampy floodplain of the Chipola River, which many years ago submerged the area, killing off the existing cypress population. Whatever was left, locals say, was wiped out by the northern lumber companies' relentless clear-cutting practices following the Civil War.
A century and a half later the haunting remnants are Sutton's most inspiring muse.
"See that notch right there?" questioned Sutton, walking through his combination work shop/thrift store/RV park office at Wewa RV Park and Trading Post. "That's where they went into it 140 years ago to see if it was hollow. Once they saw it was hollow and that it had no value as lumber, they just threw it back in the water.
"Same with this piece," he pointed.
For him and business partner Richard Norrell, those throwbacks are a beautiful thing.
Crafting these mud-soaked pieces into showroom ready works of art can be tricky, but actually getting them to dry land is the biggest challenge. Together, this two-man team motors around the Dead Lakes, patrolling for any piece of particularly striking cypress driftwood. When a snag captures their attention, they either scoop it up on the spot or make arrangements to obtain it at a later date. For their larger finds, a crane is often required.
"What happens is that when the water goes low, they dry out and become buoyant," explained Sutton. "When it floods, they pop out of the mud and start floating. You can go around and not see anything, and (then) you'll get high water and there'll be hundreds and hundreds of pieces floating."
The wood's buoyancy is due to a fungus (Stereum taxodii) that hollows out waterlogged trees, giving them their "pecky cypress" and gnarled appearance. Once the cypress stumps have detached from the lake's marshy bottom, they quickly rise. At that point, common law dictates that they're fair game — just a piece of exceptionally large driftwood. "Same as a Coke bottle," Sutton said.
Once the stumps have landed on Sutton's turf, they're pressure washed, buffed and lightly sanded to remove any remaining sediment. Then, it's hurry-up-and-wait.
Their work can go for anywhere from $5 to $5,000. Some of their treasures will be turned into simple wall hangings, others dining room tables and nightstands. A number of restaurants and bars throughout the region are among their biggest investors — harnessing the wood's natural, rustic feel to spruce up their interiors. Together, Sutton and Norrell have constructed countless counters, stools and tabletops for commercial use. They even have their hearts set on making a nice beer trough or two for a particularly keen client.
Sutton estimates that approximately 50 percent of the store's business is the result of custom orders and word of mouth. The other half is generated solely by traffic.
"Most of it is people driving up and saying, 'We saw the wood out there,' " laughed Sutton. His front lawn, lined by State Road 71, is filled with the prehistoric shards of dead cypress trees. Best advertising around, he'll tell you.
So far, he seems to be right. He's been steadily selling his creations from his storefront since 2008 and has been dabbling in the world of cypress craftsmanship since 1995.
Sutton's larger-than-life, shock-and-awe tactics certainly worked on Meghan Mick — a Tallahassee resident who, years ago, was day-tripping her way past his unusual emporium.
"I actually passed his site on my way to the beach one time," recalled Mick. "He had all the cypress out in front of his shop, and I just kind of turned around to see what was going on with it. It was really interesting."
Mick's intrigue quickly turned into much, much more. As a well-respected landscape architect and the founder of From the Ground Up, Mick was able to conceptualize her appreciation for Sutton and Norrell's work into something extraordinarily tangible — a cornerstone of the newly opened Cascades Park in Tallahassee.
" I knew it was something that would make it really unique," emphasized Mick. "Cypress is so significant and characteristic of Florida."
Today, half of the largest stump Sutton and Norrell have, to date, ever pulled from the Dead Lakes (which, for curiosity's sake, was 12,000 pounds) is housed in the Cascades children's play area, Discovery. Known as the "Cypress Climb," this massive snag is one of the crowning gems of the park and a personal favorite for Mick. The piece sticks out of the ground approximately five-and-a-half feet, with another foot and a half stabilized below the sands' surface.
For her, choosing to work with Sutton and his crew was an easy decision. Transporting the city's 6,000-pound purchase, however, was anything but.
"He hung with us," praised Mick. "He was very patient. The whole process was probably two years from when I first saw it until we were actually able to get it to Tallahassee.
"He was really gracious and extremely helpful. He was excited to get it to where more people would see it and could really enjoy it."
Sutton's excitement compelled him to give the City of Tallahassee the deal of a lifetime – 6,000 pounds of pristine, ancient cypress stump for $2,500. The remainder of the price was waved, compliments of Wewa RV Park and Trading Post.
The other half of Cypress Climb still resides at Sutton's abode.