Stirring in Magic Smoke
Bit-Wizards tailor technology to individual clients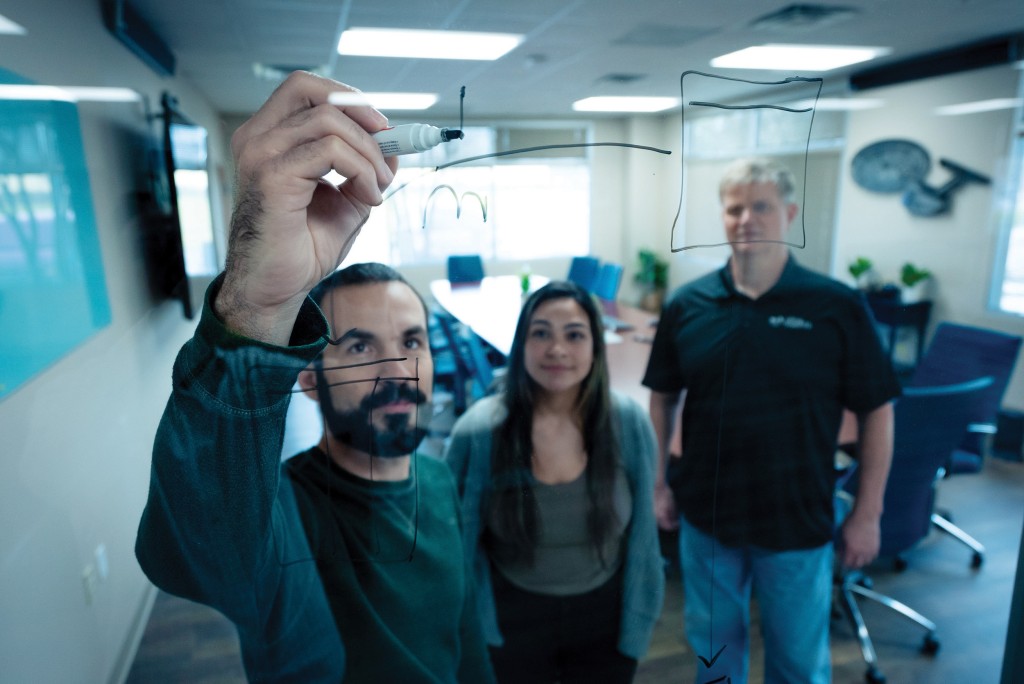 Bit-Wizards, a software development and IT company, was conceived on a Chuck E. Cheese napkin. At a child's birthday party, Vince Mayfield and Louis Erickson mapped out a future that would shape their own lives and contribute to the success of countless companies.
The two have been friends since childhood. Both joined the military and share an inclination toward math and science. As veterans, they wanted to employ their computer backgrounds in entrepreneurial pursuits.
In 200ı, newly incorporated Bit-Wizards became the first technology company in Northwest Florida to offer client-catered IT, software development and digital marketing.
The company name stemmed from chief operating officer Erickson's time at the University of West Florida where one of his professors would say, "Then you stir in the magic smoke," in describing the work of tech whizzes.
Bit-Wizards quickly proved its proficiency in providing tech solutions and grew from ı2 employees to more than 65 — and it's still growing in size and reputation.
The company is consistently ranked in the Top ı0 in Florida Trend's Best Places to Work and is among Inc. magazine's Top 5,000 fastest-growing privately held companies.
Bit-Wizards prizes teamwork. It likes to think of its employees as triple threats who are highly specialized within their roles, but possess the soft skills necessary for successful client interactions and possess leadership qualities that make them valuable team members.
The company has landed diverse clients including the Okaloosa Economic Development Council, the Studer Group, Anheuser-Busch and more.
"What we do is unique because we address a lot of diverse industries, which allows us to learn new techniques with technology in order to cross-pollinate with other companies and use those skills in new, innovative ways," said Mayfield, the Bit-Wizards CEO. "Because we are not choosy on the types of companies we work with, we don't have our blinders on."
In its work with Anheuser-Busch, Bit-Wizards developed software that uses laser engraving and 3D controllers to create custom Stella Artois glasses.
Florida Panhandle-based Rex Lumber turned to Bit-Wizards to help them more efficiently track their lumber inventory by creating a system using cameras, motion detection and scale integration software.
Bit-Wizards helped another Northwest Florida company, Go Southern, by providing a software solution that uses scanners and trackers to reduce product loss.
Mayfield and Erickson partnered with Stephen Nixon, founder of Talking Parents, to create custom software for an already flourishing company. Talking Parents, a service for improving and archiving communication between co-parents, benefitted from an improved website and the addition of an Android and iOS-friendly smartphone app.
Bit-Wizards learns all that it can about a company so that it can better assess its goals and challenges. Rather than offer one-size-fits-all solutions, Erickson and Mayfield reason that because each business's trajectory is unique, technology should be tailor-made.
Erickson respects clients as subject matter experts. He listens carefully to answers they offer in response to questions he asks in getting to know them. "How does your company make money?" he is likely to ask. "How do you serve your customers?"
Bit-Wizards adheres to its client-first mentality in assessing the latest technology trends. They will not install software for customers before test-driving it themselves.
"We are bleeding edge for ourselves in order to be leading edge for our clients," Erickson said. "We wouldn't let our partners use a software that we don't fully believe in."
Mayfield agrees.
"Tech companies that adopt bleeding edge too early often get burned," he said. "Knowing when to apply the latest technology and when to use the proven method is the very nature of being a truly innovative company."