Still reeling 'em in at Bay City Lodge
Jimmy Mosconis puts in time and sacrifice to make Bay City Lodge succeed.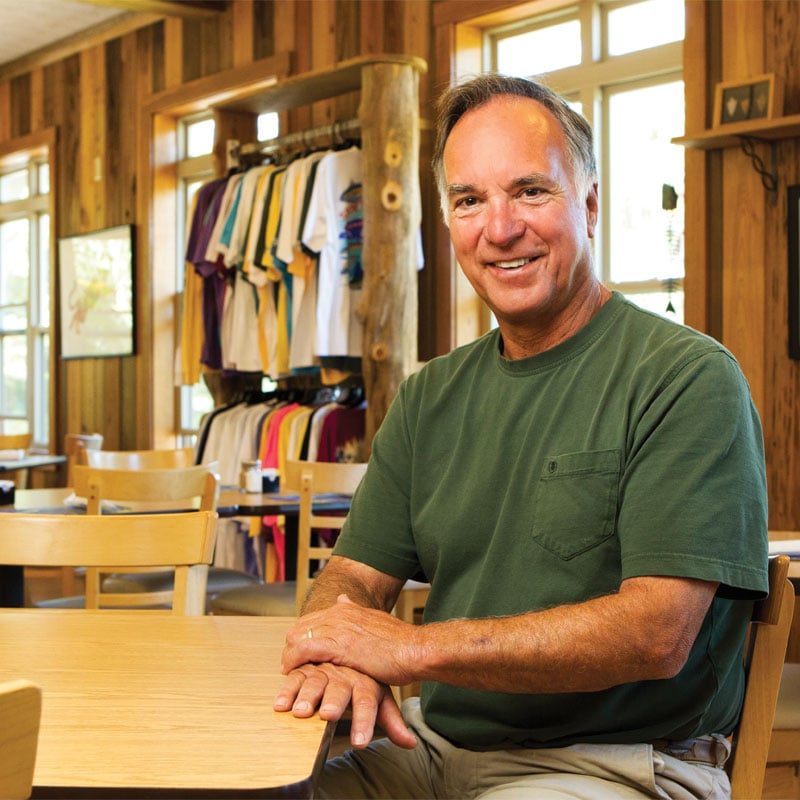 Everyone in Apalachicola has a story about Jimmy Mosconis. Some have stayed at the Bay City Lodge, which he's owned since 1974. Others have eaten at the restaurant that adjoins the resort. Visitors from hundreds of miles away have walked by the Vietnam Memorial wall that he helped bring to Franklin County. And many Franklin County residents have worked for him at one point — or voted for him as county commissioner. He's a business owner, a Vietnam vet, a politician and a staple in Apalachicola.
After returning from the war, Mosconis decided he wanted to try the private sector. Forty years later, he's still going, maybe not as strong as he once was, but people are still coming to the Lodge.
"Every morning I wake up and wonder why I'm doing it," jokes Mosconis. "It's the uniqueness of the people. Many of them are in their 70s." Beside that, "When I get up in the morning I look forward to being the boss."
Bay City Lodge is popular in Franklin County, but maybe more so in Georgia and Alabama as tourists from both states make the pilgrimage to fish the Gulf waters. The economy has taken a toll on the bottom line, but there are still loyal customers that drop a line every year.
"The main thing we have is we have cultivated a clientele. There are people that stay and fish that have been coming since the '60s. Over the years you develop a unique friendship with your customers. I go to funerals and weddings in Georgia and Alabama. When my parents died, people from Alabama and Georgia came here."
Barney Walker is one of those regulars. He's been coming to the Bay City Lodge since 1962. Every 4th of July and Thanksgiving, and usually a few dates sprinkled in between, Walker makes the trek down south to the Lodge. Sometimes he travels with the guys on a fishing trip, other times Walker brings his wife and kids to get away and relax.
"I've known Jimmy probably 40 years," Walker says. "He's a hard worker and has done well with that place and keeps it cleaned up. He built a lot more on it since he bought it. I was going down there before he got it."
Business and Politics Meet
There are many ways to measure success. At the Bay City Lodge it's pretty cut and dry. The economy acts as the barometer. When the market is down, the rooms are empty and the restaurant is barren. Mosconis says things started to change after Hurricane Katrina hit in 2005. Then followed the real estate bust that leveled Franklin County's economy and the bank failures. It all led to a new reality for fishing resorts like the Bay City Lodge.
"The last good year was about four years ago to be honest with you," Mosconis said of the lodge's business. "The problem with the last few years is that there is so much uncertainty with the future. It's on a national level. I see companies all the time on CNBC and other financial reports that say they are scared of the future; that's why they aren't hiring or expanding. We are surviving, but we aren't moving forward like we were four-five years ago."
But unlike many business owners, Mosconis had been preparing for the down economy for a long time. He had an opportunity to sell his business back in 2003–04, but while some of his competitors sold out, he hung on to the Lodge.
"I talked with my wife. What would we do?" Mosconis asked. "How much cake and ice cream can you eat? I never really seriously got down to it."
Mosconis isn't the prototypical businessman. He went to Gulf Coast Community College for a year, but dropped out without graduating; something he still regrets to this day. Working was more important at the time, and Mosconis is a self-taught entrepreneur. It's a skill he's perfected over time, but not without a little blood, sweat and tears along the way.
"You have to work hard and when you are in business for yourself you have to do a lot of sacrificing," Mosconis said. "You have to work when your employees are off. They don't share the same vision as you do when you have your own business. They look at it as a 9-to-5 job, when you are in business for yourself you have to be willing to put in the time and make the sacrifice to make it succeed — whatever it takes to make it succeed. Some days you need to work 16-to-20 hour days if the situation calls for it. If you're not, you're not going to make it."
Mosconis spent the first 10 years at the Lodge putting all of his profits back into the business. It was a vast change from the previous owners who took little care of the resort. Unlike the Wall Street mentality of big bonuses and big bailouts, Mosconis took the opposite approach. He made personal sacrifices and lived without some of life's luxuries, which allowed him to prepare for the future.
He was able to help shape the future of Franklin County not just as a business owner, but also as a politician. Mosconis was a Franklin County commissioner for 24 years, losing a close race in 2006 that ended almost a quarter century of public service in Franklin County.
"The reason I got into politics, I thought I should do more public service," Mosconis said. "I didn't get any personal gain out of that. I looked at that job as a steward of tax money which I don't see a lot of anymore. I felt more like a watchdog in that role."
Franklin County had a good financial boom in the 1990s and, with Mosconis's help, the county was able to trim its property tax rate from 10 to 4 mills.
"I put a lot of effort into that job," said Mosconis. "I'm glad I got beat. I don't miss it. It was getting stressful."
Politics and the Vietnam War
Mosconis is known for a lot of things in Franklin County, but one he's most proud of is the construction of the Vietnam Memorial Wall in Apalachicola. The Vietnam vet took a bullet while in combat on May 28, 1969. Jan Scruggs was also injured that same day and, through their recovery, the two became close friends. It's a friendship that continues today.
To make sure no one forgot the soldiers, Scruggs began a campaign with $2,800 of his own money to build the Vietnam Wall in the nation's capital, and now it is one of the most visited monuments in Washington D.C.
Mosconis was part of the ground breaking, so he knew first-hand what the memorial meant to the vets.
"About 10 years or so ago, Jan was down here visiting me and said, 'We are thinking about allowing five replicas of the Vietnam Wall to be placed around the country,'" remembers Mosconis.
The Franklin County businessman talked to a couple of close friends and put together a group whose mission would be to bring one of those five replicas to Apalachicola. It took Mosconis seven years to raise the money. In the process, the Three Servicemen Statue South non-profit was formed to raise funds for the project. Mosconis serves as the president and was able to nickel and dime his way to $1.2 million. It was enough to get the statue built — and it helped that Scruggs wanted to help his friend bring the memorial to North Florida.
"The typical person who goes into service is from a small town that has the architectural charm and character of a place like Apalachicola," Scruggs told the Panama City Herald back in 2008, adding that "a statue like this" is not to be in downtown Manhattan. "There is so much history here, and (Apalachicola) is a place that preserves the past."
A Future on the Dock of the Bay
A quarter century ago Mosconis says he realized that he was putting all of his money back into his business and not saving for the future. So, he set goals to increase his net worth. It didn't happen overnight, but today he's in a position where he can enjoy some of life's luxuries without feeling bad about it.
"My wife drives a Lexus now and I have a new Toyota pickup truck," Mosconis says. "But for years, the vehicles I drove I couldn't drive from here to Tallahassee safely; the tires weren't good, batteries weren't good. Early on you have to sacrifice and do without to get a long-term plan on what you will do with your money."
These days, Mosconis is worried less about taxes and millage rates and more about continuing the beautification of the Bay City Lodge. While he has saved for the future, he also continues to pour money back into the business. The store and restaurant adjacent to the Lodge were built in the '60s and, according to Mosconis, "flooded so many times that I can't count."
The restaurant was rebuilt two years ago, the kitchen last year. This year, it's the store. If a tropical storm comes through, Mosconis now figures he won't have to spend all of his time cleaning water out of the Lodge.
"I am just going for it, whatever I can afford to do. We are clicking along here, I made the decision to go ahead and do it. I've been saving and planning for it for the past six years. This wasn't a short term decision I made."
His message to other businessman is jokingly, to "find a different profession" because the hospitality business isn't for everyone. But if it is your passion, Mosconis says you need to have a plan. Without a plan, he says, you'll go up in smoke like many of his competitors. And be frugal. If you spend all of your profits, you won't have anything to invest back in the business. His customers are loyal and his Lodge may not be as full as he wants it, but Jimmy Mosconis has done something right. Despite the ups and downs of the economy, he's come out ahead and even has a statue to prove it.
"I struggled through it all," Mosconis said, "But the lights are still on, the taxes are paid and the mortgage payments are current, so I did something right."