State of Play
Florida gambling laws at crossroads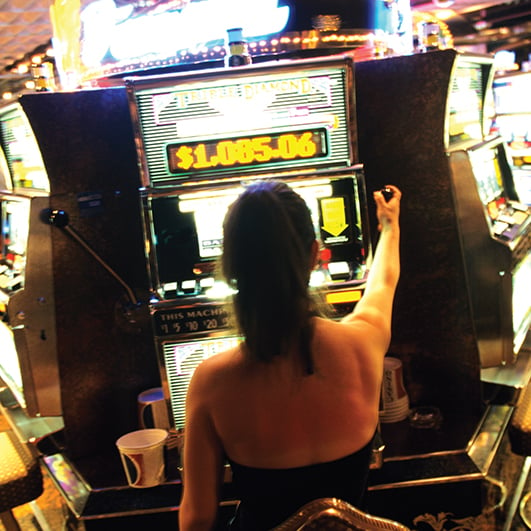 GROWTH INDUSTRY
Florida was home to more than 21,000 slot machines in 2015, the sixth straight year of growth in the state's gaming market. Lawmakers, lobbyists and voters face another year of regulatory wrangling in 2018.
Florida lawmakers' failure to pass a comprehensive gambling bill this past spring left the gaming industry in a holding pattern — neither better nor worse than before. Or, put differently, it left the industry in limbo.
"Limbo's pretty much correct," says Attorney Marc Dunbar, part owner of Gretna Racing in Gadsden County and one of the state's leading gaming attorneys. "We'll need to operate under the status quo for a while."
Gaming versus gambling: Although synonymous, the terms connote different meanings. The first — preferred by the industry — conveys the idea of fun and entertainment; the second — preferred by critics — conveys the idea of addiction and vice.
Going into the 2017 legislative session, enactment of comprehensive gambling legislation was both the industry's hope and legislators' intent, for reasons that included changing social norms and a stated desire to bring clarity and coherence to Florida's gambling laws.
"In the last 25 or 30 years, we've had significant changes not only in our attitudes toward gaming but also in terms of the law," says Senator Bill Montford, whose District 3 encompasses 11 counties, including Gadsden. "We need a comprehensive gaming bill that pulls all the pieces together and puts us all on the same page so there's a clear understanding of what's legal and where the proceeds go — so we have gaming under control."
Whatever their intentions, however, the two chambers were unable to agree on a common bill by the session's end. The major sticking point, Montford confirms, was the Senate's desire to authorize slot machines in eight counties where local referendums had approved them (including Gadsden and Washington counties in Northwest Florida) and the House's determination to limit slot machines to Broward and Miami-Dade counties, where statewide referendums had approved them.
Underlying the impasse, Montford acknowledges, was the issue's complexity, compounded by its lucrative nature and competing interests.
"Simply put, there's a tremendous amount of money at stake," Montford says. "Not only for individuals, but for the government, as well."
The latter point is borne out by the 2016 State of the States, a survey of the casino industry compiled by the Washington D.C.-based American Gaming Association (AGA). In 2015, the AGA reports, "Commercial gaming revenues set an all-time high, eclipsing the previous record set in 2013." Consumers in 2015 spent $38.54 billion on casino gaming and contributed $8.85 billion in taxes to the 24 states where commercial casinos are allowed. And these figures do not reflect the billions more that the industry paid in corporate, payroll, sales and various other taxes, nor the revenues and taxes generated by casinos owned and operated by sovereign tribal governments.
In Florida in 2015, the gaming market grew for the sixth straight year, with its eight operating casinos (excluding those owned by the Seminole Tribe of Florida) producing a total gross annual gaming revenue of $530.66 million (4.57 percent more than 2014), paying $185.73 million in taxes (a 4.5 percent increase) and employing 3,948 persons.
In the same report, the AGA underscores that electronic gaming machines, such as slot machines and video lottery terminals, were the "most popular forms of gaming entertainment," with 900,000 machines nationwide and 21,397 in Florida, Seminole casinos included.
Given the popularity of slot machines, it's no wonder that many pari-mutuels have set their sights on obtaining them, including the three in the 850 area: Gretna, Ebro Greyhound Park in Washington County and Pensacola Greyhound Track in Escambia County. (A fourth, the JC Kennel Club in Jefferson County, closed about two years ago.) Presently, these three pari-mutuels offer live races — quarter horses at Gretna and greyhounds at Ebro and Pensacola — plus poker and simulcast races. Slots machines, however, are the goal.
Last year, Gretna filed a lawsuit seeking to get slots approved and arguing that pari-mutuels in counties where local voter referendums had approved them should be able to install them. Had the Senate's bill or Gretna's case succeeded, Ebro planned to build a gaming resort. Shortly following the legislative session, however, the Florida Supreme Court affirmed a lower court's ruling against Gretna — which gambling opponents hailed as a victory, holding that had Gretna won or the Senate bill prevailed, it would have represented the state's single biggest gambling expansion.
Notwithstanding the legislative and judicial setbacks, Dunbar — who argued the Gretna case in both the lower and higher courts — remains hopeful.
"There are other cases working their way through the process that could offer potential alternative pathways," he says.
Gretna, meanwhile, is faring well.
"Revenues have continued growing as we've come out of the recession," Dunbar says, "and I'm optimistic that this trend will continue." It's a sentiment the other two racetracks share.
Why, then, the push for slot machines?
Figures from the Florida Department of Business and Professional Regulation (FDBPR) Division of Pari-Mutuel Wagering, suggest the reason: In the agency's 85th Annual Report for Fiscal Year 2015–2016, it's noted that in the last decade, "Pari-mutuel wagering (on dogs, horses and jai alai) has experienced a 49.9 percent decline in handle (bets), and total state revenue has decreased 60.8 percent."
Consider: In 2006/2007, paid attendance at pari-mutuels was 2,351,126, bets totaled $1,480,427,370, and state revenues were $30,214,151. In 2015/2016, by comparison, attendance dropped to 348,081, bets to $740,622,948 and state revenues to $11,832,484. During the same 10-year period, however, cardroom gross receipts increased from $54,208,544 to $147,298,438 and state tax revenues from $5,746,355 to $15,503,654.
Steve Andris, owner of the shuttered JCKC, acknowledges that during the kennel club's last years, the cardroom largely kept the facility afloat. "Over the years, the cardroom became more profitable than the dogs," he says.
William Vineyard, assistant property manager at the Pensacola racetrack, echoes the sentiment. "Over the years, the trend has been in favor of cardrooms," he says.
Greyhound racing, in particular, is seen as a dying sport, for reasons that include competing gambling/entertainment options, disinterest among younger people and growing concern for the animals' welfare. Today in the United States, Florida is an outlier, having 12 of the country's 19 remaining dog tracks. And the 12, the Washington Post reports, "collectively lose about $30 million each year on dog racing," based on financial records filed with the state. The reason many racetracks continue racing greyhounds despite the losses is a Florida law that "couples" live racing to cardrooms: In Florida, cardroom licenses may only be obtained by pari-mutuels that race horses or dogs or feature jai alai.
Not surprisingly, bills keep being introduced to "decouple" live racing from slots, most recently in the 2017 session. Were "decoupling" to occur, it's generally believed that most, if not all, dog tracks would reduce or cease live races.
Montford expects that gaming will resurface in the 2018 session. "We really need to put this issue to rest," he says. "And I'm confident that the Senate and House will get together next year, hopefully."
Dunbar agrees on the necessity for legislative action but is skeptical of success next year. "Comprehensive legislation to address regulatory deficiencies has been needed for more than a decade," he says. "Unfortunately, term limits make it difficult, as new members cycle in with little or no knowledge of the practical problems facing the regulator and industry, and parochial fights detract from a focused piece of legislation that can address these practical problems. I don't have high expectations for success in an election year."
Adding to the uncertainty is a proposed constitutional amendment that will appear on the 2018 ballot. Sponsored by the organization Voters in Charge, the amendment, if successful, would allow Florida voters, not lawmakers, to approve any gambling expansion.
"The recent history of gambling policy in Florida shows why this amendment is needed," says John Sowinski, chairman of Voters in Charge. "Every time the Legislature or regulators approve even modest expansions of gambling, a cottage industry of gambling lawyers and lobbyists is there to sew into law or rule, then later exploit, huge loopholes that allow more gambling."
For decades, Sowinski argues, Florida voters, not lawmakers, decided gambling issues via statewide referendums. Such was the case when voters rejected full-scale casino gambling in 1978, 1986 and 1994, approved the Lottery in 1986 and allowed slot machines in Broward and Miami-Dade pari-mutuels in 2004.
"Only in the last few years has there been the notion that the Legislature could approve casino gambling through statute," Sowinski says. "Since then, every so-called 'comprehensive gambling reform' measure has … dramatically expanded gambling. That's why we must return to the time-honored policy of having Florida voters, not Tallahassee politicians, be the final say on casino gambling."
Montford, however, remains invested in the legislative process. "Many people — me included — don't want Florida to look like a big Las Vegas," he says. "But we have a great potential to do it right. As long as we move judiciously, move cautiously and listen to the people we represent, we should be able to have a gaming system that produces good revenues for the citizens, keeps taxes low and retains Florida's family-friendly position."
Gambling, it seems, stands at a crossroads in Florida, with 2018 shaping up to be a potentially decisive year.