Sports and Politics Are Tallahassee's Big Draw for Tourists
But more are coming to savor the region's natural wonders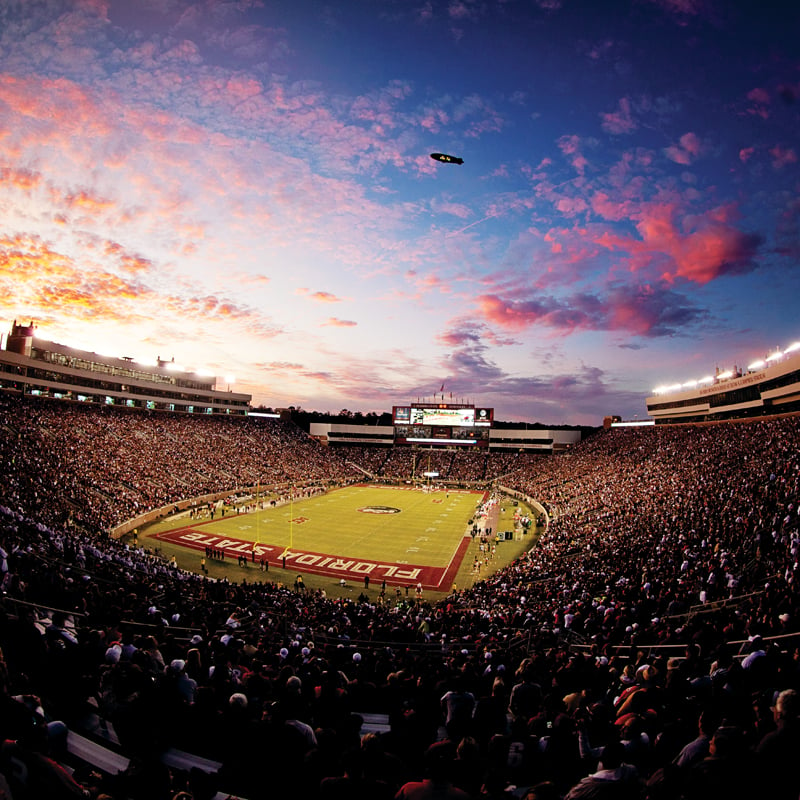 Tallahassee isn't known for being a top draw for tourists, but Florida's capital city attracts throngs of visitors each year mainly due to the two things it is known for: Florida State football and that other preeminent combat sport, politics.
Every fall, members of the Seminole faithful travel to Tallahassee to attend services at the temple of Doak. They stay in hotels, bulk up on tailgating equipment, get decked out in garnet and gold and dine out; activities which pad Big Bend-area revenues.
To take advantage, Visit Tallahassee, the tourism development arm of Leon County, targets fans in sports-related and other media outlets, focusing on the less-appealing games on the schedule. Matchups against the Citadel, Wake Forest and Virginia are harder tickets to sell than games against higher-ranked opponents Notre Dame and Clemson or the rivalry game against Florida.
Scott Holstein
Lee Daniel, executive director of Visit Tallahassee
"When the schedule is released it is typically a big rush of bookings. Usually the big games fill up very quickly," said Bo Schmitz, general manager of the Four Points by Sheraton hotel, adding that rooms for the weekend home games against Notre Dame, Clemson and Florida were booked full since June.
Like the rest of tourism-heavy Florida, Leon County's revenues took a hit when entertainment dollars spent by consumers became scarce at the onset of the Great Recession in 2008. But Lee Daniel, executive director of Visit Tallahassee, said the area wasn't hit as hard as other parts of the state more heavily reliant on tourism since Tallahassee typically draws in visitors within driving distance rather than air travelers.
"I think during the recession people stayed close to home and we're a drive market, so we did okay," Daniel said. "We weren't as damaged by the economic downturn as some destinations."
As the economy has rebounded — aided in no small part by head coach Jimbo Fisher rebuilding FSU back into a top-quality program, leading it to a national championship last year — ticket sales have boomed. According to the FSU Athletics department, an average of just over 30,000 season tickets were sold during the 2000s. In the 2014 season, 49,000 season tickets were sold.
Business owners have noticed the surge, as the hospitality, retail and other industries have benefited as well.
Scott Holstein
In spring, 160 legislators, their aides, lobbyists and political onlookers crowd the halls of the Capitol for the two-month legislative session.
"(FSU home games) are one of the main demand generators in town," said Schmitz, a member of the Leon County Tourism Development Council.
Retail sales also skyrocketed. The FSU team store sold $500,000 in merchandise the day after FSU defeated Auburn in the national championship — their best ever sales day.
And the impact of the team's success is felt far beyond one season's fans. The number of admissions tours of the FSU campus sought by prospective students climbed dramatically.
After football season ends, Tallahassee welcomes a new class of visitors each spring. In addition to Seminoles, this class includes Gators and Hurricanes; even Knights and Bulls. The swarm of 160 legislators from across the state — as well as their aides, hordes of lobbyists and special interest representatives — swells the city's population during the 60-day legislative session that begins in early March and ends in May.
The hub of activity around the Capitol bleeds out into downtown restaurants, hotels and businesses.
"That period (during session) tends to be a completely different environment here in Tallahassee," Schmitz said. "Downtown just has a buzz to it. It completely changes the landscape of the downtown. You just have a lot more bodies."
The highly seasonal nature can wear on local business owners. Downtown businesses must make the most out of the session and hunker down for the lean months of the year. Campus-area businesses must survive the hibernation of students during the summer.
But Schmitz says that's changed in recent years as more developments sprout up around the city and the economy rebounds.
"It's a much less seasonal destination than it was three years ago," he said.
There're also more attractions in the Big Bend area besides football and an oddly-shaped Capitol building.
Daniel's group promotes the area as a destination for nature hounds and outdoors enthusiasts looking to enjoy Wakulla Springs, Apalachicola National Forest and the Big Bend's seemingly endless nature trails. Targeted ads in traditional media outlets as well as social media sites like Twitter and search engine-oriented campaigns are driving more direct sale packages, he added.
"Tourism (in Tallahassee) is a lot more than what a lot of people think it is, which is just football and the legislative session," Daniel said.
Visit Tallahassee is also looking to promote more of the city's night life, restaurants and culture, and will have a big push this spring to highlight two new special events as part of the festival season: Word of South, a music and literary festival, and the Southern Shakespeare Festival, which is making a return after a hiatus of a few years.
The area also has other big draws, like Springtime Tallahassee, the Maclay Gardens State Park and historical museums like the Old Capitol building detailing the capital's rich (and often sordid) political heritage.
The slow upswing of the economic recovery is finally taking hold, Daniel said, with more people willing and able to spend entertainment dollars in town. According to Visit Tallahassee, the area hosted more than 2.7 million visitors last year who spent about $900 million.
"We're in a real uptick right now," Daniel said. "Tourism is a big economic driver for us."