Sound Bytes June/July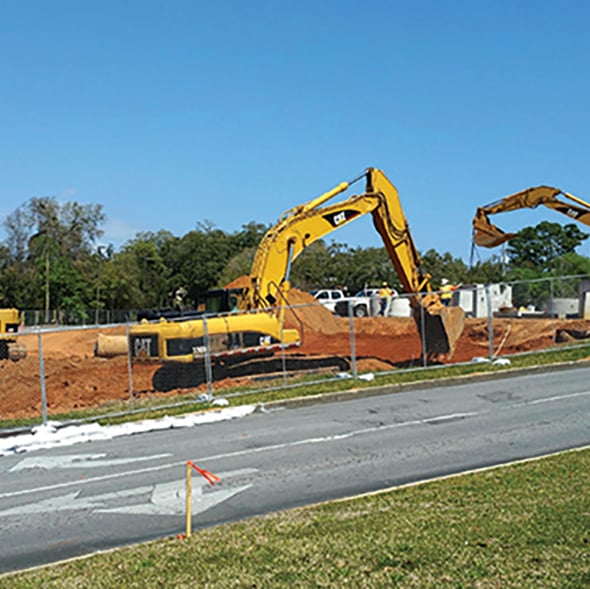 CAPITAL
APPOINTED BY GOV. SCOTT
» Four prominent Tallahassee individuals were recently appointed to the Florida Constitution Revision Commission: Timothy Cerio, an accomplished attorney who had previously served as general counsel to the governor and in 2013 was appointed to the Judicial Nominating Commission for the First District Court of Appeal; Emery Gainey, a member of the attorney general's senior executive management team and currently the director for law enforcement; Brecht Heuchan, founder and CEO of ContributionLink LLC, a leading political intelligence, data analytics and fundraising company; and Florida Department of Education Commissioner Pam Stewart, who has served as an educator and administrator for 37 years. The 37-member commission convenes every 20 years to review Florida's Constitution and propose potential changes to be approved by Florida voters.
» Megan Fay has been appointed director of policy. She has worked in the governor's office since 2013 and has served as a chief analyst in the Office of Policy and Budget, as deputy director of Cabinet affairs and most recently as deputy director of legislative affairs. Fay fills the position left vacant by Jeff Woodburn, who is now the executive director of the Florida Constitution Revision Commission.
» Tallahassee Realtor Patti Ketcham, owner of Ketcham Realty Group, was recently appointed to the Florida Real Estate Commission. She succeeds Darla Furst and is appointed for a term ending Oct. 31, 2020.
LOCAL HONORS
» Retired Florida Supreme Court Justice Major Harding has received the 2017 Faith and Profession Award from Tallahassee Christian College and Training Center. Harding has been a shareholder with the Ausley McMullen law firm since retiring from the court in 2002 and today is a member of St. Peter's Anglican Church.
» Broker Bert Pope, founder and owner of Bert Pope & Associates LLC, recently marked a 28-year milestone selling the largest homes in Tallahassee. He has sold more than a dozen million-dollar homes.
» Tallahassee City Commissioner Gil Ziffer recently received the 2016 Silver Medal Award from the American Advertising Federation Tallahassee, which annually recognizes the best and the brightest in the industry. The Silver Medal Award is AAFT's highest honor.
» Aegis Business Technologies is on the 2017 Tech Elite 250 list of CRN, a brand of the Channel Company. This annual list honors an exclusive group of North American IT solution providers that have earned the highest number of advanced technical certifications from leading technology vendors, scaled to their company size.
» Hancock Bank and Whitney Bank have earned an impressive 18 national and regional 2016 Greenwich Excellence Awards for small-business banking and middle-market banking. The Whitney Bank organization, which does business under the Hancock Bank and Whitney Bank brands, has won a total of 115 Greenwich Award designations — eight Best Brand awards since 2013 and 107 Excellence awards since 2005.
BEGINNINGS
» Hillary Haythorn has been named trust officer at Capital City Trust Company.
» Phil Focaracci and Nick Gilpin of Thomas Howell Ferguson P.A. recently passed all four parts of the CPA Exam and received their CPA license. Focaracci is a member of the Florida Institute of Certified Public Accountants, and Gilpin is a senior in Thomas Howell Ferguson's tax services department.
» Wendover Housing Partners, a privately held real-estate development, investment and management company, recently announced the opening of its senior apartment community, Kenwood Place. According to a market brief from the American Seniors Housing Association, the demand for senior housing will grow from 1.4 million units in 2015 to 3.2 million units by the year 2040.
» Jason Zaborske, founder of Capital Events Inc., has joined Legal Services of North Florida as the organization's new resource developer. For nearly 20 years, Zaborske has planned and executed events as well as raised funds for various nonprofit organizations in the area, including Capital City Youth Services, United Way, Children's Week and the FICPA Educational Foundation.
» Tallahassee native Dr. John Ratowski has joined the staff of Chaney, Couch & Associates Family Dentistry.
» Veteran Tallahassee banker Matt Brown is joining Thomas County (Ga.) Federal as Tallahassee market president. Brown is joined by commercial banker Nat Higdon in serving the North Florida market.
» Local CPA firm James D.A. Holley & Co. has merged with Top 25 CPA and advisory firm Carr, Riggs & Ingram LLC. All personnel of James D.A. Holley & Co. will now operate under the CRI name, and the team will set up shop in CRI's new Tallahassee office on Centennial Boulevard.
» Synovus Bank has announced that Bill Moore has been named president of Tallahassee State Bank. Moore is a Leon County native and has been with Tallahassee State Bank for more than 20 years.
» Steven Lohbeck has been promoted to senior vice president, commercial banking manager, at Ameris Bank. He will be in charge of oversight of the commercial banking team in the Tallahassee market along with his duties as a commercial loan officer.
» John Medina has been promoted to senior vice president/chief experience officer at First Commerce Credit Union. Medina will provide leadership to First Commerce's operations teams and member delivery channels.
» BumbleBee Waxing and More recently celebrated the grand opening of its ultra-modern day spa in downtown Tallahassee. The newly finished spa blends unique services with a healing atmosphere that creates a new flavor of indulgence in the area.
» Jon Edwards is the new president of Florida-based marketing firm The Taproot Agency. Edwards will oversee the day-to-day operations of the business, as well as continue to provide creative direction on all client campaigns. Agency founder Sean Doughtie will continue to serve as chief executive officer.
» Fuzzy's Taco Shop will open in Tallahassee this summer. Located at 1600 W. Call St., the Tallahassee location will be the first Fuzzy's built, owned and operated by franchisees Torry Brand and Brian Watson.
LOCAL HAPPENINGS
» MoLab Inc. and Tallahassee's Think About Personal Pollution program are going to join forces this summer to teach kids how they can reduce the amount of "nonpoint source pollution" around them. For eight weeks, MoLab will visit several community centers in the Lake Munson Drainage Basin to talk about this kind of pollution and how to mitigate its impact on the environment.
EMERALD COAST
APPOINTED BY GOV. SCOTT
» Herman White of Pensacola, a barber at Esquire Barber Shop, was recently appointed to the Florida Building Code Administrators and Inspectors Board.
» Mark Harden of Pensacola, the Military Aid director for the Navy-Marine Corps Relief Society, was appointed to Florida Is for Veterans Inc.
» Bobby L. Whitney Jr. of Fort Walton Beach and Louis A. Maygarden III of Pensacola have been appointed to the First Circuit Judicial Nomination Commission. Whitney is an attorney with Seymour Whitney and Maygarden is a partner with Shell, Fleming, Davis & Menge, P.A.
LOCAL HONORS
» University of West Florida accounting students ranked third in the nation in 2016 for first-time pass rate on the Certified Public Accountant Examination. The National Association of State Boards of Accountancy released its 2016 University Edition of Candidate Performance on the Uniform CPA Examination which showed that UWF candidates passed sections taken at an 87.1 percent clip.
» Local organization-development and branding firm idgroup recently took home two coveted Best of Show awards at the American Advertising Federation's local ADDY Awards competition. This marks the ninth consecutive year the Pensacola-based firm has been honored with the award.
» Twin Cities Hospital in Niceville has earned the 2016 Unit of Distinction Award for exemplary medical-surgical units at Hospital Corporation of America facilities.
» Fort Walton Beach Medical Center and Twin Cities Hospital received spring 2017 "A" grades for patient safety from the Leapfrog Group, a national nonprofit organization that monitors the quality and safety of American health care.
» Pensacola Mayor Ashton Hayward announced that the city will honor one of Pensacola's favorite sons with the dedication of the Reubin O'Donovan Askew Terminal at Pensacola International Airport.
LOCAL HAPPENINGS
» The Pointe grand opening was held recently to celebrate its mark on the east end of County Road 30A in Inlet Beach. The event was hosted by ResortQuest, the exclusive rental management company.
» Asset Insurance, a leading independent insurance agency in Northwest Florida, has moved its headquarters to Grand Boulevard at Sandestin. Asset Insurance is a full-service insurance company specializing in services for homes, businesses, condominium associations and homeowner's associations as well as short-term rental coverage for properties from Panama City Beach to Pensacola.
» Niceville's North Light Yacht Club and Emerald Coast Marine recently announced a merger to form the Emerald Coast Marine Center. The new company is led by three boating industry veterans: Shawn Talpey, president and chief operating officer; Keri Doscher, vice president; and Jeff Orbin, vice president of marketing and development.
BEGINNINGS
» Dr. John Chiles has joined the White-Wilson Pediatric Clinic in Fort Walton Beach. Chiles has more than 35 years of experience in providing pediatric care and is certified by the American Board of Pediatrics.
» Retired U.S. Navy flight officer Dan Schebler is now the assistant county administrator for Santa Rosa County. He formerly served as a deputy program director/project manager for the U.S. Department of Defense's Office of Economic Adjustment.
» Construction of the new Studer Family Children's Hospital has begun on the Sacred Heart Hospital Pensacola campus and is expected to continue for two years. The new, four-story hospital is being built in front of the existing Children's Hospital.
» The University of West Florida's Center for Entrepreneurship, in collaboration with Gulf Power Company and FloridaWest Economic Development Alliance, has developed the Northwest Florida Entrepreneurial Ecosystem Assets Portal to assist entrepreneurs in Northwest Florida.
» Destin Commons announced the opening of four new retail centers at the outdoor lifestyle center. Coastal Outfitters, Extreme Sports Fan and Munika Karim are now open, and Sea & Sand Jewelry was scheduled to open in mid-April. Destin Boutique, a store offering a wide range of ladies' and teen clothing, also recently opened in Destin Commons.
» Accounting firm Saltmarsh, Cleaveland & Gund has announced that Reingruber & Company, P.A. of St. Petersburg and its Nashville, Tennessee-based affiliate have merged with the firm.
» VITAS Healthcare, a leading national provider of end-of-life care, has opened its newest program in Pensacola.
BAY
APPOINTED BY GOV. SCOTT
» William A. Lewis of Panama City has been reappointed to the 14th Circuit Judicial Nomination Commission. Lewis is an attorney with the Bay County Sheriff's Office.
» Panama City's Jimmy Patronis, currently a commissioner on the Florida Public Service Commission, was recently appointed to the Florida Constitution Revision Commission.
LOCAL HONORS
» The Panama City Beach Chamber of Commerce was recently presented with four awards at the local ADDYs Gala, American
Advertising Federation Awards Dinner. Credits were awarded to the chamber's director of communications, Katelyn French, and president/CEO, Kristopher McLane, as well as to CYber SYtes, The Hartley Press, Miller Audio-Visual and Farmer's Marketing.
BEGINNINGS
» TurnKey Vacation Rentals, the third-largest vacation rental/
property management company in the United States, is opening a vacation destination office in Panama City. General manager Jessica Walkoski is a business development and sales professional with more than 15 years of experience in the hospitality and travel industry.
FORGOTTEN COAST
APPOINTED BY GOV. SCOTT
» J.C. Stoutamire has been appointed to the Apalachee Regional Planning Council, Region Two. Stoutamire, of Hosford in Liberty County, is a former papermaker for St. Joe Paper Co. and served on the Liberty County Commission for eight years.
LOCAL HONORS
» The Centers for Medicare & Medicaid Services recently released its nationwide quality scorecard for 2016 through the Hospital Consumer Assessment of Healthcare Providers and Systems. Among hospitals surveyed, Sacred Heart Hospital received the highest score for Hospital Environment, ranking it No. 1 in Florida and in the United States.
INTERSTATE 10
APPOINTED BY GOV. SCOTT
» The following Marianna residents were recently appointed to the Jackson County Hospital District: John Milton is a local business owner and real estate investor. He succeeds William Floyd and is appointed for a term beginning March 23, 2017 and ending Sept. 5, 2019. Shareta Wright is the director of The Wright Foundation. She fills a vacant seat and is appointed for a term beginning March 23, 2017 and ending July 31, 2020. Kelly Connolly is the vice president of finance for Tri State Automotive Warehouse. She succeeds Sandra Helms and is appointed for a term beginning March 23, 2017 and ending July 20, 2020. Dr. Robert "Bob" Hoff is a retired family practitioner. He succeeds David Carrel and is appointed for a term beginning March 23, 2017 and ending July 19, 2018.
—Compiled by Jason Dehart