Sound Bytes August/September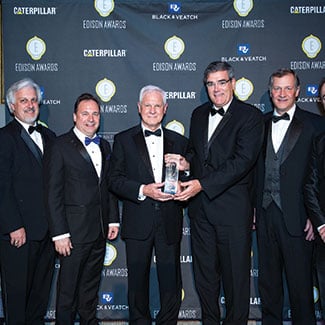 Capital
Appointed by Gov. Scott
» Holger Ciupalo, policy chief for the Finance and Economic Analysis unit of the Office of Policy and
Budget in the Executive Office of the Governor, has been appointed to the State Retirement Commission.
» Tom Napier, a former special projects manager for the Clerk of Circuit Court of Leon County, has been reappointed to the State Retirement Commission.
» Jonathan Costello, a governmental consultant with Rutledge Ecenia P.A. and an adjunct professor at Florida State University, has been reappointed to the governing board of the Northwest Florida Water Management District.
» Keith Lawson, president of Keith Lawson Company, Inc., was reappointed to the Construction Industry Licensing Board.
LOCAL HONORS
» GloFX recently received the 2017 Sterling Manufacturing Business Excellence Award at the Governor's Sterling Awards Banquet in Orlando. Florida is home to over 20,000 manufacturing companies, 120 of which were nominated, and only 28 made it to the final round of judging. GloFX was one of only seven award winners.
» Thomas Howell Ferguson's Brian Walgamott has been accepted into Leadership Tallahassee Class 35. The firm also noted that Amy Campbell has earned the designation of Society for Human Resources Management Certified Professional. Leigh Jenkins has earned the American Institute of Certified Public Accountants Not-For-Profit Certificate I. Additionally, John Spence is now a QuickBooks ProAdvisor. The firm recently welcomed Tim Icardi and Lauren Sackreiter to the Tallahassee office. Sackreiter is a staff accountant in the assurance services department and Icardi will serve as a staff accountant in the tax department.
BEGINNINGS
» Senior Life Insurance Company has chosen Tallahassee as the location for its first expansion into Florida. The etablishment of the Florida office will
create 30 full-time financial services jobs with an anticipated total economic impact of more than $2.6 million, according to the Tallahassee-Leon County Office of Economic Vitality. Senior Life Insurance Company, headquartered in Thomasville, Georgia, was incorporated in 1970 and was licensed at that time in six states. It has since expanded to a total of 39 states and the District of Columbia and projects continued nationwide expansion.
» Dr. Jerry Parrish of the Florida Chamber Foundation has been appointed to the FloridaMakes board of directors. Parrish is the chief economist and the director of research for the Florida Chamber Foundation.
» Joshua E. Doyle is the new executive director of the Florida Bar. He follows John F. "Jack" Harkness, Jr., who will now shift into a consulting role.
» Mark Robinson, president and CEO of Capital Regional Medical Center, has been appointed to the United Way of the Big Bend board of directors for 2017-2018. Robinson has more than 18 years of health care administration experience.
» Zoe Linafelt is now the communications manager of the Florida Court Clerks & Comptrollers. Linafelt is a seven-year communications veteran and most recently worked as an account manager at Sachs Media Group.
» Tim Perry was recently elected 2017 vice president of the Florida Association of Environmental Professionals. He is a partner with Oertel, Fernandez, Bryant & Atkinson, P.A. in Tallahassee and represents clients in administrative law, environmental law, water law, land use law, utility law, coastal law, appellate law and litigation.
» Danfoss Turbocor Compressors in Tallahassee recently received two awards — including an Edison Award — for technological developments. The company builds oil-free, magnetic bearing, variable-speed centrifugal compressors for high-efficiency air-conditioning chillers.
Emerald Coast
Appointed by Gov. Scott
» Gulf Breeze attorneys Robert "Alex" Andrade was recently appointed, and Pamela Langham was reappointed, to the First Circuit Judicial Nomination Commission.
LOCAL HONORS
» The Florida Small Business Development Center Network is now accredited by the Association of America's SBDCs. The center is located at the University of West Florida in Pensacola.
» Destin Commons received the 2017 For-Profit Communicator of the Year Award, presented by the Northwest Florida Coast Chapter of the Florida Public Relations Association. The award recognizes outstanding communications leaders and was accepted by Heather Ruiz, who was recently promoted to director of marketing for Destin Commons.
» Keller Williams Realty Emerald Coast of Destin recently collected honors in 12 categories at a regional awards program held in Louisiana. The agency took the regional first place award for market center growth, and second place for both market center profit and top profit share. Additionally, 73 agents received awards for varying levels of total transactions and gross commission incomes.
» The Grand Boulevard hotels, managed by Howard Hospitality of Miramar Beach, recently received three awards for excellence from Marriott International. The Residence Inn by Marriott Sandestin earned a Silver Hotel Award, and the Courtyard by Marriott Sandestin took home a Platinum Hotel Award, as well as the Quality of Food Satisfaction Award. The awards were presented during a Marriott conference in New Orleans.
» Santa Rosa County recently received the Distinguished Budget Presentation Award from the Government Finance Officers Association for its fiscal year 2016-17 budget.
» Grand Boulevard at Sandestin won a silver award at this year's International Council of Shopping Centers (ICSC) MAXI Awards, held in May in Las Vegas. Grand Boulevard's winning entry was submitted in the Causal Marketing category and titled "Coastal Culture: A Passion for Arts, Entertainment and Charity." The Coastal Culture program is the brand banner under which Grand Boulevard's dozens of events take place annually. Most Town Center events support local charities and non-profit groups.
» Jacob Flanigan of Navarre High School has been awarded a college scholarship from the Corvias Foundation. Flanigan is a band student and teaches elementary students at the Navarre Beach Marine Science Station. He plans on studying computer science and music at the University of West Florida. The Foundation has awarded over $7 million to military families since 2006.
» Eunice Caabay of Pensacola High School received a $1,500 Simon Youth Foundation scholarship from Cordova Mall. Simon Youth Foundation has helped more than 14,000 at-risk students receive a high school diploma and has awarded more than $16 million in scholarships since it was founded in 1998.
» Scarlett Phaneuf has joined PowerSouth Energy Cooperative, based in Andalusia, Alabama, as economic development representative for Florida. She will work with PowerSouth's northwest Florida distribution members and with state and local agencies to recruit new companies and work with existing industry to promote economic growth in the region. Phaneuf is based in Freeport.
» Twin Cities Hospital of Niceville received the Healthgrades 2017 Patient Safety Excellence Award. This places Twin Cities Hospital in the top 10 percent of all short-term acute care hospitals reporting patient safety data evaluated by Healthgrades. The hospital also received the May Triple E Award for energy efficiency from the Florida Public Service Commission.
LOCAL HAPPENINGS
» Eddie Norris is the new president of Pensacola's Coastal Bank and Trust following the retirement of Jim Mathis. Norris was formerly the president for CB&T of Middle Georgia, a Synovus division in Warner Robins.
» Mary Lee Coble, PhD, is now the senior vice president of business development at Catalyst CRE of Pensacola. Coble has
25 years of experience in several health care industry segments.
» The St. Joe Community Foundation has awarded $20,000 to Food For Thought Outreach to help buy backpacks for DeFuniak Springs-area students. Food For Thought provides backpacks filled with healthy, easy to prepare food for students who are dependent on free or reduced-cost school meals.
» More than $2.6 million in federal DOT grants will go to four Northwest Florida airports this fall, according to U.S Rep. Matt Gaetz, (R-Fort Walton Beach). Gaetz said the money will be used to make improvements at the Destin-Fort Walton Beach Airport, Crestview's Bob Sikes Airport, the Destin Executive Airport and the Pensacola International Airport. The largest chunk of the money, $2,107,000, will go to Destin–Fort Walton Beach Airport, located at Eglin Air Force Base. Some 2,000 feet of taxiways will be rehabilitated using the grant.
» The 21st Gulf Power Economic Symposium is scheduled for Oct. 1-3 at the Sandestin Golf and Beach Resort. The event is an opportunity to hear from thought leaders about efforts to grow Northwest Florida and to network with business leaders from across the region. Speakers will include Vance Aloupis, CEO, The Children's Movement; Madeline Pumariega, chancellor, Florida College System; Hershel Lyons, chancellor, Florida Public Schools; and G. Devin Stephenson, president, Northwest Florida State College.
Bay
Appointed by Gov. Scott
» Panama City attorney Gregory Wilson was reappointed to a term on the 14th Circuit Judicial Nomination Commission.
Beginnings
» Legendary Marine is opening a new, 33,000-square-foot retail center in Panama City Beach.
» Chris Joyner is the new executive chef of Saltwater Grill in Panama City Beach. Joyner is a Navy veteran and received a culinary management degree from Gulf Coast State College in 2002.
Forgotten Coast
Appointed by Gov. Scott
» Samuel "Bo" Spring of Port St. Joe, the managing member of Big Fish Construction LLC, has been reappointed to the governing board of the Northwest Florida Water Management District.
Beginnings
» Dr. Stacy Harbin has joined Sacred Heart Medical Group's team of surgeons and will be based at Sacred Heart Hospital on the Gulf in Port St. Joe. Harbin has more than 30 years of surgical experience.
I-10
Local Happenings
» Farm Credit of Northwest Florida's board of directors recently paid $3 million in cash dividends to its 981 member-owners. The financial cooperative is located in Marianna.
Local Honors
» Gadsden County Development Council earned a "Deal of the Year–Rural Community" award at the Florida Economic Development Council's 2017 Annual Conference in Ft. Lauderdale.
---
Compiled by Jason Dehart