Social Acceptance
Online businesses have flourished during pandemic; with time on their hands, entrepreneurs chased dreams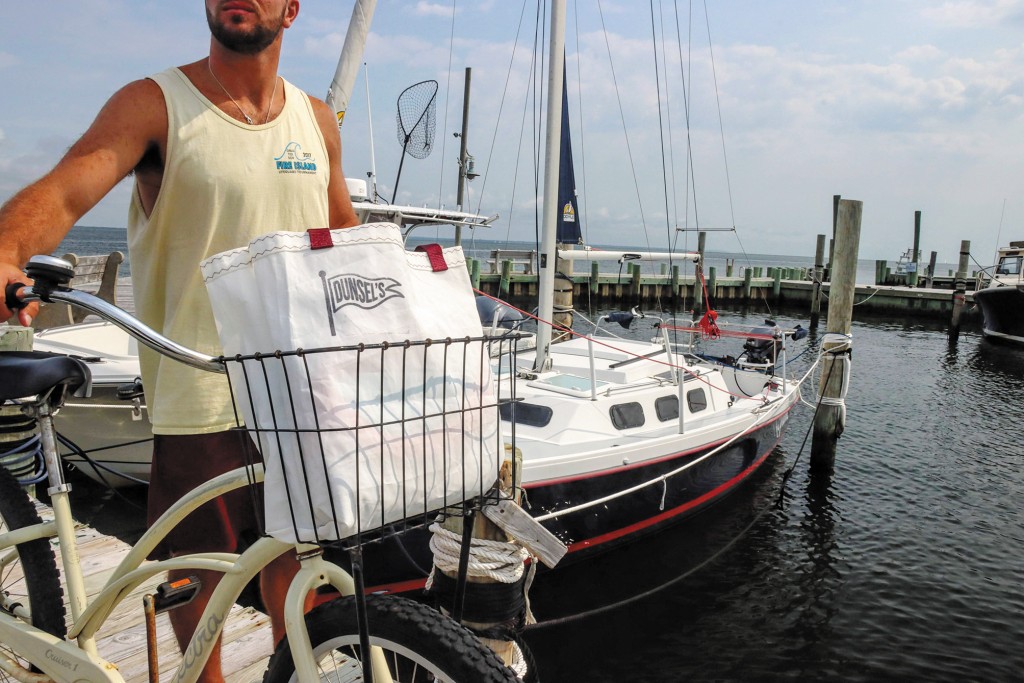 It's impossible to say now, but you know, there's a chance that this business wouldn't have started if there was no pandemic," began William McCarthy.
"Oh, I'd put money on it," Jonathan Virga cut in. "A hundred percent. I think that's entirely true. That boredom fueled this."
McCarthy and Virga are co-founders of Dunsel's Sail Bags, an eco-friendly Tallahassee startup that produces a line of high-quality, durable bags constructed entirely from used and discarded boat sails. As entrepreneurs who have launched a business via social media, they are part of a trend that has gathered steam since the pandemic began.
Recent months have seen a dramatic rise in people venturing into the entrepreneurial space to supplement income, fulfill dreams or gain freedom from an increasingly unpredictable corporate work environment.
Between 20ı2 and 20ı9, LLC filings in Florida grew by an average of ı0 percent per year, according to records from the Department of State's Division of Corporations. In 2020, that number jumped to 28 percent, even as many traditional businesses suffered declines.
"I think you really need to look back at the last recession to have a good idea of what's going on," said Robert Blacklidge, executive director of the Tallahassee business incubator Domi Station.
"Back in 2008, there weren't a lot of resources readily available for entrepreneurs," he added. "During this economic downturn, the government stepped in and replaced that revenue. Wealth has, for a lot of people, increased. Real estate has gone up, stocks have gone up and that has created an opportunity for people to seek out resources for their own ideas, their growth, their business."
In just a few months, Domi's enrollment jumped from eight to 44. Among those enrolled in the program are Virga and McCarthy.
While recessions historically have discouraged new business formation, the downturn resulting from COVID-ı9 has proved to be an exception to that rule.
"While many small businesses were unable to survive pandemic lockdowns, new business startups nearly doubled in the United States during the pandemic," reports the McKinsey Global Institute (MGI). "During COVID-ı9, many workers in the United States who were furloughed, laid off or dropped out of the labor market for reasons such as child care, took the opportunity to create the startup of their dreams."
Government policies and stimuli affected that growth.
"Added unemployment benefits and stimulus checks that were part of massive government stimulus packages may have enabled these new ventures," MGI reports. "Governments can support continued growth by expanding digital architecture to give everyone access to affordable broadband connections and by making permanent some temporary changes in regulation that have allowed new businesses to flourish during the pandemic."
Virga and McCarthy got their start on social media. The FSU entrepreneurship majors were approaching graduation when they launched Dunsel's on Facebook in the fall of 2020. The two men were overjoyed when orders started to trickle in and then picked up as the holidays approached. With a few dozen sales under their belts, the two gained confidence and spread their message of transparency and sustainability through livestreams, blogs, workshop videos and Instagram.
"I don't like getting emails that are just like, '50% off buy now,' " Virga said. "I like more of a storytelling aspect and really having a personality. I think that's really what we've tried to do across the board, whether with the blogs or Instagram posts or Facebook. We've even posted on Reddit a few times in different communities with just an intro and blip about who we are, what we do. We've been well-received in that, but I think it's because of that transparency and that storytelling — it's more real than a big company with no face."
Today, the two still handle the bulk of the business on their own. McCarthy sews bags, Virga handles most of the marketing, and both spend hours on end cold calling sail lofts or anyone they think may have a sail in the garage. It's a lot of work, but it's a labor of love.
"We want to feel good about what we do every single day," McCarthy said. "Sure, we could probably build really awesome products out of brand new sails. We could just get the material, and we can buy it probably cheaper than we can literally source it. But that's not our mission."
"This idea of consumerism, we're beating it twice," Virga added. "The first time, we're taking from trash. We're taking from the end of a life cycle, but then we turn that into a product. When somebody buys one of our bags, they're not buying something else that's been made from raw materials. We're lessening demand on the raw materials that are being used to make new backpacks, new totes, new toiletry bags, new things."