Simpson Nurseries' recipe for success
During the recession, the 110-year-old, family-operated Simpson Nurseries in Monticello not only remains viable, but is actually thriving.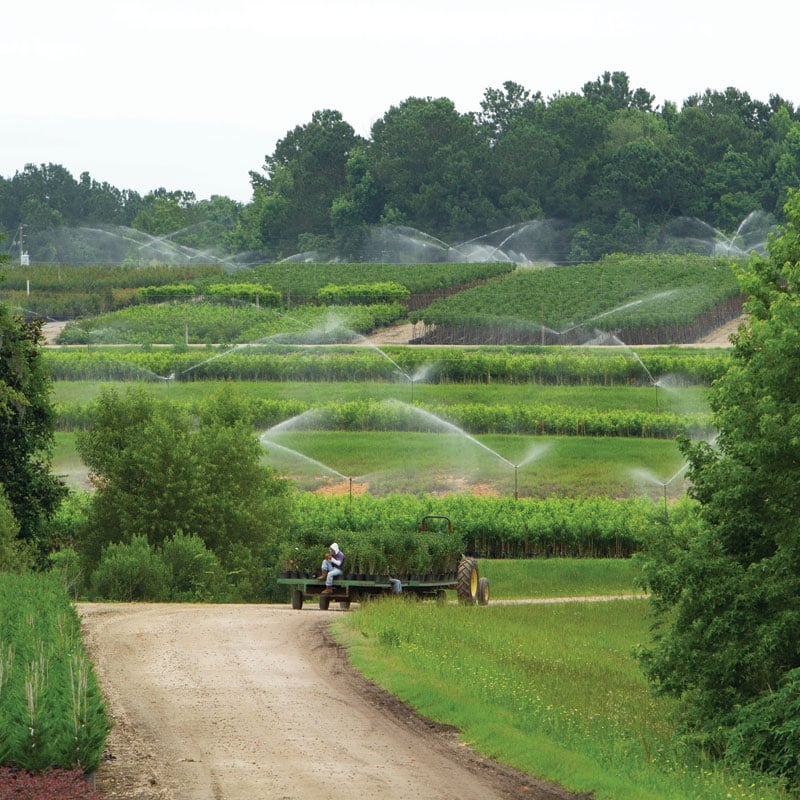 What do garden centers at Lowe's, Home Depot, Wal-mart and countless other retail stores across Florida — and from Texas up into New Jersey for that matter — have in common? The answer is they likely sell flowering, fruit or shade trees and ornamental shrubs grown at Simpson Nurseries in Monticello, 26 miles east of Tallahassee.
At a time when innumerable businesses across the state have succumbed to the recession, including a great many green nurseries, the 110-year-old, family-owned and operated Simpson not only remains viable, but is actually thriving. Indeed, despite a dramatic decline in its commercial sales because of the collapsed housing market and near-stoppage in construction of office complexes, shopping malls and subdivisions, Simpson's retail sales have boomed as the company has expanded its reach into market niches previously occupied by failed nurseries.
Simpson today is regarded nationally as a leading source of pecan trees, deciduous nursery stock and evergreens — products it wholesales primarily to retail nurseries, landscapers, mass merchandisers and pecan plantations. The company also is a recognized pioneer of many innovative technologies, production methods and marketing ideas that now are industry standards. Accorded the distinction of being Florida's oldest nursery, Simpson's millions of shrubs and trees of every color, size and description rank it among the state's top nurseries. And its annual sales of between $12 and $16 million and workforce of 135 full-time employees make it Jefferson County's leading private employer.
Ask longtime owner Fred Beshears — who with sons Rob, Halsey and Thad operates the large-scale enterprise — the secret of Simpson's longevity, and he will tell you a business's survival, let alone success, depends on offering at least two of three givens: a quality product, good service and cheap prices.
"At Simpson we offer quality products and excellent service," Beshears says. "Our prices aren't cheap, but they're fair."
Press him a little more, however, and he will tell you success also requires remaining innovative; staying fleet-of-foot, insofar as adapting to changing industry and market trends; and constantly thinking ahead.
Innovation, in fact, is a Simpson hallmark and at the core of the company's success, as it constantly strives for new and better ways of producing and marketing its products. Beshears cites the multimillion-dollar water-recycle system the City of Monticello and Simpson partnered on recently as an example of innovative thinking. The system allows the city daily to pump 350,000 gallons of recycled water from its treatment plant to two large Simpson ponds, instead of into the wetlands. Simpson then uses the water to spray and irrigate its green stock, significantly cutting back on groundwater use.
"It's good for water conservation and the environment and it's cheaper for us," Beshears says.
He cites the decision to downscale Simpson's commercial sales a few years back as an example of forward thinking and staying atop changing market conditions. In 2008, when it became evident the economy was "headed south," as Beshears puts it, Simpson drastically cut back its commercial production.
"That saved us a fortune," Beshears says. "Others in the industry got busted because they didn't plan ahead. Florida has the country's biggest nurseries association. We had some 2,500 or 2,600 members before the recession. Now we're down to about 1,200 members. If we have anything going for us, it's that we're long-term thinkers and plan ahead. If you worry about today today, you're too late. I'm always thinking about tomorrow, next week and next month."
His basic work philosophy, summarized on a sign on his cluttered office desk, holds that neatness stifles creativity.
"If you're worrying about neatness constantly, you're not thinking creatively," Beshears says. "I'm always looking for ideas.
If I get an inkling of an idea, we pursue it."
Listening and reading are two ways Beshears generates ideas. Another is traveling to other nurseries in Florida, other states and even other countries. The trips expose him to new products, procedures and marketing techniques being developed or implemented elsewhere. If he thinks a product, practice or idea has merit, he will test it at Simpson, if often with a twist.
"What you do might not work totally for me," Beshears says. "But with a little tweaking, you make it work. If we get even a seed of an idea, we pursue it or we change it to make it work for us."
He cites a propagation technique that speeds the growth of persimmon trees — an idea he got from a nursery in Missouri.
"Persimmons used to take us four years to grow," Beshears says. "We now do it in one year and do it cheaper. We're doing things faster and more efficiently all the time."
Ideas, of course, don't always bear fruit, or not immediately at least. Sometimes, years of experimentation merely show what doesn't work, Beshears says, paraphrasing Thomas Edison's famous dictum that rather than failing 1,000 times to invent the light bulb, he discovered 1,000 ways how not to do it. His point, Beshears emphasizes, is that complacency is not an option for businesses that expect to remain viable.
"Innovation is part of the culture we preach at Simpson," Beshears says. "We're always looking for new plants, new procedures and better ways of doing things. We've reinvented ourselves three times now. We still sell trees, but how we present, market and sell the trees has changed."
He notes that early on, the nursery sold bare-root trees and shrubs. Then came balled or burlap-wrapped trees and shrubs, and now the standard is plants in plastic pots. The sizes and types of trees and ornamental shrubs sold have also changed as society has changed.
"We're now generations removed from the farm," Beshears offers philosophically. "Most people don't know green side up from down anymore. They don't know how to deal with trees. In the old days, everybody knew how to handle bare root trees.
Now we have to give plants a life-support system so that they will survive the replanting. That's what it is; we give you a tree with a life-support system."
Yards also are smaller, people are more reluctant to use chemicals and the preference is for vivid colors, he adds.
"We recognized these trends long ago," Beshears says. "And so we've changed accordingly. We used to sell thousands of big trees such as live oaks and sycamores; now we mostly sell smaller trees, like redbuds, dogwoods and crepe myrtles. The market has changed. I like to think I know what the market needs, but I've learned the market rules. You can't fight it."
He offers the Chinese pistache as an example of a failure to influence the market.
"It will be the tree of the future," Beshears insists of the hardy ornamental, which displays spectacular fall colors. "But right now, we can't give it away. Believe me, I've been trying for 15 years and it just won't sell."
Nonetheless, it says something of Beshears' tenacity, if not faith in his judgment, that he continues believing in the pistache's eventual marketability, notwithstanding the market's current indifference. Possibly Beshears is kidding himself; but it's likelier — given his success record with past products and his veritable resuscitation and expansion of Simpson during almost four decades — that he has cause for his confidence.
A University of Florida graduate with a degree in agricultural economics, Beshears first came to Simpson in 1970 as a salesman, but ended up doing everything from planting to selling to shipping. "We worked seven-day weeks for months straight," he recalls of those days.
Simpson then was owned by Gro-Plant Industries Inc., which had purchased the business in 1963 and added deciduous trees and shrubs to its product mix. Already, Simpson was considered a local institution, given it had been started in 1902 and expanded by brothers C.A. and Richard Simpson, the latter a Florida lawmaker from 1939 to 1951 and key member of the Pork Chop Gang, the group of rural legislators who ruled the state until the 1960s. Monticello in the early 20th century was known as the world's watermelon seed capital, and Simpson Nurseries was recognized as the nation's leading producer of pecan trees and watermelon seed. By 1970, however, the business was experiencing financial difficulties; and in 1972, it went into bankruptcy proceedings.
In 1975, Beshears and six local partners purchased the company name and its assets from the court and leased what had formerly been its property, which a Jacksonville outfit had acquired. The nursery then was located northeast of Monticello, on acreage that has since been subdivided. Not long after purchasing Simpson, the seven partners acquired a few acres southeast of town and moved the operation there, where it resides today. By 1995, Beshears had bought out his six partners and was operating the enterprise singly, growing it both in terms of its product offerings and land holdings. Today, Simpson covers about 1,300 acres, boasts a modern office center off U.S. 19 and has spawned two subsidiaries: Big Southern Tree Growers and Total Landscape Supply.
Beshears isn't resting on his laurels, however. He continues looking for new ideas, products and practices that will keep Simpson ahead in the game. Most recently, for example, he purchased an adjacent 50,000-plus sq. foot building and 10 acres to serve as a new staging and shipping facility. And he's keeping his eyes on an adjoining 200-acre property that would make a nice addition to Simpson.
"We're always looking ahead," Beshears says. "Some people accuse us of spending too much time on planning and ideas. But our industry is in the throes of changes and we're trying to figure how we can remain viable."
Simpson's motto possibly says it best: "Over 100 years … and still growing."