Senior Employees
Older adults are changing the way that today's society views retirement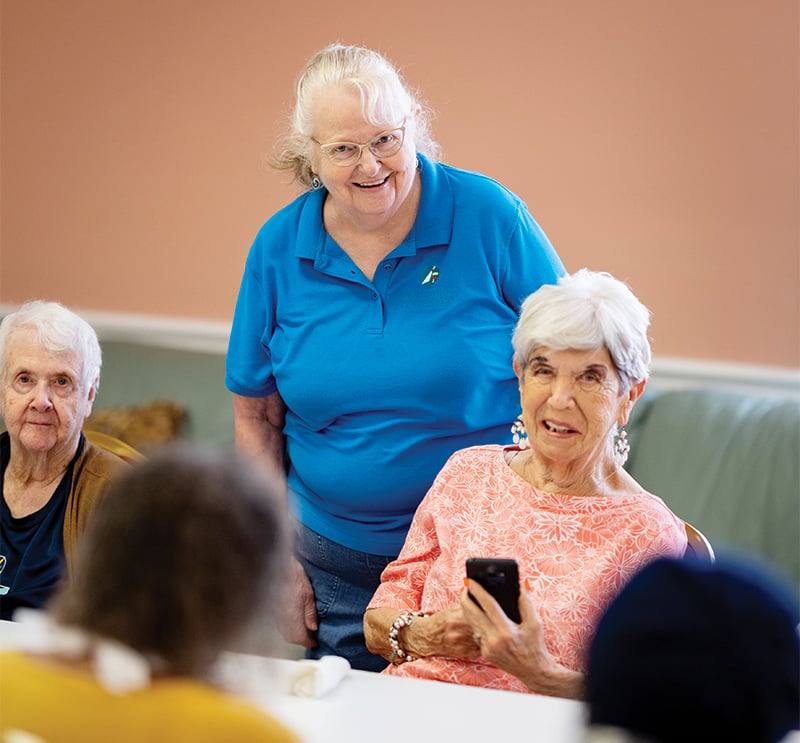 Expectations around retirement are shifting. More and more, older adults are returning to the workforce or remaining in their careers far beyond the traditional retirement age.
A report from the Pew Research Center showed that 12% of retired adults had returned to the workforce in 2006. By 2022, that number had jumped to 27%, according to a survey from the Employee Benefit Research Institute.
This trend was amplified as the baby boomer generation, surpassed in population only by millennials, entered their retirement years. Due to advancements in health care, members of the baby boomer generation are living longer and better. This has led to an ever-increasing number of able-bodied adults who are not content to spend the remainder of their time in a rocking chair.
At 70 years old, Jean Warner serves at the Bay County Council on Aging as the coordinator for the Respite Center and Caregiver Support Program, and she has no plans to retire.
"So, as long as I feel good and I'm not having any issues with my own health, I just don't see any reason to do it," Warner said.
Warner's husband retired years ago, and these days the couple lives comfortably on their military pensions and Social Security. She does not have to work, but she is compelled to serve. In her work, Warner provides a safe place for older adults with dementia to spend time during the day, giving a much-needed break to weary caregivers.
Tearful hugs remind Warner daily of the importance of her role.
"That's what's important," Warner said. "Feeling that whatever you are doing and wherever you are doing it is someplace where you feel that you are really needed."
Dawn Carr, director of the Claude Pepper Center, has spent the majority of her life studying aging. Her research helps to shed light on motivations behind this generational shift in attitudes about retirement.
"There is this traditional academic theory that talks about our shift in goals as we get older," Carr said. "As we see our life is getting shorter, we think more about our legacy and things that are more meaningful. We are less worried about money and much more worried about what we can do that makes a difference."
Added Carr, "There is increasingly an interest in mentoring others, leaving a legacy or setting up the place for something that will be more long lasting."
The BCCOA has several older adults among its ranks, some decades older than those served through programming. Most never considered retirement. For those returning to work after retiring, there are often financial imperatives at work.
During the so-called Great Recession, Carr conducted a study that showed more than half of people who left full-time jobs during that time came back to work in some capacity. While data related to current inflation and its impact on retirement are not yet conclusive, it is likely that there will be a similar effect.
For those seeking returns to work after retiring from their careers, whether due to finances, the desire for socialization or to build a legacy, there are often challenges and prejudices blocking their way.
"There is an assumption that older people can't learn new things, are not interested in learning new things, are not ambitious in the same way that younger people are and that, frankly, they are just not committed," Carr said. "Yet, the data shows they are less likely to miss work and they are more likely to hang around longer and be committed to an organization."
Not only do older workers tend to be more reliable in their professional commitments, Carr suggests that their bodies of work experience are valuable to businesses. Data suggest that older workers tend to be more adept at managing conflict, mentoring others and anticipating the long-term impacts of business decisions.
Where older workers tend to approach decision-making with caution, younger workers are generally more willing to take risks and push the envelope. Often, Carr explained, this risk-averse nature is counted as a strike against older workers, particularly in fast-paced and technology-driven industries. A miscalculated risk can be devastating, however. Synergy is found at the crossroads of discretion and innovation.
"There has been some interesting research related to intergenerational workplace environments," Carr said. "If you have three teams — one of only young people, one of only older workers and one that is mixed — the one that produces the best outcomes in terms of creative and effective solutions is the mixed age group. That research is really important because it's not saying that all work environments should be older people or younger people. Having a diverse age group draws on the strengths of different skills and abilities."
---