Seeing Beyond
Gulf Power Economic Symposium casts an optimistic eye on the region's future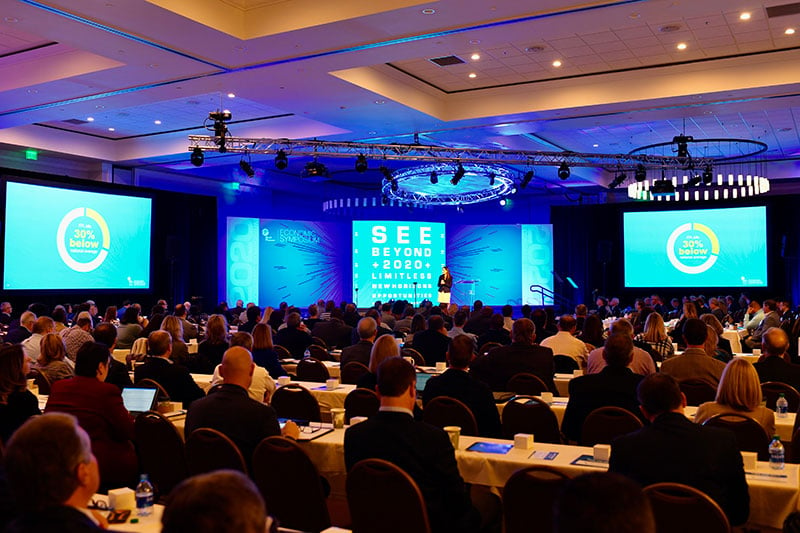 Gulf Power's 23rd annual Economic Symposium, hosted by the Sandestin Golf and Beach Resort, attracted some 600 economic developers, local government officials, educators and representatives of business, industry and community non-profits.
The forward-looking conference embraced a "See Beyond" theme and, appropriately, included remarks from a futurist, Mike Walsh, who is the CEO at Tomorrow, an innovation consultancy.
Walsh described the power of algorithms and, by way of example, discussed how giant online retailer Amazon manages inventory by anticipating consumers' purchases. He wondered aloud — and only half facetiously — about how long it will be before Amazon delivers products to addresses before they are ordered.
"You might say to yourself, 'I'll show you, Jeff Bezos, I'm gonna send this stuff back,' and then, a few days later, you will wind up ordering the items because Amazon was right," Walsh said.
The stage was set. Here was a conference that wouldn't much look back.
Panels discussed economic development strategies; placemaking; and ways to make communities more attractive to employers by enlarging talent pools.
Lt. Gov. Jeanette Nuñez delivered an optimistic message about Florida's potential and about Gov. Ron DeSantis's commitment to policies designed to create jobs and attract investment in the state.
John W. Henderson, the assistant secretary of the Air Force for installations, environment and energy, described Florida and Northwest Florida, in particular, as extraordinarily "military friendly." Henderson noted the federal government's commitment to rebuilding storm-ravaged Tyndall Air Force Base in Bay County as the "base of the future," and then qualified his statement, saying that, as fast as technological advances and capabilities develop, the new base will realistically be the base of the present.
Author and consultant James Wright, the founder of James Wants You to Know, reminded the symposium's audience of the importance of workplace inclusion and the need to make employees feel heard, seen, valued and free to be their authentic selves on the job.
But no one wowed the crowd like Carey Lohrenz, who served with the U.S. Navy as its first female F-14 Tomcat pilot. Lohrenz described the winnowing rigors of Officer's Candidate School, the draining effects on the body of g-forces, and her efforts to conquer gender-based policy hurdles that threatened to prevent her from flying.
Footage played by Lohrenz of a fellow pilot struggling to land a Tomcat on an aircraft carrier violently pitching in the Pacific Ocean blew minds.
Gulf Power president Marlene Santos opened and closed the conference, and Sandy Sims, Gulf Power's director of external relations, served as symposium master of ceremonies.
Hancock Whitney bank was the conference's presenting sponsor. Additional sponsors included 850 Business Magazine.