Second Wood Manufacturer Brings New Jobs to Gadsden County
Hoover's Treated Wood Products' arrival brings a strong promise of job creation for the county.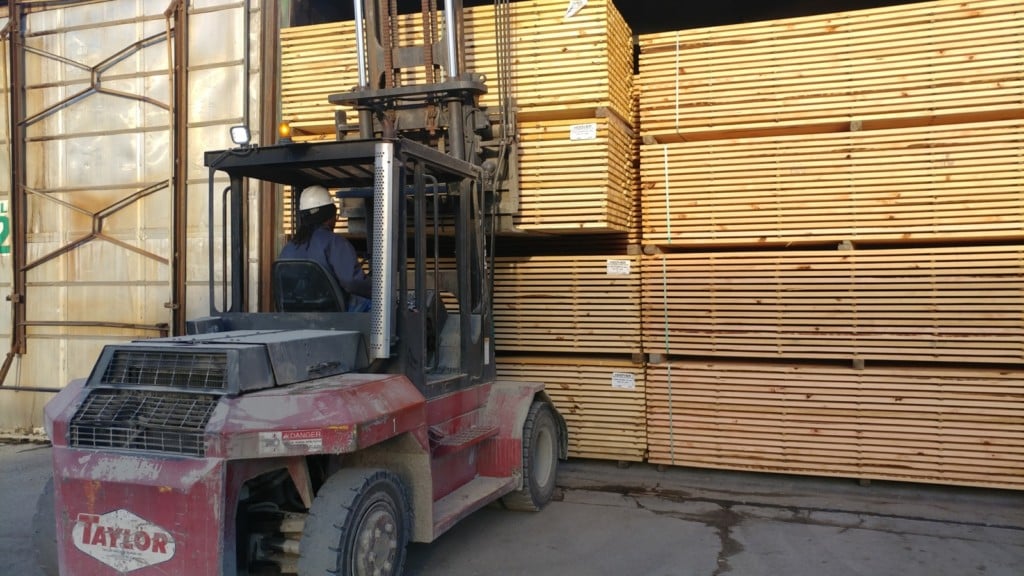 Gadsden County officials earlier this year approved and issued the development order for a wood manufacturing facility just outside Havana.
"This project is good for the economic development mission of Gadsden County," said Commission Vice Chair Anthony V. Viegbesie, expressing the board consensus.
The approved facility is owned by Hoover Treated Wood Products, Inc., a Georgia-based subsidiary of the Graham Holdings Company (formerly the Washington Post), a diversified conglomerate whose products include educational services, television broadcasting, online print and manufacturing.
Hoover produces what is described as pressure-impregnated, kiln-dried lumber and plywood products for fire retardant and preservative applications.
The Gadsden facility, Hoover's 10th, is located near U.S. 27 on a 65-acre site zoned heavy industrial. Next door is Coastal Forest Resources Company, a lumber producer/supplier with close ties to Hoover.
Coastal, in fact, sold Hoover the 65-acre property and served as the initial point of contact between it and Gadsden County economic development representatives.
Beth Kirkland, executive director of the Gadsden County Development Council (GCDC), explained that much vetting and back-and-forth preceded the project's introduction to Gadsden officials, setting the stage for approval.
The GCDC, in fact, began working with Hoover in mid-2017.
It guided the company through the application process and ensured that Hoover knew about the various federal, state and local incentives available, including the Qualified Target Industry (QTI) Tax Refund Program from the Florida Department of Economic Opportunity.
A performance-based incentive program, the QTI assures Hoover a five-year annual tax refund of $8,000 per job created, provided the jobs pay more than 115 percent of Gadsden's average annual wage.
"At 25 jobs committed over a three-year period, this creates an award of $200,000, of which $160,000 is funded by the state, $30,000 by Gadsden County, and $10,000 by Havana," Kirkland said.
Hoover's promise of job creation, in fact, was one of the project's key selling points.
Tim Borris, Hoover's vice president of operations, told Gadsden officials that his company would hire 15 individuals initially and grow that number to 25 eventually. He said the jobs would pay $40,000 on average, and that Hoover was committed to hiring locally.
He also promised that the Gadsden facility would produce only fire-retardant products, not preservatives.
As to why Hoover chose Gadsden over its other option, which was to expand the Georgia facility, Borris said the company wanted to be closer to the market, citing Florida as a big consumer of fire retardant products.
Moreover, he said, North Florida's abundance of forest products and lumber mills, plus Coastal Forest's proximity, made the Gadsden site that much more attractive.
Not to mention the availability of rail and Havana's ability to extend water and natural gas to the plant via a $323,000 grant it received.
The project wasn't without opposition. Neighboring property owners in the largely rural area and Tall Timbers (TT), which owns about 500 acres of conservation easements nearby, had concerns.
These included the potential for increased traffic, excessive noise, devaluation of properties and chemical contamination. Hoover satisfactorily addressed most of the concerns, especially those of Tall Timbers relative to stormwater runoff.
"I think we ended up with a win-win situation," said TT planning coordinator Neil Fleckenstein.
"Everybody worked in good faith. We were able to protect the environment and the water quality, and they were able to get a facility approved in a rural county that needs the jobs."
Not all opponents were satisfied, however.
Tallahassee Attorney Randie Denker represented a group of such property owners.
"I can't represent that my clients were 'happy,' " Denker emailed. "I can only represent that they made a pragmatic decision to settle. My clients agreed not to litigate unless Hoover violates the terms of the settlement agreement. However, they will continue to monitor (the project)."
Kirkland, for her part, sees only positives from the project beyond the $3.3 million capital investment that Hoover is making.
"Taking into account the direct, indirect and induced job creation resulting from this project, Hoover will create 37 jobs in Gadsden County with new-to-Gadsden annual revenues of $5.3 million," she said, adding that during the plant's construction phase, another 19 temporary jobs will be created and $2.1 million injected into the local economy.