Schools Focus on Training and Fostering Entrepreneurship
Educating Future Business Leaders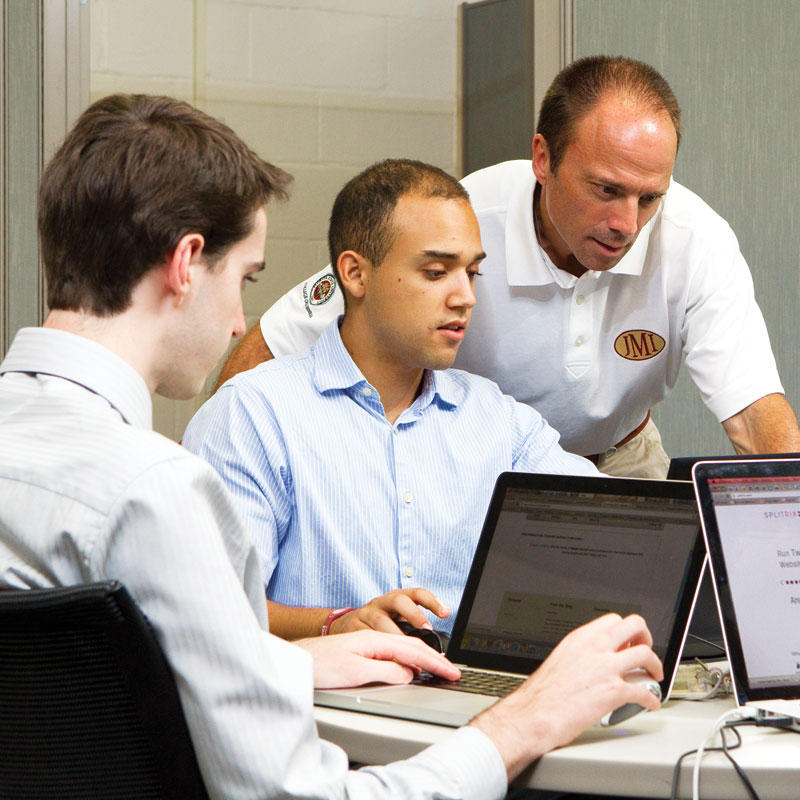 As home to two state universities, one of Florida's largest community colleges and one of the state's best performing public school districts — and with close to half its citizenry having earned a bachelor's degree or higher — Leon County has one of the most highly educated populations in the Sunshine State.
A skilled workforce and economic development go hand-in-hand. But just the higher education presence itself is a major factor in the economic health and entrepreneurial focus of a community.
"A university is typically the primary asset (for attracting new business). The technologies and research that occur at universities are phenomenal in recruitment and the growth of existing business," said Kyle Touchstone, executive vice president of the Economic Development Council of Tallahassee/Leon County. "The entrepreneurs bring ideas, technology and research out of the university and turn them into businesses that … we hope to retain here."
Florida State University is a top-tier research university that has prompted several research-to-industry spinoffs. And both FSU and Florida A&M University (FAMU) have nationally recognized business schools that graduate savvy entrepreneurs while also providing a wide range of resources to help the local business community, especially emerging companies.
FSU President Eric Barron's vision for FSU has entrepreneurship at its heart. Not just an entrepreneurship program, which he says has become "fairly typical" at institutions of higher learning, but a cutting-edge concept like The Jim Moran Institute for Global Entrepreneurship, which gives students start-up funds, office space, mentoring by gifted local business people and coaching by a dynamic faculty.
"What distinguishes Florida State is the extent to which we're looking at this as an incubator program and the extent to which we're assisting companies," Barron has said.
To be truly unique, according to Barron, FSU's entrepreneurship can't be limited to a few programs, however effective; it must be comprehensive and campus-wide. It's not expected that every FSU graduate will become an entrepreneur, but the idea is to instill the entrepreneurial spirit in all students.
"We're opening the entrepreneur curriculum to the whole campus," said Caryn Beck-Dudley, dean of FSU's College of Business. "We will have entrepreneurs in residence in every college at the university and really be an engine of economic development for the entire state."
Entrepreneurism, Beck-Dudley said, in recent years has become a "sexy topic," and a lot of student businesses are being developed. There were more than 100 teams that competed in the 2013 InNOLEvation challenge, a business plan competition hosted by The Jim Moran Institute that is one of the largest of its kind in the world. It's unique in that it is open to undergraduate as well as graduate students — and judges select the winners based on which companies they'd be more likely to invest in.
"There's a pent-up desire, a new brand of student who is comfortable going out on his or her own, who is able to market themselves and network," she said.
One of the more popular programs is the Sophomore Experience run by Jim Dever. Students work in small groups to identify and create a business using seed money from The Jim Moran Institute. The program will only take 40 students — and more than 100 applied in 2013.
"They apply as freshmen and come in as sophomores," Dever said. "They're handpicked. Over five years we've only lost one student who wasn't admitted to the College of Business (in the junior year)."
The business ideas come from the students, and about 12 are selected. The students work on developing the companies for two semesters, then have the option of keeping the business and continuing to run it outside the university or shutting it down and walking away. Over half of last year's businesses were profitable. One group built a website — then sold 3 percent of the company for $15,000.
Most importantly for Tallahassee's future economic growth, Dever said, "A lot of the students talk about going back to South Florida, but we strive to connect them with people in the community so they have roots in Tallahassee."
That's what universities should do, insisted Beck-Dudley, "be active in the community, research and spin businesses out. A lot of that has been going on, we just didn't talk about it."
Many educational offerings and programs in the region have also been designed to complement the targeted industry sectors that match the region's strengths and goals, ensuring the local economy is diversified and sustainable while providing quality, high paid jobs. Those sectors include: aviation, aerospace, defense and national security; engineering and research; health sciences and human performance enhancement; information technology; renewable energy and the environment; and transportation and logistics.
About one-third of FAMU's students are majoring in disciplines such as science, technology, engineering, mathematics and the health sciences — matching their interests with where the county wants to grow its economic base. At Tallahassee Community College, training is offered in fields where workers are most in demand, and the Advanced Manufacturing Training Center provides customized quick response training for businesses that are here.
TCC also operates the Ghazvini Center for Healthcare Education in the heart of the city's burgeoning health care corridor, close to both major hospitals and the Red Hills Surgical Center. At Ghazvini, students train on cutting-edge technology.
"If we could retain just a small portion of our students along with our young professionals, imagine that youth and energy and what it can do for us," Touchstone said. "This used to be a sleepy college town, but now it's really moving forward with business and technology."