Saving Sight with IRIS
Dr. Sunil Gupta scales retinal imaging tool across the nation and beyond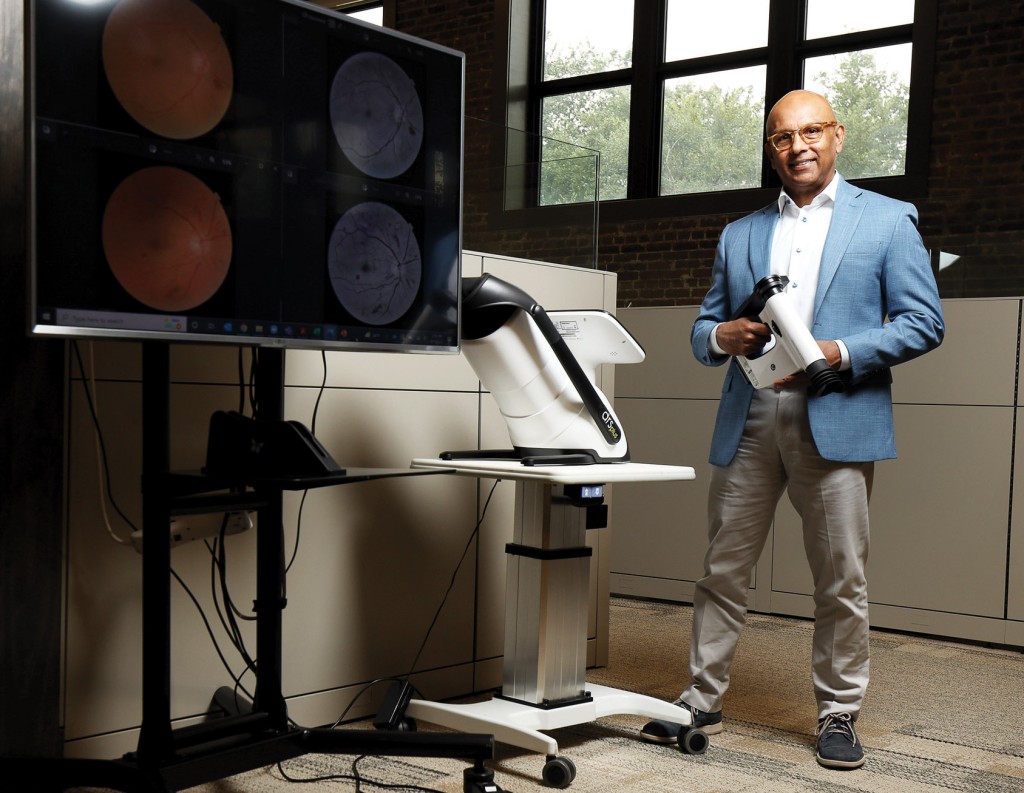 Dr. Sunil Gupta is on a mission to end preventable blindness due to diabetic retinopathy. As challenges go, it's a big one, but he won't be deterred.
When Gupta, a nationally recognized retinal surgeon based in Pensacola, encounters a problem, he rarely backs down until it's solved. It's just the way he's built.
"I grew up with some very big-thinking, innovative people," he said. "My father was a geohydrologist, and back in the ı970s, he came up with a software system to track groundwater in three dimensions for impurities like nuclear waste and chemicals in drinking water."
That software secured his family a sponsorship from the Department of Energy for U.S. citizenship. In the years that followed, he learned valuable lessons from his father's curiosity, determination and work ethic.
"I was always around him and the Ph.D. colleagues that he was with in academic centers," Gupta recalls. "There were many times I was in the computer lab with my father at midnight, even as a kid. … The idea is when there is a problem to be solved, you put your head down and you do it."
Today, Gupta is applying that same focus to his work at Intelligent Retinal Imaging Systems, a company he founded in 20ı4 to promote earlier diagnoses of sight-threatening retina pathologies.
"The leading cause of blindness in working-age patients is diabetic retinopathy — and we've known this for 30-something years," he said. "We have a lot of very innovative treatments today, yet even now we see patients coming in who are blind."
Gupta channeled that frustration into creating IRIS, an FDA-cleared, cloud-based imaging tool to provide diabetic patients with retinal evaluations.
"Ideally, diabetic patients should be seeing an ophthalmologist or optometrist once a year," said Gupta, who also operates the Retina Specialty Institute in Pensacola. "We've known that for 30 years, but only 30%–40% of patients actually get their retinas dilated. With IRIS, the idea was to take the solution to primary care clinics or even to the patient's home for underserved patients."
Today, IRIS is being used in primary care settings across the Gulf Coast and the nation, including several federally qualified health clinics in Atlanta, Houston and Chicago, for the assessment of retinal eye diseases. Additionally, some outpatient labs such as Quest are offering it in their centers. The IRIS system was recently launched in the United Arab Emirates.
"We are doing ı7,000 to ı8,000 exams on a monthly basis," Gupta said.
That expanded access to retinal imaging allows physicians to raise awareness of diabetic retinopathy and start preventive care earlier in a patient's diabetic journey.
"The retina gives you a lot of data on what's going on in the rest of the body," Gupta said. "It's the one organ that can tell you about diabetes, hypertension and neurological diseases. There are a lot of biomarkers in the retina for many different disease states in the body."
And the need to identify those warning signs as early as possible is greater than ever, he said.
"Diabetes is an epidemic in that there are 30 to 35 million patients in the United States who are known diabetics, and that number is growing with three times as many pre-diabetics," he added. "Unfortunately, at this point, we have become a society where food is readily available … and the overall BMI of the country has increased significantly since the ı970s."
While the numbers can be overwhelming, Gupta and his team keep their eyes on the goal of conducting more retinal screenings each year.
"You always have to think globally and act locally," he said.
Gupta attributes his success with IRIS to determination, hard work and effective collaboration.
"You don't take no for an answer," he said. "The second thing is that it's not an eight-hour day. It's a 24-hour day, and there are seven days in a week."
You also can't do it alone, Gupta added.
"You have to surround yourself with people who think the same way," he said. "I was lucky enough that the right people came on board."
Gupta, who arrived in Pensacola in ı994, has enjoyed building IRIS and the Retina Specialty Institute on the Gulf Coast and believes this area is the perfect place to grow innovative companies.
"Some people think all the innovation has to come out of Silicon Valley or Boston, but I really feel, especially in health care, we can create these entities where we are," he said. "The Gulf Coast has the workforce and the ability to do whatever we want to do. I think we have a great quality of life, and we can attract some amazing people."
All it takes, Gupta said, is an authentic vision and grit.
"If you see a problem worth solving, and if you can get buy-in from your partner-employees, there are great people everywhere who will come and join you to help you do that," he said. "Innovators along the Gulf Coast should not be afraid to take on a challenge."