Saving History
Camp Gordon Johnston World War II Museum is working to become a lure for tourists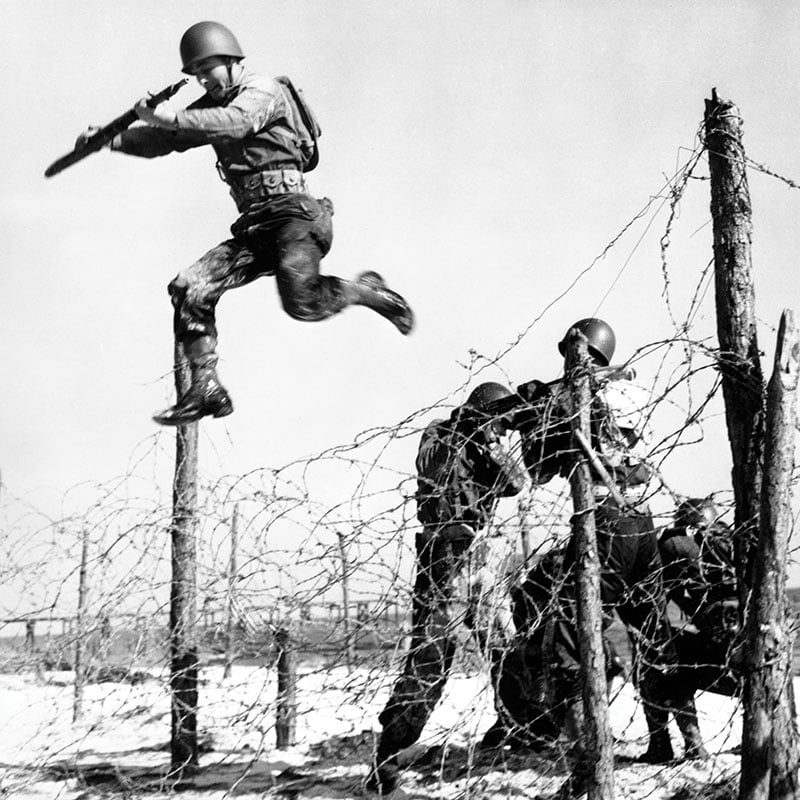 During the predawn hours of June 6, 1944, more than 150,000 Allied soldiers invaded a handful of French beaches along the coast of Normandy, one of the largest amphibious assaults in history. Seventy-one years later, the sacrifices and achievements of many of those troops, and other soldiers who fought in World War II, are still kept alive in tiny coastal Carrabelle, Florida.
Uniforms, medals, pictures, letters and thousands of other keepsakes are displayed throughout eight rooms of the city's not-for-profit Camp Gordon Johnston World War II Museum, housed in an out-of-the way, aging municipal complex with a leaky roof and limited air conditioning.
The museum's humble location belies the importance of the historic collection within. Camp Gordon Johnston was a World War II Army post in Carrabelle and the surrounding region. From 1942 to '46, more than 250,0000 soldiers were trained at the camp for amphibious landings in Europe and the Pacific. The military installation, known for its rugged, commando-style training, occupied nearly 20 miles of coastline on the Gulf and 165,000 acres of Franklin County. The 4th, 28th and 38th Infantry Divisions trained there, as well as the 6th Amphibious Brigades and other specialized forces.
The artifacts and mementos go beyond the Carrabelle camp. This is the only museum dedicated to World War II in Florida and most of the Southeast. Items from Korea and Vietnam are also on display.
Yet the museum, a tribute to the past, faces an uncertain future.
Supporters stress it's urgent that the museum move to a new site to survive and preserve all of its items, most donated by veterans and their families. The 225-member Camp Gordon Johnston Museum Association has already purchased a 1.3-acre site at 1873 U.S. Highway 98 West for a new 6,000-square-foot building across from Carrabelle's public beach. The site has a view of the Gulf, where soldiers once practiced their skills on amphibious landing craft.
Problem is, there aren't enough funds to build a new facility.
"I firmly believe we could be an economic boon to this county," said museum curator/director Linda Minichiello. She and her husband, Tony, both volunteers, have kept the nonprofit museum going since it first opened nearly 20 years ago in makeshift headquarters in a former fish shack. The museum is now in its fourth location.
"We average a little over 4,000 people a year and we could double that, at the least, with a new facility on the beach," said Tony Minichiello, also the association president. "Right now we can't even put a sign on 98 to let people know we're here."
In a major victory, the Florida Legislature voted during the 2015 session to give the military museum $500,000 to build a new structure and appropriately display its historic gems. But hopes were dashed by a June veto by Gov. Rick Scott.
"I was surprised and disappointed," said state Sen. Bill Montford, D-Tallahassee, who sponsored the budget request for the museum along with Monticello Republican Rep. Halsey Beshears. "It has great historic value, and if not for volunteers, we would have lost a treasure."
Both legislators vowed they will be pushing for funding again in 2016 and intend to make a more high-profile appeal.
"There are items of true historical value that no one else in the world has," Beshears said. "But it's off the beaten path. No doubt more people would come in if they could drive by and see it. It's a really cool place."
In a beach location, the museum would serve as a "destination spot for this area," Montford said.
Lisa Munson, executive director of the Carrabelle Area Chamber of Commerce, agrees.
"Location, location, location," she said. "Highway 98 is where all the tourists pass through. It's across from the beach area with parking and picnic tables and right next to the RV park. There's a path to the Crooked River Lighthouse. The beach, the lighthouse and the museum would be three major attractions all within a quarter-mile walking distance from each other on a major highway."
Three flagpoles displaying the American flag, a POW flag and the World War II "Grateful Nation Remembers" flag mark the museum's proposed new site, now a manicured grassy lot. The Camp Gordon Johnston Museum Association owns the beach property and has raised $150,000 toward a new structure, expected to cost about $500,000. The museum has already spent $30,000 for architectural renderings. Supporters estimate the project would create about 30 new jobs.
The association will also be building a memorial and a separate unit for vehicles now in storage: a World War II German leiferwagen (truck), Willys Jeep (manufactured during World War II) and a DUKW amphibious truck. The museum is adding a half-scale model of a Higgins boat, a World War II amphibious landing craft being built by Carrabelle resident Martin Benbaruch, son of a Holocaust survivor and a native Israeli boat builder.
The museum's budget is about $50,000 a year, $20,000 of which comes from the Franklin County Tourist Development Council. The other $30,000 comes from donations from dedicated supporters. There's no cost to visit the museum, but visitors generally leave a few dollars in the donation box.
The museum pays rent and insurance costs at its current home, a former school that includes municipal offices. The complex needs a new roof, but the city can't afford one, Tony Minichiello said. In addition, utility costs are expensive, so the museum can only use air conditioning 23 hours a week during its operating hours.
"It's operating on a shoestring, and it's not acceptable," Montford said. "We owe it to the community, the state and the country to preserve the museum."
In addition to seeking money from the state, Camp Gordon Johnston association members have requested $250,000 from the county Tourist Development Council to begin construction of the museum but as of this summer didn't know whether any additional funds would be granted.
"We need to move some of these items into an air-conditioned environment as soon as possible," Linda Minichiello said. "We can start small and add onto it."
The humidity is already causing concerns about mold and disintegration of uniforms and documents.
"In that environment, these items won't last," Beshears said.
In another effort to bolster support, the museum association is launching a Tallahassee-based advisory board to start a capital fund.
"We want to get the word out to the business community, especially those who value history," Tony Minichiello said.
"I think a lot of people would be interested in visiting the museum and supporting the museum if they just knew about it," said Tallahassee lawyer Matt Mathews, general counsel to the museum. "It's a great asset for everyone."
Longtime history buffs, the Minichiellos have been involved with the museum from the outset.
When the Tallahassee residents decided to buy a second home in Carrabelle, they were intrigued by the area's military history. They organized the Camp Gordon Johnston Museum Association in 1995. In 1996, veterans came to Carrabelle to celebrate the 50th anniversary of the closing of the training camp. The reunion was so successful, it evolved into the annual Camp Gordon Johnston Days, a three-day event with a parade, dance and other activities.
But the reunions weren't enough, veterans decided. A museum was needed. In 1998, the first collections were displayed in a 96-square-foot fishing shack. Linda Minichiello was the first volunteer.
"It was so small, only two people could be there at a time," said Tony.
The museum would then move three more times, to a former school, the downtown Carrabelle theater, and in 2008, to its current location at the municipal complex. The museum's eight-year lease expires in 2017.
"We don't even have all of our artifacts displayed," said Linda. "Every year, veterans and their families bring us more items."
In her soft Southern voice, she passionately spins a story behind each button, badge and banner on display at the museum. Some of those captivating tales are written in the museum's Amphibian newspaper, on tapes or online, but many are only kept in Linda's memory.
She not only provides tours to visitors, including busloads of schoolchildren, she also shows modern war movies and documentaries in the museum's two small theaters and makes the popcorn. It's all a labor of love.
"For me, it's doing something for my father," Linda said. "He was an amphibious soldier who fought in the Aleutian Islands during World War II." He later suffered from post-traumatic stress disorder and was hospitalized for many years.
Linda is retired from a 25-year career teaching English and journalism in a Cairo, Georgia, high school. Tony was in the Air Force during the Vietnam War, then went into printing and sales. Married 52 years, both went to college on the G.I. Bill.
Linda is also a volunteer with Homeland Security and handles calls about live ammunition still found in the area.
"I call the base commander at the bomb squad out of Tyndall and they're out here," she said.
The museum shares a great deal of little-known information, including the contributions of nurses who trained at Camp Gordon Johnston and accompanied troops when they landed in Normandy and other invasions.
"These were experienced nurses who were given another year of training to do what a doctor normally does," because of the lack of physicians to treat the wounded, said Linda.
One of the nurses who trained at Carrabelle "talked about how scared they were" during a museum visit. "The medical corps doesn't carry weapons and they treat our soldiers, the enemy and citizens," said Linda. "As soon as they got off the boats, they set up field hospitals."
The museum's exhibits include recreations of a field hospital, a mailroom, a barracks and a 1940's living room. Among many unusual items are two rare Japanese propaganda fans, information about German prisoners of war who were put to work in Carrabelle, and a rare camouflage Army jacket and trousers recovered from a garbage bag.
"Camo was only used temporarily during the summer of '44," Linda said. Because of its similarity to German uniforms, the camouflage caused "so many deaths from friendly fire, they pulled it." An astute yard man found the garbage bag filled with military keepsakes and brought it to the museum.
"Some people don't know what they have," Linda said. "It's so important that all this history be saved."
---
About Gordon Johnston Born in Birmingham, Alabama, Gordon Johnston fought with the Rough Riders in the Spanish-American War then went on to serve in the Philippine-American War and then World War I. He earned the Medal of Honor for action in the Philippines and the Distinguished Service Cross (the nation's second highest military honor) in World War I, along with three Silver Stars, a Purple Heart and Officer of the Legion of Honor (from the French). He retired from the U.S. Army as a full colonel. He died from a polo accident in 1934.