Saunders Takes Helm at UWF
University's sixth president takes reins at critical time.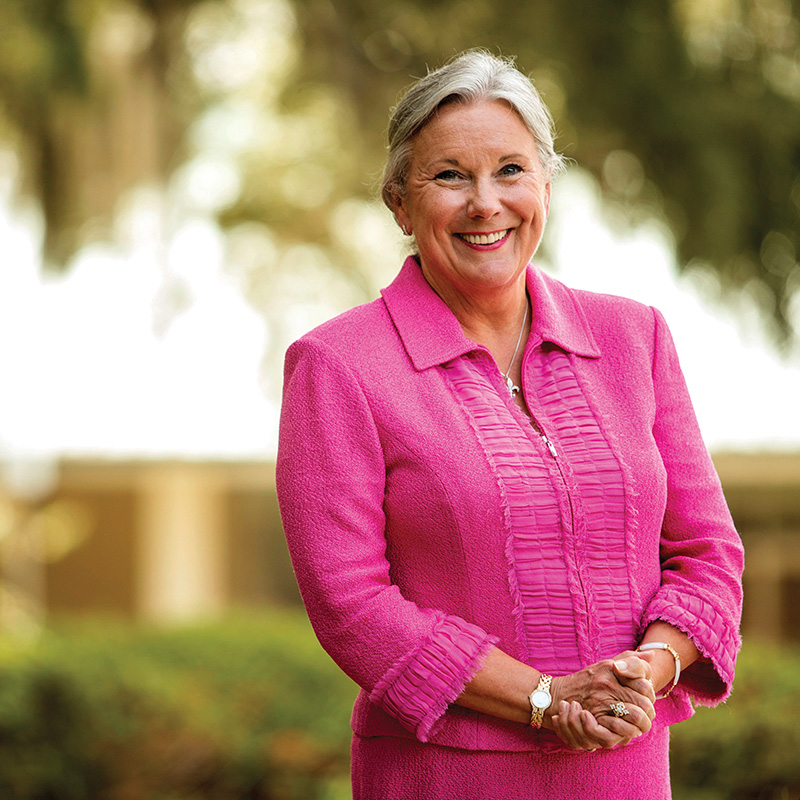 Martha Saunders became the sixth president of the University of West Florida on Jan. 1, stepping into the job at a critical juncture in the school's history. UWF will celebrate its 50th anniversary this year, and the institution — long regarded as among the sleepiest of Florida's public universities — has been making a lot of noise.
Saunders' predecessor, Judith Bense, oversaw a remarkable string of successes during her eight years at the school's helm. Enrollment topped 13,000 this year — up from just 10,000 in 2008. A spate of new construction, begun during the height of the Great Recession, has reshaped UWF's campus and helped improve student retention. The university's newly minted Division II football team sold out each of its home games during its inaugural season, and Bense announced the discovery in downtown Pensacola of the country's oldest, multi-year, European settlement — a crowning moment for the career archeologist.
These successes and others have catapulted the school into the center of public life in Northwest Florida like never before. Saunders — Bense's successor — is the beneficiary of all this positive momentum. That said, she will also inherit the unenviable task of improving the school's performance against state funding metrics. Right now, the university ranks at the bottom of the state's Performance Funding Model, costing UWF millions each year.
Saunders, however, seems up to the task. The administrator, who began her academic career teaching undergraduates at UWF more than 30 years ago, has built a reputation as a bold, capable and collaborative leader, and she has no plans to slow down.
"I expect to focus on partnerships, innovation and programming on which we can build a national and global reputation," Saunders said in December, in the midst of transitioning into her new role.
This is not the first time Saunders has led a university. After leaving UWF in 2002, she went on to serve as chancellor at the University of Wisconsin-Whitewater from 2005 to 2007 and president of the University of Southern Mississippi from 2007 to 2012.
She returned to UWF as a provost in 2013, at Bense's request. The faculty senate that year had returned a vote of no confidence in Bense, an event that threatened to topple her administration. The president, who had heard of Saunders' departure from USM, asked if she would be willing to return to Pensacola and oversee the university's operations and budget for the following year.
Saunders jumped at the opportunity and ended up leading a reorganization of the university's colleges and helping to mend relationships with faculty — both Herculean tasks.
Looking ahead, Saunders said she planned to build on those successes. A key priority will be establishing "programs of excellence" in fields where the university has a strategic advantage, including robotics, cybersecurity, health and supply chain logistics.
Saunders said she planned also to continue her predecessors' efforts to encourage more community engagement at the university. Part of that effort, she said, will be interfacing more with the region's business community.
"The possibility of industry partnerships excites me," Saunders said, "and can pair the expertise of our faculty with economic need."
For example, Saunders pointed to a fledgling work-study partnership with ecommerce giant Amazon.
"They will be recruiting on campus after the holidays for students who will begin working for Amazon while in college, then move into careers with Amazon after graduation," Saunders said. "It's a great program that builds a career path to a great company."
Saunders said UWF would be the first university in the state to partner with the company in this way.
Likewise, Saunders said she plans to work more closely with Pensacola State College and other institutions of higher learning to improve workforce readiness in targeted industries.
"I'm particularly interested in developing intellectual infrastructure — hubs — for the support of manufacturing, innovation and commercialization," she said. "Here, we can partner with our strong state colleges and career academies to really make things happen. I know from experience that investors like organized, ready-to-go entities. We can do that for our region."
Saunders' other priorities include investing more in university research and expanding UWF's distance learning offerings.
Saunders said she is excited about what the new year will bring. In November, UWF announced the launch of its 50th anniversary capital campaign — the largest in the university's history. By the start of 2017, UWF already had raised more than $48 million of the $50 million goal.
"I expect to see that goal extended early in the year," Saunders said. "People are recognizing our potential, and we're on a roll."