Santa Rosa County Capitalizes on Its Assets
Determining the direction the county should take to create more jobs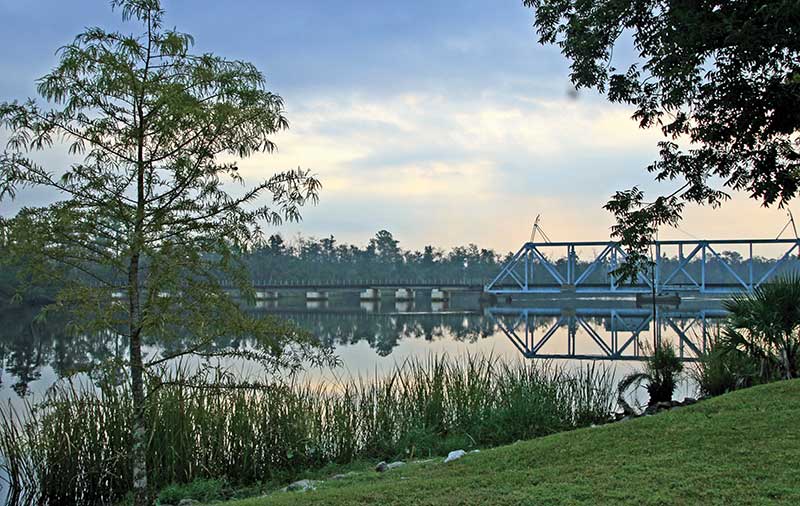 Quality of life is a pivotal consideration for people when they choose where to reside. And it accounts for Santa Rosa County's status as one of the fastest growing counties in Florida, the fourth fastest growing state in the country.
Santa Rosa County is a primarily rural area with two state parks and ample outdoor recreation opportunities. Located between Florida's western-most county, Escambia, and military-focused Okaloosa County to the east, it is where many who work in Pensacola and Fort Walton Beach and at Hurlburt Field and Eglin Air Force Base reside.
The reasons are clear. Santa Rosa County is home to highly rated schools and two college campuses. It is rich in affordable housing, both single- and multi-family, in the country and on the water. It has a robust and varied retail sector and plenty of dining options.
No sector of the county's economy exceeds more than 20 percent of the total. Both private- and public-sector employment are key components. The county is home to unique high-tech businesses including AppRiver, a supplier of electronic communication and cybersecurity solutions, and Avalex, which produces special aviation mission equipment.
The U.S. Navy trains pilots in Santa Rosa County, and the Andrews Institute for Orthopaedics and Sports Medicine, favored by the world's top athletes, is in Gulf Breeze.
And, the county is looking for more.
Last year, the Santa Rosa Economic Development Office hired a consultant to help it determine the direction the county should take to create more jobs so that residents who commute to jobs in neighboring counties will have options enabling them to work closer to home.
"We're growing at a rapid pace, nearly 2 percent annually," said Shannon Ogletree, executive director of Santa Rosa Economic Development. "People are starting to think of the county as a location of choice."
He said the push is on to supply the amenities and jobs required "so people can be employed here."
A part of that effort is education. Santa Rosa Career Pathways provides information to help students choose studies that align with their desired careers and available and anticipated jobs. Santa Rosa County's Career Academies provide skills needed to compete in a global economy in fields ranging from information technology and cybersecurity to aviation, health care and more.
Fast growth
Santa Rosa County, in terms of growth rate, is in the top 5 percent of counties in the United States. Part of the Pensacola-Ferry Pass-Brent Metropolitan Statistical Area, it is 1,011.61 square miles in size. Its population in 2016 was estimated at 170,497, an increase of 27,514 over the previous 10 years. That growth was more than double that of the Pensacola metro area.
The county's population grew 44.8 percent between 2000 and 2016, from 117,743 to 170,497, according to the U.S. Census Bureau. In the six-year period between 2010 and 2016, it grew by 11.47 percent. The average annual growth rate has been 1.8 percent per year over the past five years.
The county experienced growth from 2011 to 2016 in most age groups with the fastest growth occurring in the 30-39 and 60-69 age groups.
Santa Rosa County attracted 17,688 people, or 10.5 percent of the total population in 2016. Sixty-three percent of these residents have some college or a post-secondary degree.
Santa Rosa has gained more new residents as a percentage of its total population than Baldwin County, Alabama; Beaufort County, South Carolina; the Pensacola metro area, the state of Florida, and the United States as a whole.
The University of Florida's Bureau of Economic and Business Research projects Santa Rosa County will near 180,000 residents by 202t0 and 200,000 by 2025.
The largest city is the county seat of Milton, a former lumber town incorporated in 1844 and one of the oldest in Florida with a 2016 population of 9,839. Milton, home of Naval Air Station Whiting Field, is located inland, north of East Bay on the Blackwater River.
The city of Gulf Breeze, which sits on the western edge of the Fairpoint Peninsula between Pensacola and Pensacola Beach, had a 2016 population of 6,466. Linked to larger Pensacola via a three-mile bridge, it's one of the most affluent communities in Santa Rosa County. On the north side of the county, the only incorporated town is Jay, which in 2016 had 590 people.
Two of the hottest growth centers are not incorporated towns, but Census Designated Places (CDP), a term used by the U.S. Census Bureau for population concentrations.
Santa Rosa County has 31 CDPs, ranging from tiny, rural Cobbtown to coastal Navarre. In 2015, Navarre had a population of 32,949, up 1.1 percent from the previous year. In 2017, Navarre's population was estimated at 42,000.
In addition to Navarre, another hot growth center is Pace, to the west of Milton, with a population of 21,997.
The county has a labor force of about 75,000 people and more than 220,000 people in the workforce live within a 45-minute drive of its industrial parks, according to Ogletree.
Employment/income
Santa Rosa County has a median household income higher than the median household income of its neighbors, Florida and the United States.
According to census data, the county in 2015 had a total of 2,585 employer establishments and 11,232 non-employer establishments.
The Santa Rosa Economic Development website reflects that the largest employers in the county are state and local governments, with more than 4,000 workers, followed by the federal government and military, with more than 3,000. The next highest is Walmart, the county's largest private employer, with nearly 1,300 workers.
The health care industry is also a big employer. Baptist Health Care Systems has over 600 workers and Santa Rosa Medical Center has nearly 500. Add health care consultant The Studer Group's 166 workers, the Andrews Institute's 150 and Lifeguard Ambulance Service's 130 and it is clear health care is a major part of the county's economy.
Data USA provides a snapshot that makes comparisons relatively easy. It shows that, in 2015, Santa Rosa County had a median household income of $58,932, higher than the median household income of the United States, Florida and the Pensacola-Ferry Pass-Brent Metropolitan Area.
In that year, it also had a higher median household income than its immediate neighbors. Escambia County to the west had a median household income of $46,001, and Okaloosa County to the east ad a median household income of $55,880.
The county's neighbor to the north is Escambia County, Alabama, which had a median household income of $32,330.
There are 18 Santa Rosa County population centers with median incomes higher than the county as a whole. The incorporated city with the highest median household income was
Gulf Breeze at $84,423, followed by Milton at $46,040 and Jay, at $37,917.
Property/cost of living
Santa Rosa County's median residential property value is $161,400, according to Data USA's 2015 figures. One city, Gulf Breeze, and 13 unincorporated places had property values higher than the county's median. A diversity of lifestyles leads to a wide difference in home values.
Navarre Beach on Santa Rosa Island just south of Navarre had a 2015 median property value of $391,900. The next highest was the incorporated city of Gulf Breeze, with a median property value of $311,900. The Mulat Census Designated Place had a median property value of $311,400. Four other population centers had a median property value between $200,000 and $300,000.
But, within each of those CDPs, there are high-cost and lower-cost options impacting the median property value. According to Data USA, the largest share of households pays property taxes in the $800 to $1,500 range. The homeownership rate is 72.6 percent.
The county has a relatively low cost of living compared to neighboring areas and the national average.
According to Sperling's Best Places, where a cost-of-living index of 100 represents the U.S. average, Santa Rosa County's index is 96.10, owing to relatively low housing costs.
Grocery, health and transportation costs also are all below the national average, and utilities costs are right at the national average.
The crime rate is low. According to the 2017 County Health Rankings, Santa Rosa County, between 2012 and 2014, saw 143.6 violent crimes per 100,000 people.
Escambia County had 735.9 and Okaloosa had 435.1 during the same period.
Residents do a lot of commuting. On average, employees in Santa Rosa County have a longer commute time (26.3 minutes) versus a national average of 24.8 minutes.
In addition, 2.13 percent of the workforce has "super commutes" in excess of 90 minutes, according to Data USA.
Military might
If you ask residents to name the most familiar landmark in the county, chances are good they will point to Naval Air Station Whiting Field, one of the Navy's two primary flight training bases.
Established in 1943, the 12,000-acre complex provides training for the Navy, Marine Corps, Coast Guard and Air Force and for allied nations.
Primary flight training student aviators flying T-6 Texan II trainers use North Whiting Field. Advanced helicopter training students in TH-57 helicopters use South Whiting Field.
The county also has outlying fields used for training: NOLF Choctaw and Holley, both in Navarre, and Spencer in Pace.
NAS Whiting Field is the busiest air station in the world, accounting for nearly 1.5 million annual flight operations including primary flight training of more than 1,200 students.
Whiting logs more than 160,000 flight hours per year, about 14 percent of USN flight hours.
Santa Rosa County and Whiting Field are in the middle of a heavily militarized area. To the west is Naval Air Station Pensacola, the so-called "Cradle of Naval Aviation," and to the east is Hurlburt Field, home of the Air Force Special Operations Command, and Eglin Air Force Base, one of the largest bases in the nation and the place where the Air Force develops aerial weapons. It's also home to the F-35 integrated training center.
All that military activity not only has an impact on the economy, but leads to future residents. Many of the military personnel, once they retire, wind up living in Santa Rosa County and other counties in the region.
The county has 204 defense contractors, that is, businesses who have won contracts to do work for the military; those contracts call for defense products or for services as common as lawn care.
The total value of the 1,685 defense contracts awarded to businesses in the county between 2000 and 2016 was $480,789,171. In 2016, alone, 124 contracts totaling $46,584,365 were awarded to contractors in Santa Rosa County.
Education seen as key
For any company, whether it's one already in the county or one that might be considering the county for an office or plant, the quality of the workforce and area schools is important.
The four-year graduation rate for Santa Rosa County's class of 2016 was 85.7 percent, exceeding the rate for Florida or the United States.
The county has seven high schools, seven middle schools, 17 elementary schools and nine specialty schools, including Locklin Technical Center. The University of Florida offers two bachelor degree programs at Pensacola State College's Milton campus.
The area surrounding Santa Rosa County has 13 colleges offering certificates and degrees up to the doctorate level.
Figures from the Census Bureau show 90.2 percent of residents in Santa Rosa County are high school graduates; 26.9 percent have one or more college degrees and 18.6 percent are veterans.
Santa Rosa County has the highest concentration of former members of the military in the nation with over 35,000 in "325" zip codes, according to Ogletree.
In today's competitive workplace, cutting-edge and relevant career and technical education is a smart investment. Santa Rosa County's Career Academies prepare students for college and careers by providing them with the skills needed to compete in a global economy.
They can obtain specialized training in areas including information technology, cybersecurity, advanced manufacturing, aviation, culinary arts, health and medical and more. These rigorous curricular opportunities make students ready for highly skilled, high-wage careers, engage them with hands-on learning and reduce high school dropout rates.
Economic development
The Santa Rosa Economic Development Office visits with site selectors and targeted companies and works with existing companies to target potential suppliers.
Santa Rosa EDO won several Excellence in Economic Development Awards from the International Economic Development Council (IEDC). The honors were presented at an awards ceremony during the IEDC Annual Conference in Toronto, Canada.
Santa Rosa EDO in 2017 won a bronze award for the santarosaaviation.com website, which promotes the county's benefits for the aviation industry and a silver award for santarosacareerpathways.com website, which showcases local career opportunities and the educational pathways to them.
It won a gold Excellence in Economic Development Award for its 2017 Aviation Industry Brochure project.
The county has three certified sites. A site that is certified through a program conducted by Gulf Power is deemed shovel-ready. Certification helps eliminate risk when a company is looking for property. Archeological studies, an examination of topography and title searches help ensure that properties are appropriate for development.
One certified site of about 90 acres is located within a half-mile of Interstate 10 and is visible from the interstate. Another certified site is located directly on the interstate. The county is creating new brochures showcasing its certified sites.
Early last year, the Santa Rosa County EDO began a push to attract more aerospace and aviation operations by leveraging NAS Whiting Field, several aerospace companies and its location between two aerospace-focused neighboring counties.
It's also part of the much broader Gulf Coast aerospace corridor, which spans the area between Southeast Louisiana and Northwest Florida and includes a diverse range of aerospace activities, from space to aircraft construction.
It created a special aerospace/aviation section on the Santa Rosa Economic Development website (santarosaaviation.com), and launched an email campaign to site selectors and aerospace/aviation companies. It also carried out a postcard campaign targeting site selectors and aerospace/aviation companies.
One project the county is developing is Whiting Aviation Park adjacent to NAS Whiting Field. A key amenity is that tenants may use the runways at the Navy base. Ogletree said the county is seeking Triumph Gulf Coast funds — designed to mitigate losses from the 2010 Deepwater Horizon/BP oil spill — for the project.
Signs are good in the county. Boat builder Fabbro Marine recently expanded, doubling its plant in Milton to more than 75,000 square feet in size. In Gulf Breeze, Avalex has added employees, and so has Gulf Cable in the industrial park near Milton. Another new development is Pace Crossroads, a new retail center. Dick's Sporting Goods is an anchor tenant.
The target industries for Santta Rosa County are aerospace, logistics and distribution, medicine and medical devices. It's also interested in more agricultural activities, including more research opportunities. Ogletree said he's also interested in landing a "white table cloth" restaurant.
David Tortorano is a writer with the Gulf Coast Reporters League. His story was commissioned by the Santa Rosa Economic Development Office.