Santa Rosa Career Academies Create A Proliferation of Pathways
Career opportunities are bountiful for the next generation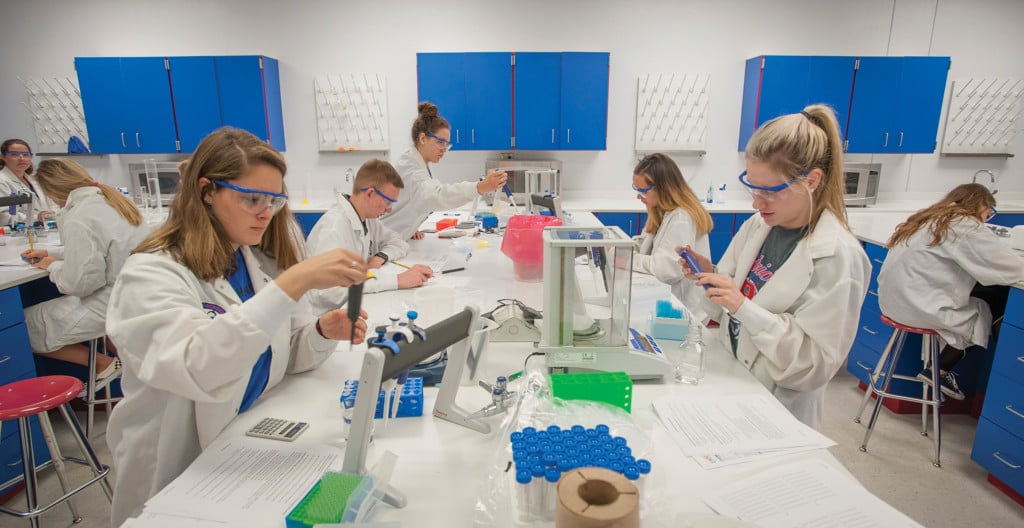 Today's generation on the rise faces multiple challenges when it comes to an increasingly complex job market.
For the past four-plus years, a unique partnership has provided answers to these challenges in the form of Santa Rosa Career Pathways.
"It's a joint program between the Santa Rosa County School District and the Santa Rosa Economic Development Office," said Charlin Knight, "and we utilize the data that's provided to us by the Florida Department of Economic Opportunity."
Knight is the director of workforce education for the county's public schools. Her partner in the project is Tina Stewart, the business development manager for the county's economic development office.
The program is connected with eight middle schools, six high schools and one technical college.
With recent additions at Gulf Breeze, Jay and Milton, there are 16 middle school academies, 48 high school academies and 20 technical college post-secondary programs. Some middle school students attend the academies at Central School and Jay High School.
During the 2017-2018 school year, students earned 2,127 industry certifications in these programs, according to Knight.
"It's really serving two purposes," Knight said. "It makes sure our students and parents have the information they need to make choices about their students' career pathway, and it also provides folks who are looking at this area as a possible talent pipeline to be able to look and see what we're training our students to do."
Having the same group of people involved since initiation in 2015 has been important. "Continuity is important for a project to grow and get better," Knight said. Duncan McCall Advertising from Pensacola handles the website duties.
"It's a dynamic site," Knight said. "We provide the data, the who, what, when and where, and they make it look as good as it does."
Bryan McCall, one of the owners of the advertising firm, said, "The idea is to showcase what opportunities there are in various categories, and what the jobs are, and what you might expect to get paid in first, next and later scenarios."
How does that work?
"If you look at the site, you can find what you can do now if you don't have any training, and what jobs are available with very little training. Next would be two to four years of education beyond high school, and later would be with a degree or work experience. Then it matches that up with what training might be available with each level."
Stewart is focused on how the academies can enhance economic development efforts.
"We saw a need to increase our workforce, because that is the No. 1 thing a site selector is looking for," Stewart said. "People might think it would be quality of life or location, but actually, it's workforce."
Stewart and Knight have been working together for years.
"We wanted to partner with her to be able to get the word out to students who may not be looking to go to the college level or who might want to learn a skill or trade before they get out of high school," Stewart said, "just to let them know what their future could hold if they were to follow this pathway."
Enrollment in academies has increased steadily, and feedback from students and parents has been valuable, Stewart said.
What would she tell those who are unfamiliar with the program?
"I would tell them if they have children who are coming up through the Santa Rosa School District who would like to learn a trade or a certification in things like biotech, or a manufacturing certificate, this would be a way to enter the future workforce," Stewart said.
Everyone involved is committed to making continuing progress.
"We still are looking at ways to get students even more involved so they can go on and earn their certifications through the adult high school program or though the local technical college," Stewart said. "We are always working on improving what we have to offer."
Santa Rosa Career Academies
AVALON MIDDLE SCHOOL
Microsoft I.T. Academy
CENTRAL SCHOOL (Grade 6–8)
Agribusiness Academy
Microsoft I.T. Academy
GULF BREEZE MIDDLE SCHOOL
Hospitality & Tourism Academy
Microsoft I.T. Academy
HOBBS MIDDLE SCHOOL
Microsoft I.T. Academy
HOLLEY NAVARRE MIDDLE SCHOOL
Microsoft I.T. Academy
KING MIDDLE SCHOOL
Advanced Manufacturing Academy
Culinary Arts Academy
Microsoft I.T. Academy
SIMS MIDDLE SCHOOL
Microsoft I.T. Academy
WOODLAWN BEACH MIDDLE SCHOOL
Digital Literacy Academy
Microsoft I.T. Academy
high schools
CENTRAL SCHOOL (Grades 9–12)
Agribusiness Academy
Digital Design Academy
Microsoft I.T. Academy
Sodexo Culinary Academy
GULF BREEZE HIGH SCHOOL
Health & Medical Professions Academy
Hospitality & Tourism Academy
Multimedia Design & Technology Academy
JAY HIGH SCHOOL
Agritechnology Academy
Building Construction Academy
Commercial Arts Academy
Culinary Arts Academy
Digital Design Academy
Health Science Academy
Microsoft I.T. Academy
MILTON HIGH SCHOOL
Accounting and Finance Academy
Advanced Manufacturing Academy
Agritechnology Academy
Aviation Academy
Culinary Arts Academy
Digital Multimedia Academy
Entrepreneurship Academy
Gaming & Simulation Academy
Hospitality & Tourism Academy
Television Production Academy
Web Development Academy
NAVARRE HIGH SCHOOL
Biotech Academy
Construction Academy
Digital Multimedia Academy
Engineering Academy
Web Development Academy
PACE HIGH SCHOOL
Biotech Academy
Communication & Graphic Arts Academy
Culinary Arts Academy
Entrepreneurship Academy
LOCKLIN TECHNICAL COLLEGE
(Serving grades 11 and 12,
as well as adult students)
Air Conditioning, Refrigeration &
Heating Technology
Apprenticeship – Air Conditioning, Refrigeration & Heating Technology
Applied Cybersecurity
Automotive Service Technology 1
Automotive Service Technology 2
Certified Nursing Assistant
Computer Systems & Information Technology
Commercial Foods and Culinary Arts
Electrician
Electricity
Legal Administrative Specialist
Massage Therapy
Medical Administrative Specialist
Nursing Assistant
Pharmacy Technician
Practical Nursing (LPN)
Welding Technology
Welding Technology Advanced
Welding Technology Fundamentals