Santa Rosa Capitalizes on Its Quality of Life
Making it the county of choice for many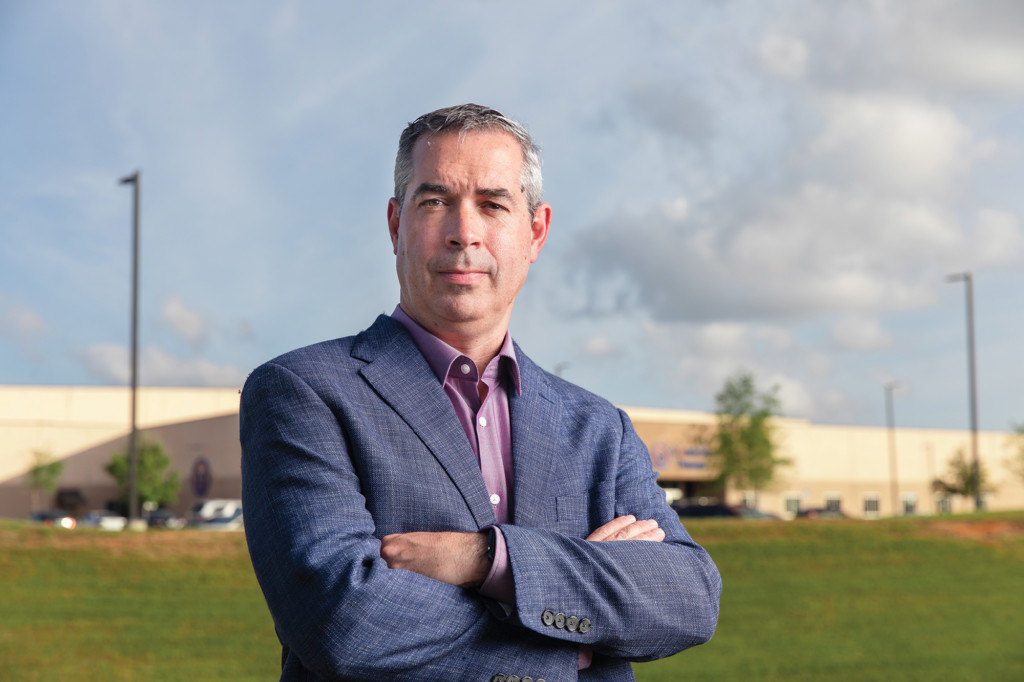 Shannon Ogletree, the director of Santa Rosa Economic Development, is fresh from a bit of a shopping expedition. He has been hunting space for a small business incubator.
In April of last year, the agency that Ogletree heads took delivery of a five-year strategic plan for economic development in Santa Rosa County. The document, prepared by Garner Economics LLC of Atlanta, assessed the county in terms of 22 economic indicators.
Of the total, 14 were deemed positive and attractive, five were seen as neutral and just three were judged to be negative.
A good result, but perhaps not surprising for a place that has emerged, Ogletree said, as a "county of choice."
That is, people who, owing to telecommuting and other ways of the modern world might choose to live anywhere, are landing in Santa Rosa County. The result is population growth that is expected to increase by nearly 2 percent per year through 2025. The county grew by 27,514 residents between 2006 and 2016.
"We have available and affordable housing," Ogletree began to tick off the county's desirable attributes. "We are growing but not at a rate that is inflating home construction costs. We are a top-10 school district in Florida. We have a low crime rate. Here, people still get to know their neighbors."
Ogletree once lived next door in Escambia County but moved his family to Santa Rosa County after his children were born, a decision based on quality-of-life factors.
Positive indicators cited by Garner included educational attainment, household income, a relatively modest cost of living and the capacity to attract labor.
But there were three negative factors, which were sure to attract Ogletree's attention.
Garner placed "labor force participation" and "commuting patterns" in what might be called a "needs improvement" category. Among Santa Rosa County residents, 18,470 both live and work in the county, while the county's population totaled 170,063 in 2016, according to sources including the U.S. Census Bureau. The number of Santa Rosa residents who commute to jobs outside the county stood at 38,199.
Garner also listed the paucity of start-up businesses as a negative indicator and encouraged Santa Rosa County and its economic development organization (EDO) to "enhance the entrepreneurial ecosystem."
So it was that Ogletree was out seeking a home for an incubator. "It's important to be willing to try something different," he said.
Doing things differently can result in differentiation from other communities seeking employers, a dynamic as important to economic developers as it is to businesses trying to distinguish themselves from their competitors.
It was a point strongly made by Garner analysts who called upon the county and its EDO to "be more outward facing to market and differentiate Santa Rosa so as to attract target business sectors."
Optimal targets, Garner found, were:
Aviation and support services

Distribution and logistics

Health services/research

and medical technology

Business services

Agriculture and marine research
The targets were selected based on the "unique competitive advantages of the region."
For example, aviation and support services emerged as a target given advantages including:
Major military aviation installations in the area

Strong regional profile of existing aviation firms

Proximity to large aircraft assembly operations

High number of military veterans with aviation and technical skills

High concentrations of employment in several aviation fields

Relevant training available at the George Stone Center
Ogletree is on board with all of that. He views aviation as the No. 1 employment sector for Northwest Florida, having taken note of the arrivals of GKN Engineering in Bay County and ST Engineering at the Pensacola International Airport.
"The strategic plan offered us a clear direction, and we've been checking boxes," he said. "We're focused on the incubator idea. The County Commission has approved the construction of a spec building at our I-10 Industrial Park. We visited with a cybersecurity company to look at its current operations and to understand what they might establish here. Currently, they have 1,000 employees, and it is possible that their existing business could be replicated here."
And, yes, there is the aviation piece.
Last year, the Triumph Gulf Coast board executed a contract with Santa Rosa County relative to its award of $8.52 million for infrastructure, roads and utilities at a planned aircraft repair facility at Naval Air Station Whiting Field. That development, Ogletree said, figures to be a game changer capable of giving Santa Rosa County a leg up in the increasingly crowded Northwest Florida aerospace space.
"We recognize that there is a pent-up demand for services related to aviation in our area, and we are home to a lot of military retirees," Ogletree said. "We need to ask ourselves how we can best keep those individuals here.
"How do we take their skills and market them to outside companies? If you are in Topeka, Kansas, and having a hard time finding employees or if you are in Connecticut and you don't want to have to pay $30 an hour to union employees, consider us. We don't have the high cost of living or the taxes that Connecticut, for example, has. A GKN supplier left Connecticut to come to Bay County."
Too, Ogletree, an accomplished marketer, is embracing marketing suggestions made by Garner. (In 2018, Ogletree was named to a list of North America's Top 50 Economic Developers by Consultant Connect.)
Garner advocated a strategy whereby Ogletree et al would "share Santa Rosa County's business opportunity story with targeted internal and external audiences."
To do so, Garner advocates steps including:
Crafting Santa Rosa County's story

Launching a digital ambassadors campaign

Advancing the Santa Rosa EDO's online presence

Rethinking approaches to digital media

Influencing influencers

Testing a new approach to collateral materials

Leveraging trade shows

Developing marketing partners

Creating creative, dimensional direct mail to best-bet companies
"I'm not a huge fan of social media, but we will get more information pushed out via Facebook and other platforms," Ogletree said. "And, we are redeveloping our marketing materials."
Assuredly, Ogletree can change gears. As a college student, he started out in computer programming, switched his major to physics and wound up with a business degree.
"I had enough credits for two degrees when I graduated," Ogletree recalled.