Ron And Casey DeSantis On New Life As The First Family
Governor, first lady discuss their children and transition into the 'People's House'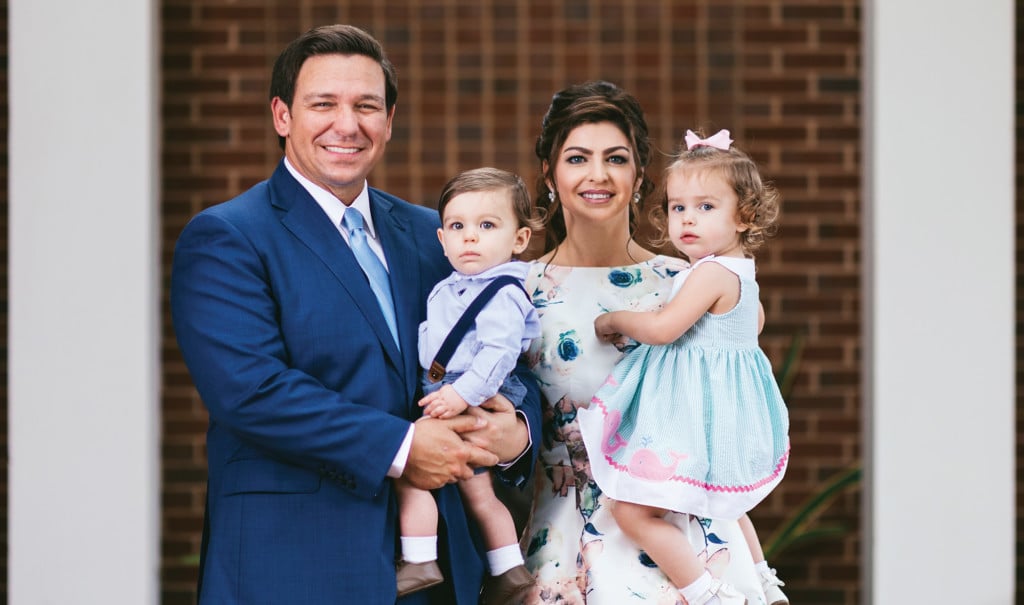 In the sunroom of Florida's First House, 2-year-old Madison DeSantis liked what she saw on a bookshelf and went to grab it.
About 15 feet away, from Florida's First Sofa, her mom sounded a Sunshine State alarm.
"There goes Florida's irreplaceable history," Casey DeSantis said, prompting laughter in the room.
Florida's new first lady joined her husband, Gov. Ron DeSantis, in a recent Governor's Mansion chat with 850 Magazine.
The governor and first lady discussed their first impressions of the Capital City, their transition into the Governor's Mansion, their new life with security detail, their typical day as Florida's First Family and their efforts to protect their new home — the so-called People's House — from the innocent but exhausting adventures of toddlers Madison and Mason.
"We're just going to make sure that they don't destroy any of Florida's irreplaceable history, because there are so many wonderful, neat artifacts around," Casey DeSantis said minutes before her daughter had set out to explore the sunroom, known as the Florida Room.
"You go into the dining room, you see stuff from the USS Florida. You see the late 19th-century wallpaper, and I don't think that orange crayon would look good on that."
The DeSantis family moved into the Governor's Mansion in January after a November election that saw DeSantis edge former Tallahassee Mayor Andrew Gillum to become, at age 40, Florida's youngest governor in more than a century.
His victory also marked the first time in 50 years that toddlers would occupy the Governor's Mansion. Madison DeSantis turned 2 in November, and her brother Mason turned 1 in March.
"We tried to baby-proof this place, but there are so many nooks and crannies, and they find all the nooks and crannies," said the governor, who then referred to himself and the first lady: "So we run around. She runs around all the time and really does a phenomenal job because she's out on the road, too."
In an interview that lasted about 20 minutes, Ron and Casey DeSantis portrayed themselves as a somewhat ordinary couple — him a former Navy lawyer and U.S. congressman, her a former Jacksonville TV news anchor and host — who would begin to raise two children in an extraordinary place.
The communications teams of the governor and first lady requested and received questions and topics in advance of the interview. Yet the First Couple — pleasant and conversational, with flashes of fun from the first lady — didn't hesitate to answer questions that veered from those themes, including about how they met, how their lives have changed and how they plan to raise their kids.
"They're being raised now in an environment that's very atypical," the governor said. "You have this house, you have staff, you have a mansion chef and all this stuff, and that's not how I, or Casey, grew up, and so I think we're going to be cognizant to make sure that the kids are grounded and that they don't have any type of sense of entitlement."
"We're grateful and appreciative for everything that we have," the first lady added. "I think they need to have a good sense of that."
The family moved into the Governor's Mansion from what the governor described as a modest home south of Jacksonville.
They also said they sold both of their cars after it became obvious that they no longer would need them.
A security team has been with them since the night of the election, guarding the family even during the transition period while they still lived in Ponte Vedra Beach.
"There'd be all these SUVs, and we had like a three-bedroom, 1,800-square-foot house," the governor said. "I mean, you have all of these SUVs flanked out there. It was a little interesting and definitely out of kilter for the neighborhood. I think that's taken some time just to get used to."
Life in the Governor's Mansion hardly yields a typical day, especially given all the travel for the First Couple, often to multiple Florida cities in the same day. The governor said they always aim to return by dinnertime so that they can be with their children.
Gov. DeSantis said he didn't have that ability as a member of Congress, which kept him in Washington, D.C., for much of the time. He became a U.S. representative for Florida's 6th Congressional District, which covers an area of northeastern Florida, in 2013 and stepped down in late 2018 to concentrate on his run for governor.
"Once we had kids, it was like, 'I'm leaving the kids for half the year up there, sleeping in my office, then coming back,' " Gov. DeSantis said. "So as governor, I can do three or four stops around the state and still end up back at home at night here. So this has been much more family friendly. I've seen my kids way more since I've been governor."
They explore Tallahassee when they can — with security, of course — and they established a favorite spot from the start: Lafayette Park. The first lady mentioned a visit in which the kids played on the swings. After an hour there, she said, Madison didn't want to leave.
"It was a little tough getting her back into the car," the first lady said.
As a matter of fact, she said: "Madison had a little bit of a fit."
That tells you something about the First Family's kids. They're kids. Now that their daughter has begun to understand "please" and "thank you," the First Couple will emphasize those words and "build from there," the first lady said.
After the interview and after Madison's encounter with "Florida's irreplaceable history," the First Family gathered for photos on the patio, where Madison spotted an orange and began to peel it.
"That is a true native Floridian right there," the first lady said of her daughter.
Mason — "Baby" to his sister — also found the orange appealing.
"Madison, Baby's taking your orange," the governor said in the soft tone of a father talking to his 2-year-old daughter.
"No, Baby," Madison said prompting smiles from staff members, photographers and others.
The scene served as a reminder that a young dad hadn't occupied the governor's office since 1970 when Claude Kirk was the father of young Claudia and Erik. That means it has been decades since the Governor's Mansion has seen this much cooing.
The first lady looked at Mason, who was about 11 months old when the interview took place, as he sat on his father's lap.
"You know what's neat?" the first lady said. "He's not walking yet, so his first steps will be in the Governor's Mansion."