Research Spurs Local Economy
From studying cancer-fighting drugs to seeking alternative energy systems, FSU's faculty attracts millions of dollars for a wide range of study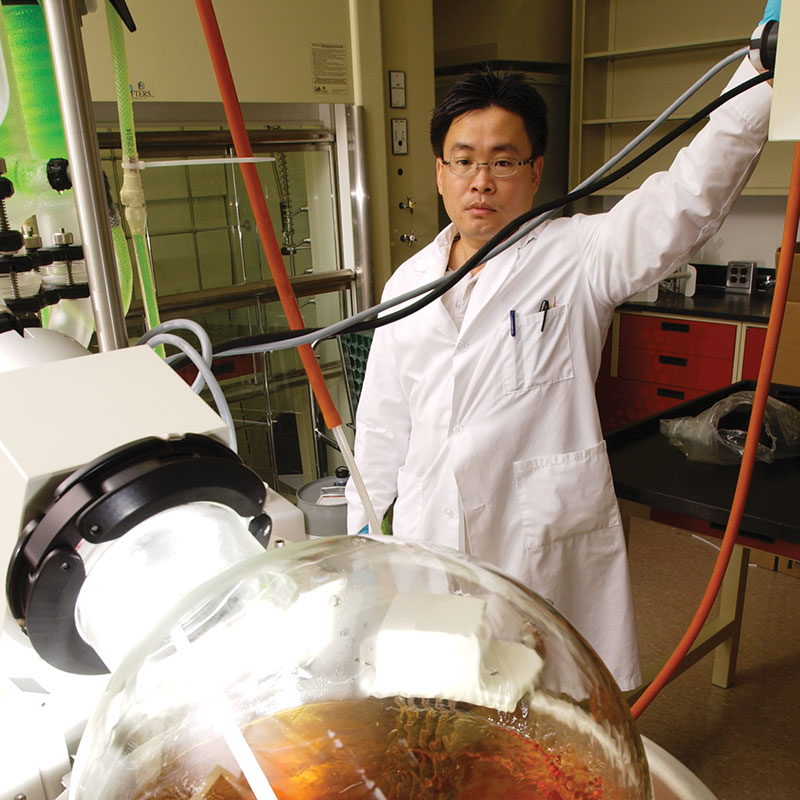 Being tenured at a top-tier research institution, Florida State University's faculty members are expected to do research. And they are, says Gary Ostrander, vice president for research.
In fact, nearly every day you can read somewhere in the world about research being done by the FSU faculty. Ostrander knows because he checks.
"Every day I look I can find something. It may be a small article in a newspaper in Australia, but somewhere FSU research is mentioned every day. Our faculty are active across all the disciplines, the arts, the humanities, social and physical sciences, engineering and medicine," he says. "They generate over $200 million a year in research support from federal sources, private foundations, sometimes state agencies."
To be exact, the current total is $230 million.
Most of those dollars end up getting spent on salaries, so they circulate in the local economy. Explains Ostrander: "We may have a lot of fancy equipment at the Mag Lab but we also have hundreds of people working in the Mag Lab."
The purpose of the research is to learn new things and that sometimes results in spin off companies and the commercialization of a product. In that arena, FSU is the poster child for the nation's universities, having commercialized the cancer-fighting drug Taxol, which has so far generated $352 million for the university.
"There has never been a piece of intellectual property in the United States that has generated more revenue for a university," Ostrander says. "Right now we're $100 million over Gatorade. The probability that this university will experience another Taxol is probably similar to someone getting hit by lightning twice. Realistically, it's not going to happen. We do have an Office of Commercialization that is being revamped, not to focus so much on the next Taxol, but to focus on more singles and doubles and bunts and partnerships that maybe only bring in $100,000 or $200,000 over the life of the product. And that's okay."
Since 1984, FSU has recorded more than 400 patents. Innovative research has spawned products such as a pacifier assisted lullaby device to help speed recovery of babies in hospital intensive care units and green fertilization methods for organic farming.
"We license technology related to physical sciences, biomedical, computer science, music," adds Ostrander. "We are also about creating companies. That is not a major emphasis, but sometimes our products are conducive to spinning out a company. Some of these are in Tallahassee."
He also wants to use the assets of FSU to encourage more companies to move to Tallahassee, trying to match them with what all the local institutions of higher learning (including Florida A&M University and Tallahassee Community College) can offer.
For example, one strategy would be to specifically look at companies whose technology may be specific to the Mag Lab and encourage them to co-locate at the world's premier facility for magnetic resonance imaging research.
"I'm going to advocate for securing more partners for the university. The students benefit, the researchers benefit and, when possible, if we can get them to pitch a tent here in Tallahassee, that's economic development," Ostrander says. "In the community a lot of folks are resonating with the idea that the universities can be nucleating points for economic development. It makes sense to tie into the research, creativity, the new things the universities are doing."
---
Research projects at FSU tackle a wide variety of issues, from how to deal with the challenges of aging and developing new fuel sources to forecasting hurricanes and engineering more agile robots.
Some examples:
The Center for Advanced Power Systems researches, develops and tests smart energy systems for the nation's power and defense needs. Researcher Sastry Pimidi not only focuses on researching superconductivity, but is collaborating with local businesses like Energy-to-Power Solutions to help develop and test new materials and products. Energy-to-Power Solutions primarily develops medical, military, space and commercial applications of low and high temperature superconducting materials and cryogenic systems.
"Partnering with local businesses is a win-win scenario for us," Pamidi says. "On the one hand, we get access to grants that we would have never been able to compete for. On the other, we get to help the local economy by helping businesses get a foothold and grow."
Lou Cattafesta, co-director of the Florida Center for Advanced Aero-Propulsion, is leading a team of FSU and Ohio State University researchers working with aerospace companies and government agencies to study the effect of airflow on fuel efficiency. "If you can reduce problems with airflow, you can make the planes much more efficient, improve fuel efficiency and reduce the cost of travel," Cattafesta says.
The Coastal and Marine Laboratory's Dean Grubbs recently received a $293,960 RESTORE Act grant to study the long-term effects of the 2010 oil spill on deep water fish in the Gulf of Mexico. The health of fish in the Gulf is critical to Florida's fishing and tourism industries.
Mei Zhang, associate professor of industrial and manufacturing engineering at the High Performance Materials Institute, continues work on a lightweight, elastic, nanocarbon foam that can also conduct electricity and could have commercial potential. Among the possible applications — use as an electrode for a battery.
The Antarctic Research Facility is a national repository for geological materials collected in polar regions. Supported by a grant from the National Science Foundation, it houses more than 20,000 meters of deep-sea core sediment and has the largest Southern Ocean collection in the world open to researchers.

A team from the Florida Center for Reading Research, School of Communication Science & Disorders and the College of Education has received a $1 million award to seek ways to improve the quality of education in preschool classrooms by investigating key characteristics of children's language development. The three-year study will involve 100 preschools throughout the Southeast to investigate the crucial role of teachers in developing children's language skills.