Remote Possibilities
TCC's Wakulla Environmental Institute teaches students about new rules, news uses of drones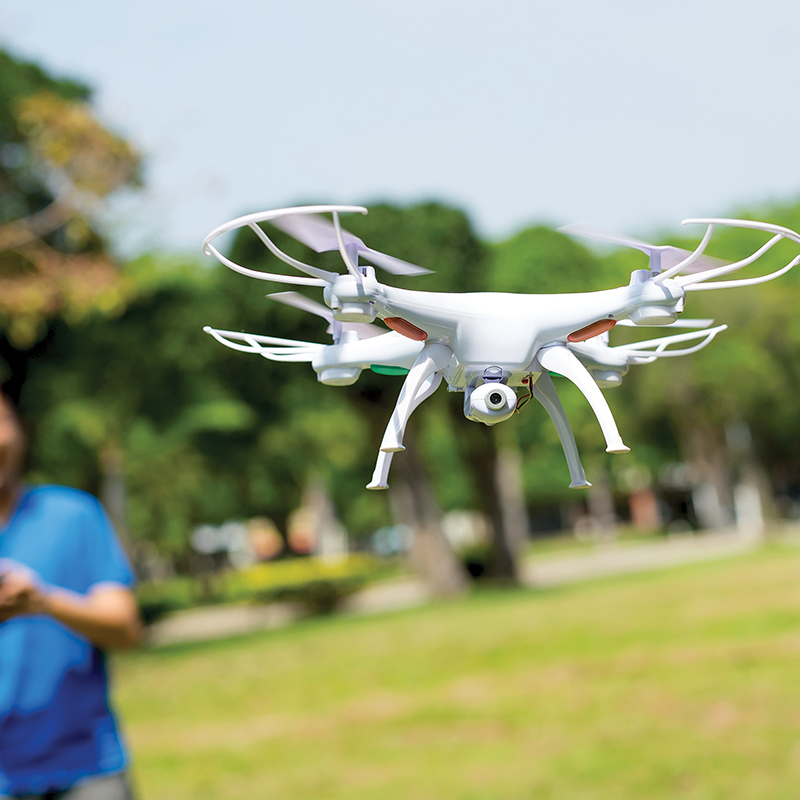 "We were like a deck of cards," Carl Fuqua said of the other students in his spring semester drone class. "Everyone came to the class for different reasons."
A few of Fuqua's classmates were in law enforcement. Another worked for an environmental science company. Others were drone hobbyists considering career changes. As the owner of a Tallahassee-based insurance company, Fuqua hoped to become a licensed agent for Global Aerospace, the leading international aviation insurer. He also knew that drones could help him perform structural inspections.
Tallahassee Community College's Wakulla Environmental Institute has offered its "Introduction to Unmanned Systems" class on its campus in Crawfordville each spring for the past two years. The Unmanned Technology Applications program is based in Crawfordville because Bob Ballard, the institute's executive director, approached TCC's president and made a case that drones had significant environmental uses despite their prevalent association with military operations. For instance, they've replaced helicopters in the monitoring of prescribed burns and wildfires, and eliminated the need for a ladder when checking out the nests of red cockaded woodpeckers.
"We started the drone program based on it being an environmental tool," Ballard said. "But if you train for the environment, you can do anything with it."
The 12-week course prepares students to pass the newly implemented Part 107 exam, earning the certificate from the Federal Aviation Administration necessary to fly drones commercially. "Prior to August 2016, you had to jump through a lot of hoops to operate commercially. Now the FAA has narrowed it down to a 60-question multiple choice exam," said Rob Hall, who teaches the "Introduction to Unmanned Systems" course.
In June, Fuqua and three others from his class passed the exam, proctored at FL Aviation Center near Tallahassee International Airport. Their certificates to fly small UAVs (Unmanned Aerial Vehicles) are good for two years, at which point they must retake the exam.
Commercial applications can be as complicated as aerial analyses of crop draught or algae blooms, or as simple as taking a photo of Lake Jackson using a drone and selling it. In addition to teaching the drone course, Hall co-owns an aerial photography company and calls drones "flying tripods." "My partner and I have done some great stuff with large-scale real estate projects," he said, noting that larger properties are easier to see in videos taken from the air.
The Part 107 exam is comprehensive, covering flight regulations, operating requirements, weather effects, crew resource management, emergency response, radio communication, pilot physiology, and more. "You feel like you're getting an actual pilot's license," Fuqua said, noting the heavy emphasis on legal and safety regulations.
He recalled that the exam tested his ability to read airspace charts — a reminder that the air is a shared resource. In fact, the regulations for small UAVs have much in common with those for model aircraft. For instance, the operators of both types of aircraft must contact the airport and control tower before flying within five miles of an airport.
"It's a steep learning curve," Hall said. "But once you get the basics, operating the drone is the simplest part. They have all sorts of sensors to make sure you stay safe."
Hall estimated that 70 percent of class time is devoted to classroom instruction and 15 to 20 percent to flight practice. He encourages students to bring questions for discussion during the remainder of the time, he said, such as concerns about legal issues or news of recently released hardware on the market. Wakulla Environmental Institute has two computer-based drone simulators for practice use, but most students have opted to bring their own equipment on the days when the class meets in a local park to fly.
Previously only available to the military, drone technology has expanded significantly in the last five years due to a reduction in cost to create very small electronic components, Hall said. But the concept of flying a vehicle remotely isn't new. Radio-controlled airplanes have been around since airplanes were first built, and the inventor Nicola Tesla unveiled a radio-controlled boat at Madison Square Garden in 1898.
Wakulla Environmental Institute will offer "Introduction to Unmanned Systems" again beginning in January 2018, at a cost of $500. Hall looks forward to the potential for the drone program to expand, with an additional class on real-world applications of drone technology. "We're piloting a project with the Chaires Volunteer Fire Department, who is pursuing a grant to get a drone with an infrared camera to use for search and rescue and for visual confirmation that wildfires and other fires are out. They have 10 to 12 students lined up to learn how to fly and what the regulations are."
Fuqua has already used his drone license to sell insurance when an underwriter required pictures of an older roof on the home of a customer. He was able to use his drone to get them. "It makes me a more valuable agent because I can lawfully provide these inspections as part of the my services."