Reel Enthusiasm
Passion, patience and persistence are the secret to Pamela Dana's successes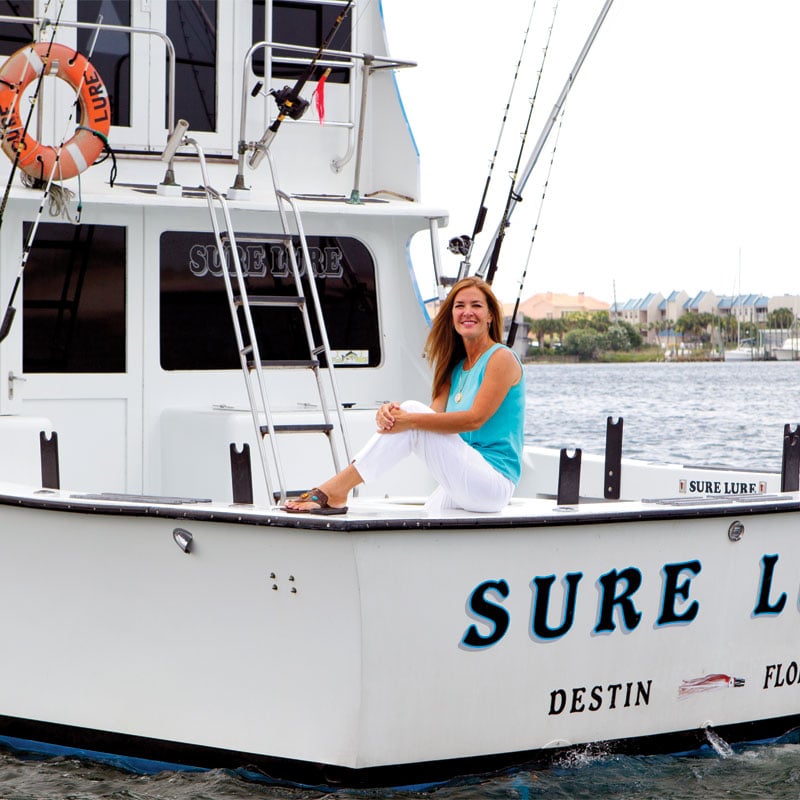 When Pamela Dana hangs a "Gone Fishin'" sign on her office door, it doesn't mean she is playing hookey from work. Quite the opposite, in fact, for this senior strategic advisor for the high-powered Florida Institute for Human and Machine Cognition (IHMC), and owner/operator of Destin-based Sure Lure Fishing Charters and cobia fishing world-record holder.
A California native — and Floridian by choice — Dana's doctorate from the University of Southern California, and her master's degree from Harvard, share space with her USCG Merchant Marine Masters credentials, a.k.a. captain's license. Her impressive resumé includes a list of board memberships, trusteeships, businesses and projects that might swamp your average high-powered executive. Add in her positions on the corporate board of Mercantil Commercebank, N.A.; University of West Florida Board of Trustees; as trustee for the Florida Chamber of Commerce Foundation; and voting member on the Gulf of Mexico Fisheries Management Council. The list continues, a rising tide that might overwhelm your everyday overachiever's calendar.
How can she maintain an organized schedule, much less a semblance of balance, among all the committees and councils and meetings and commitments?
Only take on projects or work that fire your enthusiasm, or it's likely you will feel pulled in too many directions, she advocates. "I don't let myself sink into things I'm not passionate about," Dana says. "I only go into things I enjoy." The trim and tanned Holiday Isle resident admits that it can be a challenge to stay afloat among her many interests, avocations, businesses and volunteer positions. "I have such a unique blend of things I'm involved in that I must be able to shift gears on a dime and keep abreast of all the relevant issues for all of them," she says.
Like most here on the Emerald Coast, Dana was first drawn to the area's beaches and waterways. After receiving her Ph.D., a 10-month fellowship in California's Trade and Commerce Agency led to Dana being offered the position of assistant agency secretary. When an election brought in a new governor in 1999, Dana petitioned then-incoming Florida Governor Jeb Bush for a job. She served as executive director of the Governor's Office of Tourism, Trade and Economic Development (OTTED) until 2007. At OTTED, she oversaw more than 80 programs and partnerships, and held the position of the state's chief protocol officer.
Catching the Excitement
While working in Tallahassee, Dana had the opportunity to spend some weekends in Northwest Florida. When a gubernatorial election again mandated a change in her life, she decided to make Destin her home. She learned the Sure Lure, a 40-foot Infinity Sportfisher, was for sale. "Growing up in Northern California, we had a fishing camp on a river," she says. "My father had a sports equipment store and was a fishing guide. My uncle was a commercial fisherman, so the fishing business made a lot of sense to me."
In addition to the so-called "six-pack" Sure Lure (meaning she can carry six fishermen plus crew), the California-girl-turned-charter-boat captain built her business to include the Fish Dish, a 21-foot Sailfish, for inshore and bay fishing. Her fervor for fishing goes beyond her record-breaking catches. "I really enjoy introducing customers to fishing," she says. "No matter what size fish they catch, they really catch the excitement."
Asked to share a tip with other fishermen, Dana circles back to her belief that being passionate about what you do creates success. "It takes patience, persistence and luck, and be there for the love of it," she says.
Tele-commuting from Destin and owning her own business make it possible for Dana to maintain balance between her entrepreneurial efforts and her boatload of responsibilities at the IHMC. Make no mistake: She is equally passionate about the Institute's high tech work as she is about catching record-shattering fish. She enthuses about an ongoing IHMC project to perfect a robotic exoskeleton that enables wounded warriors to recover their ability to walk. "There are only three places in the world with this kind of expertise," she says with a significant note of pride.
Looking to the Future
Her zeal for fishing has lured her into the public sector as well as private enterprise. Dana was recently named director of the Florida Sports Foundation Board, which promotes amateur sports events, including water sports and fishing in the state. She had returned from Tampa and a meeting of the Gulf of Mexico Fisheries Management Council just days before this interview. With one foot in each world, does she occasionally find herself awkwardly torn?
"I enjoy both," Dana says. "I see a delicate balance between a strong economy and protecting the environment. Both commercial and sports fishermen are some of the most natural environmentalists. We can't deplete our resources. Look at the popularity of catch-and-release (programs). I'm clearly not an advocate of destroying the environment for profit. We have to weigh science and economic impact. Fisheries management is very complicated."
Her robust background in tourism and economic development provide a big-picture viewpoint as she oversees the day-to-day operation of her charter fishing business. Dana is focused on a wave of tourism growth on Northwest Florida's horizon. "All over Northwest Florida — from Panama City to Pensacola — we've opened the door to a new demographic: visitors from the Midwest and West," she says. "I definitely see this part of the state having an increase in tourism. We all need to be careful how we develop the infrastructure here so when folks return home, they can look back on a good experience."
Although her fondness for the sun and sand attracted her to Destin, this businesswoman emphasizes that it's not enough to be a great place to fish and go to the beach. "We have to look to the future, understand the new demographic and tap into products and services that appeal to them," Dana says, underscoring her strategic approach to growth.
No magic formula exists for success in tourism any more than in fishing. Sounding every inch the Ph.D. in International Development and Economics, Dana says, "We need to understand our visitors' demographics, offer appropriately priced products for visitors and have excellent marketing." It's no silver bullet but a time-tested strategy Dana relied on when she led strategic efforts to rebound Florida's economy post-9/11 and the hyperactive 2004-–5 hurricane season.
Is there a secret to her multi-faceted success? "I just seem to be put in a place where doors open," she says. "Success is never final. There is plenty of room for my business to grow." Somewhere on a dock or a boardroom agenda or maybe even in a government bureau, another door is quite likely opening.