Raffield Fisheries Are Leading in The Jellyfish Industry
Capitalizing on the commercial market for the cannonball jellyfish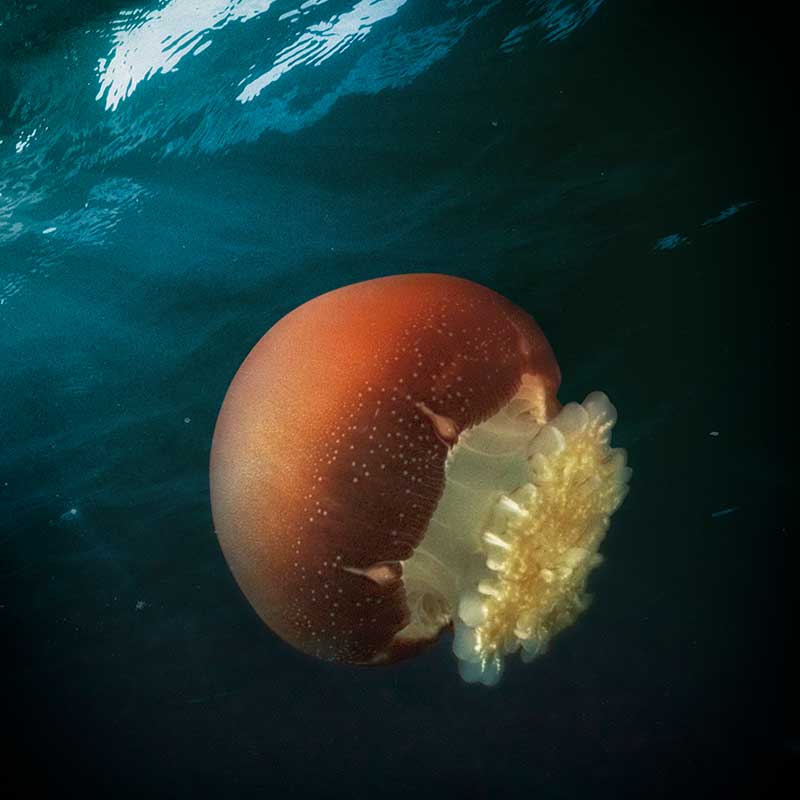 Photo by
Greg McFall/NOAA
Cannonball Jellyfish
There is something oddly aromatic — feminine, really — on or about Eugene Raffield, but not wholly inconsistent with the conversation, which, for the moment, is centered on a globular critter that has remained unchanged for countless millennia, the cannonball jellyfish.
Cannonballs, known variously as cabbageheads and jellyballs, run about the circumference of a 20-pound kettle ball. They are equipped with a collection of appendages at the base of the globe that give the jellyfish limited mobility and help it capture prey, primarily miniature animals called zooplankton.
For about 40 years, Raffield Fisheries in Port St. Joe has been harvesting, processing and exporting cannonballs primarily to China, Japan and Vietnam, while also shipping them to domestic markets — New York, Philadelphia, Washington, D.C., and selected cities in California, all with large populations of Asian people.
Raffield, who is the vice president for sales and marketing at the fisheries, is convinced that the market for jellyfish in the U.S. will grow as a product of the ever more widespread pursuit of healthy lifestyles.
"If somebody eats something that's good for them, their body is going to know and their mind is gonna tell 'em to keep buying it," he said.
While not a jellyfish consumer himself, Raffield has changed his personal diet, getting away from fried foods and favoring now fish that is broiled, grilled or smoked.
"You can learn a lot of the best ways to prepare food on the Food Network instead of getting all bogged down with a plate of fried this or that,"
Raffield said.
Where popular, jellyfish are valued, Raffield said, because they contain concentrations of three types of collagen — which promotes skin health and can retard arthritis — and calcium-building proteins that help keep memories sharp.
(At the mention of the skin-softening properties of collagen, Raffield interjects, "Remind me to tell you what my wife has been working on lately.")
Served as appetizers, cannonballs have become increasingly important to Raffield Fisheries, especially since 1994 when Florida's constitutional net ban was passed, forcing the business to look for new products and markets.
That measure outlawed the use in Florida waters of any gill net or other entangling net of more than 500 square feet in size. (A hand-tossed cast net of 12 feet in diameter totals 113 square feet.)
"People in Asia have been into jellyfish for thousands of years because of the benefits," Raffield said. "I'm sure you've seen the commercials for Prevogen that talk about how substances (originally) found in jellyfish can enhance memory. It's amazing that jellyfish haven't really caught on in our culture before now."
The international demand notwithstanding, the cannonball jellyfish processing operation, on a bluebird day in March, has come to a halt at Raffield Fisheries.
Crews had processed about 15,000 pounds of cannonballs harvested off Georgia when a nor'easter, usually thought of as a New England phenomenon, created currents that pushed jellyfish in the Southeast offshore. It will be a few days before the operation resumes.
Raffield's total jellyfish harvest will vary from year to year due to factors, including water temperature — warmer water produces bigger plankton blooms. Cannonball jellyfish are often abundant close to home in the Gulf of Mexico.
"There are years when we catch five container loads of jellyfish and years when we catch 20containers of them," Raffield said, noting that each container holds about 40,000 pounds of the invertebrates.
The jellyfish are harvested using nets designed to remain near the water's surface, resulting in little or no bycatch. Beachgoers like to see Raffield boats skimming jellyfish, which sting swimmers and host spider crabs.
For Raffield, the jellyfish season gives way to more elusive targets as the water warms in the spring.
"We're bait people," he said. "Most of our business is selling bait for use by recreational anglers and also commercial fishermen — longliners and bandit fishermen. We provide a lot of different types of bait — sardines, cigar minnows, thread herring, bait shrimp — to bait and tackle shops from Islip, New York, down the Atlantic seaboard to the Gulf of Mexico and all the way to California and up to Seattle. We've even sold bait to the Navy base at Guantanamo Bay."
A lot of the familiar pint-sized blue tubs containing shrimp or squid and found in freezers at area convenience stores originate at Raffield's.
Wildlife rehabilitators are among its customers. So are Sea World and marine specimen collector Jack Rudloe, whose operations include an aquarium in Panacea.
It can be an inexact science. For example, knowing how many cigar minnows, favored by snapper fishermen, to catch is difficult when the federal and state snapper seasons vary in length as dramatically as they have in recent years.
Raffield Fisheries employs 40 people full time and about 150 seasonally. Jellyfish processing requires a lot of extra hands in the spring, baitfish keep the workforce busy in the summer and fall is dedicated to mullet, obtained from harvesters in North and South Carolina, Georgia, Florida, Alabama and Mississippi.
It takes a lot of cast netters to produce the kind of volume Raffield needs to fill orders for both roe and meat; economies of scale are important and it costs no more to put a full truck on the road than one that is half-full.
Eugene's father, Gene, emphasized throughout his working years that the business relies for its success on balance and continuing education.
"We make our livings at sea and every day is different, and with it comes an opportunity to learn something new if you have your eyes and mind open," Raffield said.
"And one of the lessons you learn again and again is that the natural world is like a set of scales. People can have the effect of putting a thumb on the scales. Overprotect redfish and you will find yourself running out of blue crabs."
Finding a peaceable balance between commercial and recreational catch quotas is a continuing contest, but Raffield
likes to remind himself that his business benefits countless non-fishermen.
"We provide the bait that catches the grouper and snapper that wind up on plates in the restaurants," Raffield said.
Over the past 10 years or so, Raffield has detected climatic changes — warmer weather, warmer water — that have altered the timing and duration of fishing seasons and the migratory patterns of fish.
"It's hard to quantify and I'm no scientist, but something is going on," Raffield has concluded. "And we have yet to get past the effects of the BP (Deepwater Horizon) oil spill."
Raffield believes that the dispersant used to break up and sink oil in the wake of the explosion, largely for cosmetic reasons, has been more harmful than the oil, itself, would have been.
The dispersant, he said, sterilized some fish or killed their eggs, and Raffield's production fell way off. The spill and the response to it were the only variables that Raffield could identify as possible causes.
The weather and pollution are just two variables that Raffield cannot control. Others, significantly, include regulations and regulators.
"In this business — and I'm sixth generation, we've been in this since 1898 — you have to be honest, you have to treat people fairly and you have to stay close to the politicians.
They're like a revolving door, changing all the time. And just because they won an election doesn't mean they know a thing about fish or fishing or running a business. You constantly have to educate them, or at least try to."
What fries Raffield is the politicized nature of fisheries management versus what could be: scientific management based on stock assessments obtained using the best technologies available. Political management invariably upsets balances.
Left alone, Raffield said, populations of fish and other species vary according to predictable seven-year cycles.
"Native Americans understood that," he said. "Those cycles were the basis for planning for abundance or anticipating lean years.
"Now, everything has been disrupted. We have overdeveloped our coastlines. We have destroyed estuaries. Runoff has created huge dead zones in the Gulf of Mexico. We have got to figure out a way to get nitrates out of the water. And, as an ocean Indian, I am very concerned by the accumulations of plastic we see offshore."
Inescapably, Raffield turned in conversation to the net ban, imposed in 1995.
For years, Raffield has worked to overcome his bitterness about that pivotal development in Florida history, which reduced fisheries management to a popular vote on a constitutional amendment.
The fight wasn't fair. Well-heeled recreational fishing interests whose numbers were legion easily overwhelmed the relatively tiny number of commercial fishermen.
Raffield still seethes when he recalls pro-net ban TV commercials, more numerous at the time than commercials for law firms are today, that featured footage of drift nets from the Pacific Ocean containing ensnared sea turtles.
"It dawned on me that I was selling baitfish to men with Rolex watches who were telling me to find another job," Raffield recalled. "It was political bullying, and it wasn't right. It caused problems. Speed limits are arrived at on the basis of study, not politics."
These days, Raffield is monitoring closely efforts to modify the federal Magnuson Act, which regulates fisheries. He fears that sportfishing interests will try to reserve snapper and grouper quotas exclusively for recreational charter boats and private boats.
But, he said, resentment is sure to grow among non-boaters if they are no longer able to enjoy a red snapper for supper.
"You try to tell these folks that you need a 34-foot Yellowfin if want a red snapper, or otherwise you can settle for a catfish from Vietnam — that's not the American way. At the end of the day, we're all Americans and we should be able to fairly and reasonably consider one another's interests."
Such reasonable consideration, he said, might limit the areas in which artificial reefs can be located.
"We're farmers of the sea, but imagine if you were farming corn and you got up one morning and someone had dumped five school buses in the middle of your corn field," Raffield painted a picture.
"Now, you're going to have to plow around them. It's the same for us with all the stuff on the bottom. You've taken something natural and turned it into something artificial."
But still and all, Raffield is a survivor. His father, who as a boy drew up plans for a houseboat he would build later in life, taught his sons to be frugal, accountable and resourceful.
Eugene Raffield was a fifth-grader when he was told to report to the office of his elementary school principal, Harry Harrington.
His brother, Randy, and his cousin, Joey, also received a summons and, united in the principal's office, the little angels couldn't figure out why they were there.
Then, the boys' fathers, Gene Raffield and his brother, Harold, arrived.
"We're here to take you out of school," Gene announced, and the boys didn't know whether to celebrate or continue trembling.
Fathers and sons traveled to the then-Florida National Bank and proceeded to the president's office. There, three chairs waited to receive the boys and before each was a checkbook. The boys had each been entrusted with a hundred bucks.
Next stop, Raffield Fisheries.
There, all the employees had gathered around three 24-foot mullet skiffs equipped with 25-horsepower Evinrude outboard engines, one for each boy.
The dads laid down the rules: "Y'all can fish on the weekends, but if your grades suffer, these boats will tie up and y'all will be off to tutoring."
A seed had been planted, and it germinated and took root. Today, the three boys, ages 54–56, remain Raffield employees.
It's lunchtime.
The conversation moves via Raffield's outsized pickup truck to the Provisions restaurant on Reid Avenue in downtown Port St. Joe. In the truck, that aromatic something seems all the more concentrated.
Raffield does me the favor of ordering for me. We both, then, throw down prime rib sandwiches served with caramelized onions, a horseradish sauce and au jus.
"Now, that's a good sandwich," Raffield assures me and, really, who am I to argue? Raffields run large and love to eat.
Between bites, Raffield recalls the death of his father at age 62 in the year 2000. Before he fell victim to the ravages of pancreatic cancer, Gene, at 6-2, weighed 320 pounds.
"When he died, everyone assumed that would be the end of the business," Raffield said. "He was the big cheese. Well, Daddy had two pair of serious shoes that he wore to important meetings or special occasions. I took one pair and had it gold plated, and I gathered up all the employees and I had those shoes in front of me and I said, 'I hope to fill one of these shoes.'"
Left unsaid was the hope that everyone else would combine to fill the other one. So it has come to pass.
Raffield and his wife, Margie, have a daughter, who works as a registered nurse in Panama City, and two sons. One became in May the first student in the history of Gulf Coast State College to graduate as a certified drone pilot. The other works at the fisheries, where he is learning the business from the entry level up.
"Now, have I told you what Margie is up to? Follow me."
We head off on foot down Reid Street, chat up the former owner of the Port St. Joe Star, and a couple of blocks later, arrive at a boutique, Anchors South. Raffield leads me to a display of handmade soaps, his wife's handiwork.
Margie is temporarily indisposed, as it happens. She is in the back of the store getting a spray tan.
"Are you here to get your tan, Mr. Eugene?" the boutique's proprietor wants to know.
"Well," he said, "I'm afraid you'd lose money on me. You'd need a 55-gallon drum of the stuff."
Raffield returns our focus to the soaps.
"This is the one I like," he says. "The Spa Bar. I used to have rough heels. But this soap is a moisturizer. I've learned that the Irish Spring I used to use just dried me out. Now my heels are smooth as glass."
The Spa Bar label lists ingredients including organic saponified olive oil, coconut oil, shea butter, activated charcoal, French rose clay and essential oils.
"Take a whiff of that," Raffield encourages me.
I had been smelling it all day.
However literal, there is a softer side to big ol' Eugene.