Putting a Focus on Love
Wedding photographers tackle a job that calls for a steady hand, creativity and, sometimes, a sewing kit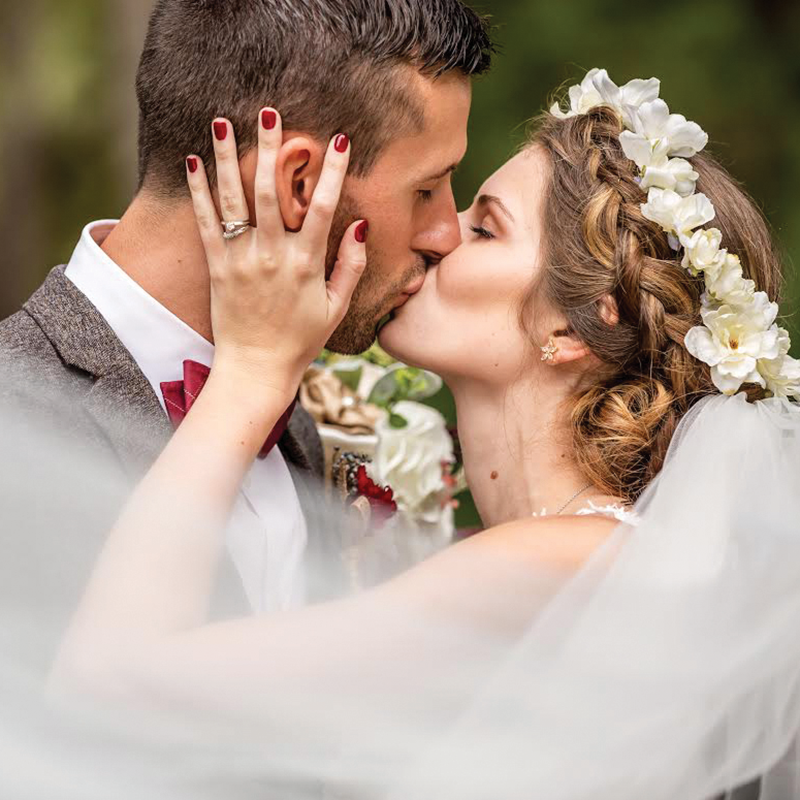 The focus of wedding photography is to capture a love story. And that's the easy part.
---
Sometimes a wedding photographer is also a tailor, decorator, stylist, counselor and confidant.
"On a wedding day, you're not just a photographer," said Darris Hartman, of Fort Walton Beach. "You become a jack-of-all-trades."
In June, Hartman was photographing a bride getting ready for her ceremony "when her dress broke. I said, 'You hold my camera and I'll sew your dress.' I didn't expect to be sewing a button on the bride's dress, but no one else could do it."
Most importantly, Hartman was able to restore the bride's confidence.
"Comfort is the biggest thing," she said. "Brides can stress out. You want them to have fun and not worry."
Photographer Lindsay Bray, who shoots for Pure 7 Studios in Miramar Beach, said it helps if a photographer's personality jives with the bride's.
"I encourage brides to make sure they pick someone who meshes well with them," Bray said.
Personality is one of those intangible factors that ranks up there with price and portfolio when picking a wedding photographer in a market that's "very healthy and competitive," said Beth Rodan, president of the 50-member Tallahassee Association of Wedding Professionals. "We have limits in every category, and photography is the only one that's full, with people on a waiting list to join the group."
Popular Career, Competitive Business
The number of photographers in Northwest Florida has skyrocketed over the past decade.
"There's a very competitive market for beach photography because it's such a haven here," said Fort Walton Beach photographer John Armour. "But it's a good marketplace for weddings because there are always new clients, new businesses and new opportunities since it's a tourist and vacation area."
The lure of sugar-sand beaches, clear blue-green water and casual ambience has made the Emerald Coast an increasingly popular wedding destination, drawing couples from as far away as Alaska and even Asia. As a result, the region is "drawing more photographers who want a piece of that pie," Armour said.
And that piece is substantial. American weddings are a $51 billion industry that employs nearly 800,000 people, according to the market-research firm IBISWorld.
In 2014, couples nationwide spent an average of $31,213 on their big day, according to the latest survey of nearly 16,000 brides from website The Knot, up more than 4 percent from $29,858 in 2013. And that doesn't include honeymoons.
The marketing research firm The Wedding Report issues a more conservative view, stating the average cost of 2,170,593 weddings in 2014 was $26,444.
The average cost of 2,521 weddings in Tallahassee in 2014 was $23,927, ranking the city 328th out of 977 national metropolitan areas surveyed by The Wedding Report. In the Crestview-Fort Walton Beach-Destin area, another area surveyed, the average price of 2,451 weddings was $31,370, climbing to 106th on the national ranking.
Nationally, couples spent an average of $2,780 on photography and videography, according to The Wedding Report.
Digital, Film and Video
Wedding photography costs in Northwest Florida vary greatly, from about $1,000 to $8,000, depending on several factors, including the number of hours scheduled, experience and whether albums and portraits are included along with a digital gallery.
"Every industry is constantly evolving," said Erica Manthey, who handles the business side of Pure 7 Studios in Miramar Beach. "We try to educate people to consider printing their images. Our research has shown us that people lose their images or their computers crash. They're not always going to take the proper precautions" about archiving their digital images.
Like the photo industry, Pure 7 Studios has grown and evolved. Ryan and Erica Manthey took a leap of faith in 2007, leaving a secure job in a family business to pursue a dream.
"I got into photography when my daughter was born, and she's 10," Ryan Manthey said. "I took pictures of her growing up, and I thought, 'These are really nice.' I started taking pictures of friends, who really loved them, and they told their friends, and it snowballed.
"I started realizing this was something that I'm good at," he said. "I was making good money at another job, but I was more passionate about photography."
Manthey said the couple started out small.
"We tried to keep costs low when we got started compared to where we are now," he said. "Now we have two photographers and a videographer."
Pure 7's videographer, Alan LeBlanc, said videography is a growing trend, due in part to the appeal of video apps and social media.
"With everything digitized, it's helped the acceptance of videos," said LeBlanc, who grew up in the Destin area and studied film at Florida Atlantic University.
While videography is getting more popular, however, "photos still come first," he said. When budgets get tight, the videos often get cut.
Pure 7 charges $5,000 for Le-Blanc's videos, which his boss, Ryan Manthey, describes as a "more cinematic look."
Video fees in Northwest Florida are also wide-ranging, from about $1,800 to $8,000.
"The turnaround time is a lot longer than photography," said LeBlanc, who does about 15 to 20 wedding videos a year.
One of the newest trends in wedding photography is a throwback to the past.
"Film photography is making a huge comeback," said Terri Smith, of Tallahassee. "I lost one wedding because I didn't shoot film."
Smith said she would consider shooting film as well as digital "if I felt like I was losing weddings because of that."
Pensacola photographer Emily Dorman made the switch to film photography because of her personal preference.
"I was always frustrated with digital," Dorman said. "I couldn't feel a connection with it. I started shooting film, and people loved it. I love it. It's not a trend for me. Film is where my heart is, and I'll never go back."
After shooting a wedding, Dorman sends 25 to 30 rolls of film to a professional lab, which scans in the pictures. She orders prints from the negatives. Film can be more costly — "about $2 a shot," she said — "but I try to stay close to digital pricing." Her packages range from $1,900 to $6,000.
Dorman sharpened her skills shooting weddings in Anchorage, Alaska, "where summer has never-ending light — there's never that golden hour. And in the winter, there's no daylight. It's totally dark. It was extremely hard. Everything else is easy after that."
Dorman said that by using film, "I'm more intentional with my composition and lighting. It's more of an art form for me."
Erika Smith, a Gulf Breeze-based photographer, uses a mix of film and digital cameras.
"With digital, you can shoot thousands and thousands of pictures," she said. "Film makes you slow down. You get a different look."
Work That Gets Personal
Whether shooting film or digital, the photographer's job is one of the toughest at the wedding.
"It's not a luxurious business," said photographer Hannah Brown of Santa Rosa Beach. "You're out on the beach sweating, running after people. You have to be on your toes, ready for anything."
Brown said her goal is to "get true emotions to come out," and those emotions can be heartbreaking.
At one wedding, "the bride's father had cancer, and his goal was to walk his daughter down the aisle," Brown said. "He tripped crossing Highway 38 and fell on his face, and the bride was holding his head. He did walk down the aisle, but she and the father of the groom were holding him up. All three walked down the aisle together. He died two days later."
That was one wedding where she was "crying and taking pictures."
While Brown primarily works with hotels, resorts and wedding planners, she has also photographed events that were a little more chaotic.
At one wedding, "the bride was still in her curlers at the beach telling people how to decorate. I dropped the camera and started helping," said Brown. "I've decorated the altar before."
Brown, who shoots photos with her husband, Shawn, said photography was always a part of her life.
"My mother was a professional photographer in Madrid, where I grew up," she said. "I was 15 when she gave me all her equipment."
Brown learned to shoot using film and developing pictures in the darkroom. She took college classes in photography, then interned at a gallery. After graduating, Brown worked with a Fort Walton Beach photographer for five years.
"She told me I should start my own business," said Brown, who was 25 at the time. "I'm 34 now. I've been shooting a long time."
She primarily photographs destination weddings, working with vendors in Alys Beach, WaterColor and Rosemary Beach.
"I try not to shoot more than 30 a year," said Brown, who also travels to Tennessee, Texas, Georgia and other locations. "About 90 to 95 percent of my clients are not from this area.
"You can always have work — it's how much work you want to do," she said.
Terri Smith shoots about 45 weddings a year, half in Tallahassee and half around the country.
Like many photographers, she started out doing portraits of her children and her friends' children. Then, about a year after she got into the photography business, she shot a friend's wedding at St. George Island.
"My girlfriend was getting married and she said, 'Please take some pictures,'" Smith said. "At first, I said no, too much pressure."
Smith ended up taking those photos, and the experience changed her life.
"My friend was walking down the boardwalk with her mom," Smith said. "The look on their faces — it was very emotional. When I was loading my pictures later and saw that image, I woke my husband and told him I was going to be a wedding photographer."
That was 10 years ago. Smith now shoots about 30 to 50 weddings a year, locally and further afield, including shoots in Chicago, New York and Alaska.
"It's a very selfish thing to do a wedding," Smith said. "Weddings make me happy. And it makes me so happy when I take the best picture … Every day I'm so glad I went to St. George."
Given the popularity of the photo-sharing website Pinterest, wedding websites and TV shows, the pressure is on to have a perfect wedding — and perfect wedding photos.
"It's very common for a bride to share a bunch of Pinterest images and say, 'I like this and that,'" said Santa Rosa photographer Roland Moriarty. "I definitely give her the images she wants and also add my personal touch."
Moriarty said he approaches a wedding like a photojournalist.
"I'm looking for a story to tell while I'm shooting," he said. "Wedding photography has really gotten to the level of fine art."
Moriarty said he fell in love with photography in 1990. At the time, he was a talent agent and wound up shooting covers for some record albums.
"I had an appreciation for music and art, and one thing led to another," he said.
He reinvented himself as a full-time photographer and five years ago moved from South Florida to Santa Rosa Beach. Moriarty photographs models, families and does a lot of commercial and food photography as well as weddings.
Considering most weddings take place on the weekend, and there are 104 to 106 Saturdays and Sundays in a year, most photographers have a broad portfolio beyond weddings.
John Armour shoots community and holiday events and portraits as well as weddings, specializing in beach photography.
Photography appeals to his creative side. Armour received his Bachelor of Fine Arts degree from Columbus State University in Georgia. He later joined the Air Force, where he served for 12 years as a graphic designer and photographer.
"I gained a lot of experience utilizing different cameras and technology," Armour said.
While he was in the military, Armour earned a master's degree in management from Troy University in Alabama.
He's been on the Emerald Coast 12 of his 15 years in the photography business, operating Personal Touch Photography out of his Fort Walton Beach home.
Shooting a wedding is very personal, he said.
"Weddings are about two people in love, and their family is there to capture that moment. I get to be a part of that, and the memories I shoot will stay with them a long time."
Wedding photography has become so popular, he said, that some inexperienced people are passing themselves off as professionals. He always recommends that clients research the experience and knowledge of the photographer.
Tools of the Trade
Becoming a serious photographer isn't cheap. Aside from costs for classes or workshops, newcomers should expect to spend "at least $10,000," said Panama City photographer Alena Bakutis.
The cost is totally subjective, depending on how much someone wants/can afford to invest from the get-go, said Erica Manthey.
"It also depends on what they want to shoot," she said. "Weddings? Portraits? Sports? Commercial?"
Other considerations are whether to invest in new or used equipment, and whether to start on a lower grade and work your way up.
At the bare minimum, photographers will want to have two cameras in case something goes wrong. Camera bodies can be $2,000 and up. In addition, there are lenses, one or two flashes, memory cards, hard drives, computers, editing software and camera bags, as well as general liability insurance.
Many photographers, like Darris Hartman, work from home, which saves studio costs.
Hartman said she took pictures for free while she learned and got more experience — though she grew up around photography.
"My grandfather had one of the first studios in Alabama in the '20s, '30s and '40s," she said. "Everywhere we went, I was the friend with the camera."
But when it came to shooting her first wedding on a little farm in Milton, "I was so nervous," Hartman said. "There's no do-over. In a wedding, you don't get that moment again. You have to be on it."
And that's part of the appeal for many photographers.
"Weddings are special," said Panama City's Bakutis. "Every wedding is unique, and every couple is unique. It's more of a privilege that they chose you — and you do your best to make the wedding look fabulous."