Property Resuscitation
Edgewater Group adds values to properties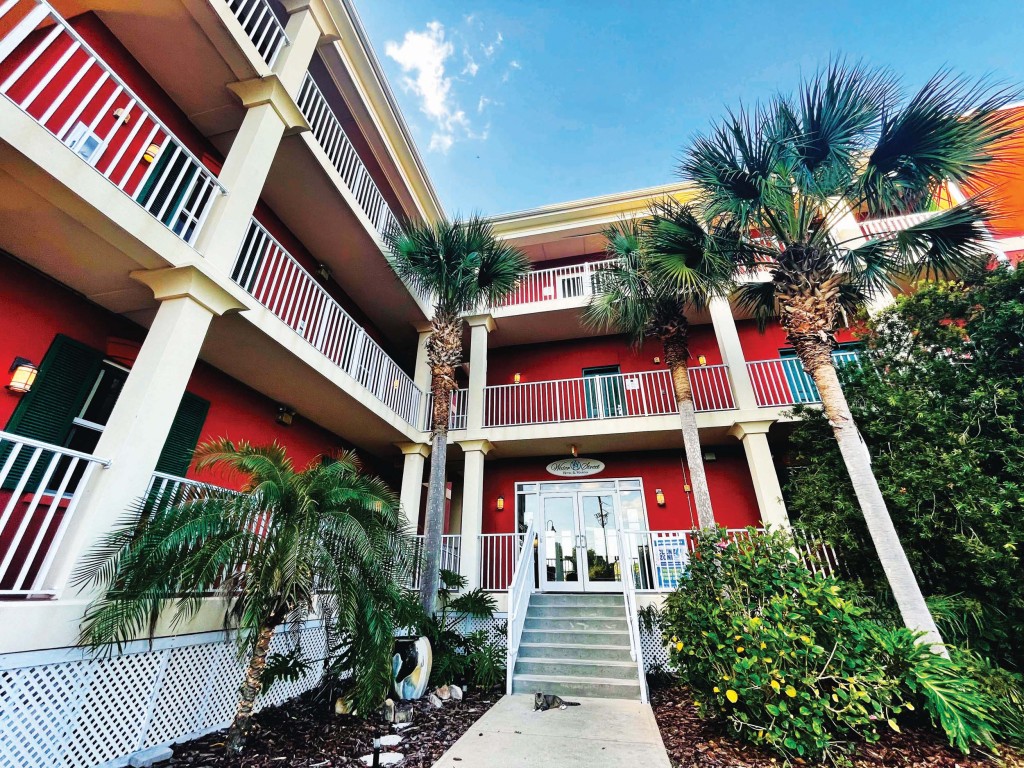 When times are good, Apalachicola teems with visitors who choose the quaint village for family vacations, romantic getaways or as the staging area for fishing trips.
But when the real estate bubble burst in 2008, the local economy went from boom to bust. The river of robust real estate investment that Apalachicola had been attracting went dry. Meanwhile, Apalachicola Bay's once productive oyster beds, which were scoured when it was feared that they would be smothered by oil from the Deepwater Horizon disaster, gagged for fresh water and struggled to make a comeback.
General manager Leigh Coble became the Water Street Hotel and Marina's first employee when interests from Key West and Atlanta combined in 2007 to develop what were intended as 30 luxury condominiums. When the market crumbled, only five units sold. In 20ı2, the property was foreclosed against.
A year later, Robert Brier and Ketan Vora, co-founders of a multi-disciplinary real estate firm, took an interest in the asset. For the two men, Water Street met the criteria they look for in an investment property that is down but not out and presents a strong upside.
Between 20ı3 and 20ı4, their Edgewater Group acquired two properties in Apalachicola: the Water Street Hotel & Marina and the Historic Coombs House Inn & Suites. At Water Street, they kept Coble, with her strong community connections, on board.
"Edgewater brought a lot of expertise and knowledge on how to run a hotel, and we needed it," Coble remembered. "Ketan was amazed that we didn't own any vacuum cleaners, but we just didn't have the money."
Brier and Vora sifted through financials and closely examined costs. Once the Edgewater team succeeded in making Water Street profitable, they started to invest, first in the property and then in the broader community.
"All of a sudden we were putting in new mattresses, TVs, sofas and furniture," Coble said. "We added a workout room, fixed up the pool and rolled on a new coat of paint. The Water Street finally looked like the luxury spot it was meant to be."
At the community level, Edgewater and Water Street support and sponsor events.
"We try to give back to the community and focus on hiring local employees," Coble said. "During hurricane Michael, we really saw the community come together. We had no power, but all of the restaurants donated food. So did we. We would all just head downtown and cook for anybody who needed it. After Michael, we felt like we needed to give more back and return a sense of play to children. So, we got together with some locals to sponsor a movie night with snow cones and popcorn. The whole community came out."
In 20ı9, Water Street became the first hotel in Apalachicola to become part of Choice Hotels, a national franchise and booking service.
"Edgewater has helped us get Apalachicola out there," Coble said. "Before Edgewater, nobody here did online booking. Now, we get a lot of European customers, and everyone is doing it. They have really changed the hotel business in Apalachicola, and it has had a major impact on
our community."
Started in 2008, Edgewater was at first an advisory firm that might, for example, help a bank upgrade its REO (real estate owned property) to a salable condition. Edgewater personnel served as expert witnesses in state, federal and bankruptcy courts across several states and acted as a receiver of distressed properties.
In recent years, it has added a separate company focused on real estate investment.
"We are focused solely on income-producing real estate in secondary and tertiary markets — hospitality, neighborhood retail, multi-family housing, office and mixed use," Vora said.
The investment company employs what Vora called a "land and expand" strategy.
"We find a property worthy of investment, acquire the asset and keep it growing," he said. "We like smaller markets because of the impact we can have on not just the investment, but communities and the people who live there. We are very active in our efforts to become part of the community."
As evidence of that, Vora noted that the Edgewater-owned Wyvern Hotel in Punta Gorda, a part of the Ascend group of upscale hotels, received the Ascending Community Service Award last October. The hotel supports Back Pack Kidz, a charity dedicated to feeding hungry children.
"We have managed our growth internally on the advisory side," Brier said. "On the real estate investment side, we have raised money from private investors in three different real estate funds that we manage for private equity firms."
In addition, Edgewater, itself, is working to establish a $100 million equity fund that Vora said will be leveraged to acquire $300-400 million in properties.
Established first in Pennsylvania, Edgewater now has an office in Tallahassee and is staffing up in anticipation of future growth.
"Our significant growth has occurred in the Southeast — Alabama, Florida and Georgia," Brier said. "We have a great base in Tallahassee that we are looking to expand upon."
Already, Edgewater has 200 employees.
"We acquire, we own, we operate," Vora said. "We are not what you would call financial re-engineers. We must be able to add value to the property. We must grow the top line as well as the bottom line."
Emphasized Vora: "We reposition assets versus just flipping them."
Vora said Edgewater found Tallahassee attractive due to its "economic diversity and stability from a risk-management perspective."
Its activities in Tallahassee have included acquisition of an office park, a hotel and a multi-family residential property that it expanded to include student housing.
Edgewater acquired the Valley Crossing Shopping Center near Tallahassee Community College when it was 50% occupied. When tenants saw Edgewater investing in the property, they became confident enough to make investments, themselves. A lawn mower repair business added a new mower showroom, and a hair business doubled its size.
The property was fully leased up when Edgewater sold it in June 202ı.
For a profit of $ı.35 million.