Progress Toward Diversification
David Bear is pleased with Triumph's impacts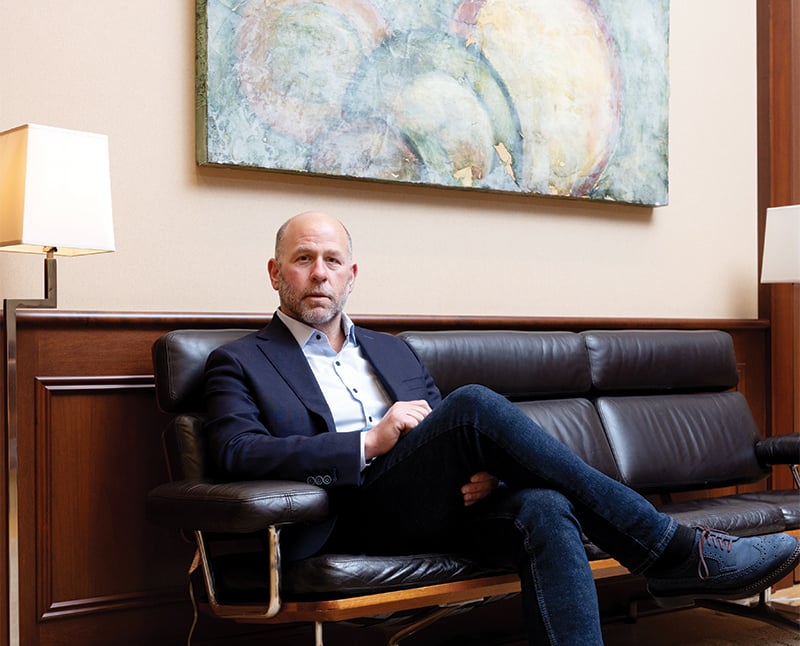 For years, the Lewis Bear Co. made its money as a distributor of Anheuser-Busch beers. The supplier incentivized its Pensacola-based wholesaler to deal exclusively in Budweiser products, and the business steadily grew — until it didn't.
As of about 2005, imported beers and craft breweries had begun to claim significant market share in Lewis Bear territory. Meanwhile, the overall demand for beer wasn't growing, meaning that the interlopers, from the standpoint of Lewis Bear Co. CEO David Bear, were "cannibalizing" the market.
Bear, his brother Lewis Bear III and his brother-in-law Chad Bonner huddled to discuss the disturbing trend and arrived at a consensus. It was time to diversify. They would forgo the Anheuser-Busch incentives and begin to distribute other brands.
"Craft beers are lower in sales volume but higher in margin," Bear said. "We picked up a couple of companies that offset the incentives that we had been getting in the first year (following the decision to diversify). Diversification worked for us financially, and we no longer had all of our eggs in one basket."
It wasn't the first time that the 150-year-old Lewis Bear Co. had changed its business model. Originally established as a chandlery, the company at various times in its history has been a wholesaler of groceries, appliances, firearms and, during Prohibition, alcohol as medicine.
"The business is always evolving," said Bear, who noted that the company's portfolio in recent years has come to include small-batch distilled spirits, cocktails in a can and Copa di Vino individual servings of wine. "That's a big reason for our continuing success. Each generation has understood that things change, and if you don't change, you get left behind."
For Bear, the business in microcosm resembles the Northwest Florida macrocosm. Events including the Deep Water Horizon oil blowout of 2010, Hurricane Michael in 2018 and the COVID-19 pandemic have made clear the vulnerabilities of a region with all of its eggs in two baskets.
"We have military bases that are a huge economic driver for our area, and we have tourism because of our beaches," Bear said. "But our economy has been way too dependent on those sectors. The oil spill showed us how exposed to risk we were. It was an eye-opener. And there is always the threat of hurricanes and Base Realignment and Closure commissions."
It's been time to diversify.
Bear is a member of the board of Triumph Gulf Coast, a nonprofit established by the state Legislature to administer $1.5 billion in reparations that BP agreed to pay Florida as compensation for the Deepwater event. He was appointed by Gov. Ron DeSantis to a four-year term that expires July 1, 2025. At this writing, he is the board's chairman, referred to by fellow board members as Chair Bear.
Public sector entities in eight coastal counties — Escambia, Santa Rosa, Okaloosa, Walton, Bay, Gulf, Franklin and Wakulla — are eligible to apply for grants pursuant to guidelines in state law. Triumph's overriding mission is to use the BP money to provide for the diversification of the regional economy. Accordingly, it is receptive to job-generating proposals that advance that aim.
To date, the board has encumbered a little over $500 million. Depending upon the proposal, grant funds may be disbursed over periods of up to 10 years almost like draws on a construction loan.
"We are doing really good work," Bear said. "Communities have come together and come up with really great ideas. Through the Triumph Gulf Coast program, we have put Florida on the map for site selectors. It used to be that most everyone who wanted to come to Florida was looking at South Florida. Anyone who by chance wanted to come to Northwest Florida or South Alabama was going to South Alabama because it was putting so much money into economic development.
"Triumph has really been a game-changer for this area."
Bear applauded efforts by school districts and the region's colleges to create workforce development curriculum in areas including cybersecurity and entrepreneurship among others.
The Triumph board, at its March meeting, approved an $8.075 million grant to Bay District Schools as partial funding for the construction of an approximately 11,500-square-foot career and technical education building and ancillary space that will house eight programs in construction and health science at J.R. Arnold High School in Panama City Beach.
"Our schools are training students so that businesses assessing our area can say, 'OK, a ready-to-go workforce is in place there,'" Bear said.
Getting a proposal from the idea stage to grant contract approval is a multi-step process.
The board encourages intended applicants to first run their idea by Triumph staff to ensure that it is an eligible activity.
Cori Henderson, formerly the director of business development at Enterprise Florida, is Triumph's program administrator. She assesses proposals to guard against the possibility that they might duplicate projects already underway; result in competition that might result in a net loss of jobs; or merely amount to the relocation of an activity from one coastal county to another.
Rick Harper, who holds a doctorate in economics from Duke University and held several positions at the University of West Florida, is Triumph's economic advisor. He calculates the return on investment that proposals can be expected to generate in terms of job generation and growing the region's household income.
Applicants with what appears to be a qualifying idea proceed to a pre-application summarizing their proposal and then a more extensive formal application. Henderson and Harper score the proposals and may recommend them for approval by the board.
Once approved, proposals figure in the preparation of a term sheet and finally a contract. Both documents require board ratification. Contracts include a clawback provision whereby Triumph can reclaim grant funds if a grantee fails to meet performance criteria.
Despite what appears to be a lengthy process, Northwest Florida State College president Devin Stephenson, addressing the board at its March meeting, complimented Triumph for the speed and efficiency with which it handles applications.
"If applicants have their program laid out and know what they are going to do, the process can go quickly," Bear said. "We have had times when we had a term sheet and a contract for the same project on a meeting agenda.
"We have been assigned a job, and we want to employ this funding and make the biggest impact we can while guarding against being in too much of a hurry. We want to award grants at the right time at the right place with the right people."
Sometimes interfering with success is a challenge especially true of coastal counties.
"Our struggle is going to be that we've got these great companies that want to come here, and we have these students who want to do the work, but they can't afford to live anywhere near the jobs," Bear said. "These are coastal counties, and real estate near the coast is super expensive."
Bear is hopeful that a housing bill signed into law by the governor on March 29 may help. Among other provisions, it authorizes local governments to create ad valorem tax exemptions for portions of property used to provide affordable housing that meets certain requirements.
"Triumph is not going to get into the business of building homes," Bear said, thinking ahead, "but maybe we can help with public infrastructure related to housing developments."
The Chair Bear never hibernates.
---
The Wisdom of Papa Bear
The late Lewis Bear Jr. served David Bear and his siblings as a mentor and powerful formative influence in life and in business. Here are three lessons that David Bear said his father impressed upon him.
Make decisions. Right or wrong, make decisions and hope that the wrong decisions don't cost you too much money and that you learn from them. If you are going to be a leader, you have to make decisions.
Trust and verify. Trust what people are telling you, and then verify it.
Do what you say you are going to do. Be honest.
Said David Bear, "When it came to politics and other arenas, my father respected people if they were honest with him, even if they were on the opposite side of an issue. If they said they were with him and then voted against him, he didn't forget that."
---