'Predicting the Future By Creating It'
Economic symposium brings region's change agents together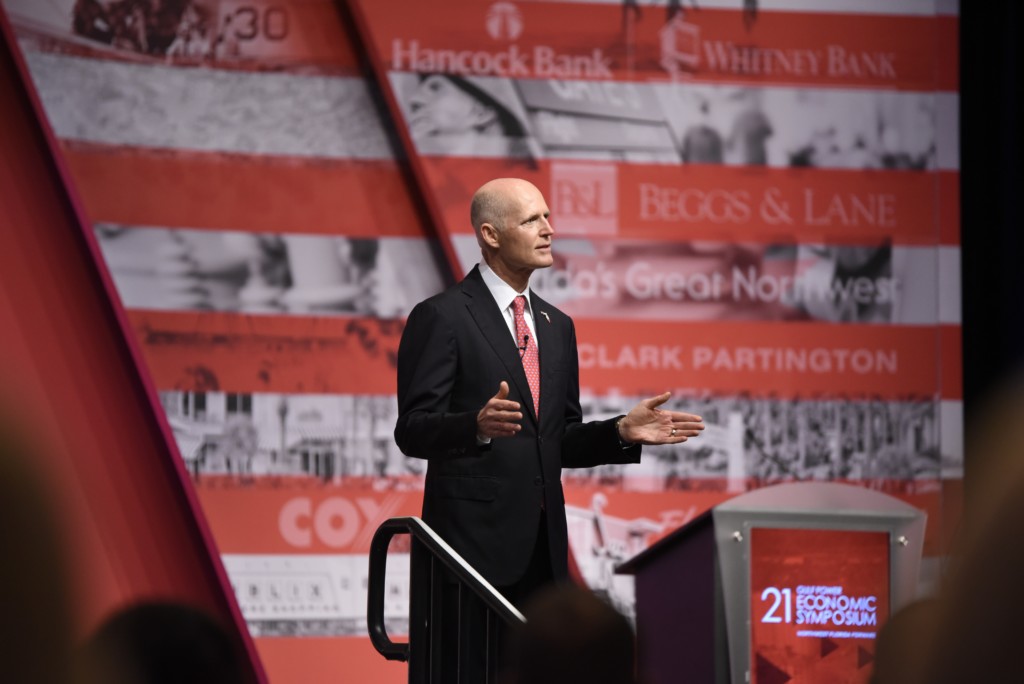 With a nod to the creator of the 1960s series, The Jetsons, Stan Connally, the chairman, president and CEO of Gulf Power, pointed out that the future is now. Behind him, a slide on a projection screen featured a self-guided cartoon vacuum cleaner that saved Jane Jetson a lot of work opposite the Roomba that has come to be. Next slide: Rosey the Robot from the Jetsons alongside a real-live contemporary robot capable of completing complex tasks including climbing steps.
With the pace of change increasing all the time, Connally emphasized to the more than 600 people who attended the 2017 Gulf Power Economic Symposium at the Sandestin Golf & Beach Resort, that we must anticipate the next future and the one after that. That consideration is daunting and invites big questions. For example, Connally noted that, based on population projections for a 13-county area of Northwest Florida, the region will need to create 57,549 jobs between now and 2030 if current employment levels are to be maintained.
Where will those jobs come from? What will the nature of those jobs be? What impacts will technology have on the workforce? How do we guard against people being left behind when robots displace humans in workplaces? Inattention to those questions, Connally said, is not an option.
So it was that the premise that undergirded the symposium was: The Best Way to Predict the Future is to Create It … Together.
LAWRENCE DAVIDSON
Globally, what is the environment in which NW Florida will work to create a bright future? From the standpoint of the United States, things look good, said symposium speaker Peter Zeihan, a geopolitical scientist whose books include The Absent Super Power.
"The era of the United States running a global system is over," Zeihan said, suggesting that President Donald Trump is at the head of a trend that will last into the decade of the 2070s. The U.S., he said, has entered an era of "narcissistic populism" and Mr. Trump will be the "most inclusive, most international, least populist president" we will see in the next 50-plus years.
But, argued Zeihan, the U.S. can afford to disengage. Energy, he said, was the last factor that strongly tied America to the international economy and the U.S. has now become a net exporter of energy. Our country's natural resources, he said, put the U.S. in a great place on the global security map even as its two major political parties struggle to know where they are. Democrats and Republicans are struggling to articulate what they want or what policies to embrace. Groups including Hispanics, Roman Catholics, business leaders, union employees, people favoring abortion rights and people concerned about national security issues used to fall squarely into one camp or the other. Now, they are all swing voters.
Still, said Zeihan, the U.S. will carry on and succeed.
Building on Zeihan's remarks, Mark Wilson, the president and CEO of the Florida Chamber of Commerce, asked symposium attendees to consider "what we can control in the midst of chaos and uncertainty." He introduced five speakers who represented businesses, some traditional and other new and transitional, which have successfully navigated today's shifting opportunities, threats and challenges. Attendees heard from representatives of a lumber company, an aerospace manufacturer, a paper mill, a maker of stand-up paddleboards and the developer of a computer app that generates alerts when cameras detect departures from normal activity patterns.
In total, the five companies served to demonstrate the adaptability and diversity of businesses whose products are "Made in Northwest Florida."
Madeline Pumariega
LAWRENCE DAVIDSON
Another collection of speakers addressed the foundational importance of education to any regional economy. Madeline Pumariega, a first-generation American and the chancellor of the Florida College System, said success today absolutely requires a post-secondary credential. She introduced Vance Aloupis, CEO of the Children's Movement of Florida; Hershel Lyons, chancellor, Florida Public Schools; Dr. Devin Stephenson, president, Northwest Florida State College; Dr. Martha Saunders, president, University of West Florida; and Randy Hanna, dean, Florida State University Panama City.
Together, they testified to the liberating, transformational and uplifting rewards of education. Moving students from a posture of learning to read to one of reading to learn, they said, is a social, moral and economic imperative.
The symposium was not without light moments. Molly Fletcher, a sports agent and author, touched on the often awkward meetings between work and life and recalled the time she went to a meeting with NBA coach Doc Rivers very shortly after learning that she was pregnant with twins. It was hard under that circumstance, she said, to take her own advice and "remain present."
Success, she said, has a lot to do with managing not so much time as energy. It's important, she said, to choose to invest energy only in persons who are "better than their problems."
It is safe to say that the symposium attracted a conference center full of people who fall into that category.