Port of Pensacola and Pensacola International Airport are Economic Dynamos
The Port of Pensacola and Pensacola International Airport are economic heavy lifters in this region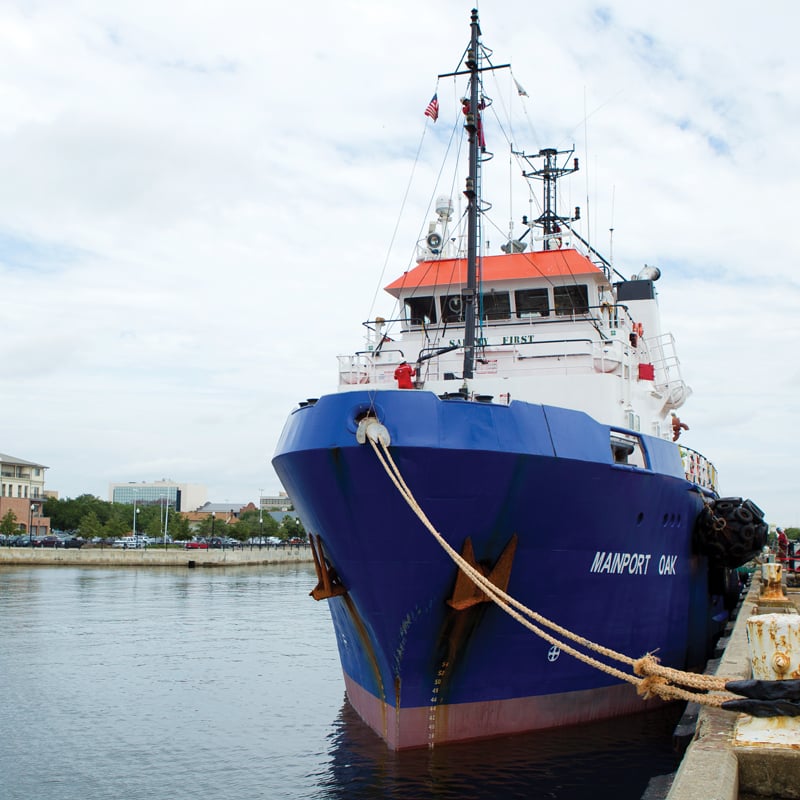 Two of this city's biggest economic dynamos — the Port of Pensacola and Pensacola International Airport — are embarking on new business ventures that will add a total of 500 new jobs and millions of dollars to the local, and regional, economy.
A lease agreement signed this past summer solidifies the hold that the city-owned Port of Pensacola has on a critical segment of the oil and gas industry. For the past five years or so the port has been a service depot for a wide range of ships and vessels that service the needs of exploration, surveying, pipe-laying and harvesting of oil and gas. Today, the latest development is that port client Offshore Inland Marine & Oilfield Services will team up with DeepFlex to build a major undersea pipe manufacturing plant here.
The new plant will hire 200 new workers, which will dramatically add to the port's current workforce of about 100 full-time employees, according to Port Director Amy Miller. The average wage of those new workers will be at least 115 percent of the regional average, she said.
"It's a huge economic development project, not just for the port but for the region, and it really gives us a foothold in the offshore oil and gas industry," Miller said. "The pipe that is manufactured at this plant will be deployed to oil and gas production projects not just in the Gulf of Mexico but all over the world. About a year from now you're going to have flexible composite pipe that's stamped 'Made in Pensacola' all over the world."
When the plant gets going in the second half of 2015, it's expected to crank out up to 62 miles of special pipe a year. Pensacola Mayor Ashton Hayward said the new facility is the result of dogged campaigning.
"Two-and-a-half years ago, I set out a new vision for our port, designed to position it to better compete in a changing global marketplace and to be an economic engine for our region," he said. "We are beginning to see results. The constant modernization of subsea oil and natural gas production, combined with our nation's renewed dedication to reducing dependence on foreign oil, has provided new opportunities for our historic port to play an important role in our city's economic growth and diversification."
Just how big a player is the offshore oil service industry? Overall offshore expenditures in the Gulf of Mexico are expected to reach $167 billion between 2013 and 2016, officials said. That amount can only go higher as more areas of the Gulf are explored, Miller said.
"There is evidence that there is oil and natural gas producing capacity in the eastern Gulf from the Louisiana/Mississippi border eastward to Florida territorial waters," she said.
But deep-sea pipe manufacturing isn't the only industry coming to Pensacola. The city recently signed a lease with VT Mobile Aerospace Engineering — a world leader in aircraft heavy maintenance — to build a major maintenance, repair and overhaul facility at Pensacola International Airport. Three hundred jobs will be created, each with an average salary of around $41,000. Officials said that VT MAE is one of the world's leading MRO companies and will provide a crucial boost to the regional economy.
Under the terms of the lease, the city will build an aircraft hangar on nearly 19 acres that can accommodate two wide-body passenger aircraft. It's expected to be ready to go in mid 2016.
"By working with VT MAE, we will be able to create good, high-paying jobs and cement Pensacola's position as a true contender for aviation and aerospace industry investment," said Mayor Hayward. "This partnership aligns well with our regional goals to create a robust aerospace cluster and will help create greater business and job opportunities for the citizens of Pensacola and Escambia County."
Interim Airport Director Daniel Flynn said the airport is a large economic engine that already has about 1,700 employees. Regionally, the airport provides more than 5,772 jobs and produces an annual direct and indirect impact of over $565 million. Pensacola International Airport served 1.5 million passengers in 2013.
"So you can see that one tenant bringing in 300 additional jobs is a significant increase in the number of individuals employed at the airport," he said.
Like their counterparts at the seaport, Flynn is hoping the airport is able to capitalize on ancillary industry sectors within the aerospace industry.
"As the Airbus plant in Mobile opens up, Pensacola is situated in an ideal location for some of the second- and third-tier suppliers to be located," he said. "We're far enough away that Airbus and a second- or third-tier supplier in Pensacola aren't competing for the same labor pool, yet we are close enough to accommodate the needs that they might have. So as we progress with some of our economic development initiatives we are looking at other airport properties to attract some of those other suppliers."
Passenger service, meanwhile, is up slightly and several direct flights have been added, Flynn said. Gone are the days when flying anywhere out of Pensacola involved a stop in Atlanta — although Atlanta certainly is still one of the airport's major markets.
"We have direct nonstop service to a lot of major hubs. If you go west, you have direct service to Houston, direct service to Dallas; to the north, you have direct service to Atlanta, Nashville, Charlotte, and on Saturday and Sunday you have flights to Washington, and to the south direct service to Miami and Orlando, Tampa," he said. "So, again, the Pensacola airport has very good air service connections. We are very pleased with where we stand in terms of commercial service out of Pensacola. We are working with the incumbent carriers to open up new markets that might benefit them and us, and other entrants who could augment the service we already have."
Flynn said that while everybody focuses on growth and travelers want to see more carriers added, the thing to remember is a lot of airports have experienced significant decline in the number of passengers over the past few years. Not so at Pensacola, he said.
"From a traffic standpoint we are happy with where we are. Last fiscal year we were 2 percent above where we were (the previous) fiscal year in terms of passenger counts," he said. "Obviously trying to work in this economic environment the last few years has been challenging, however Pensacola has been successful in maintaining service levels."