Plotting Frenchtown's Future
Commitment to renewing community remains strong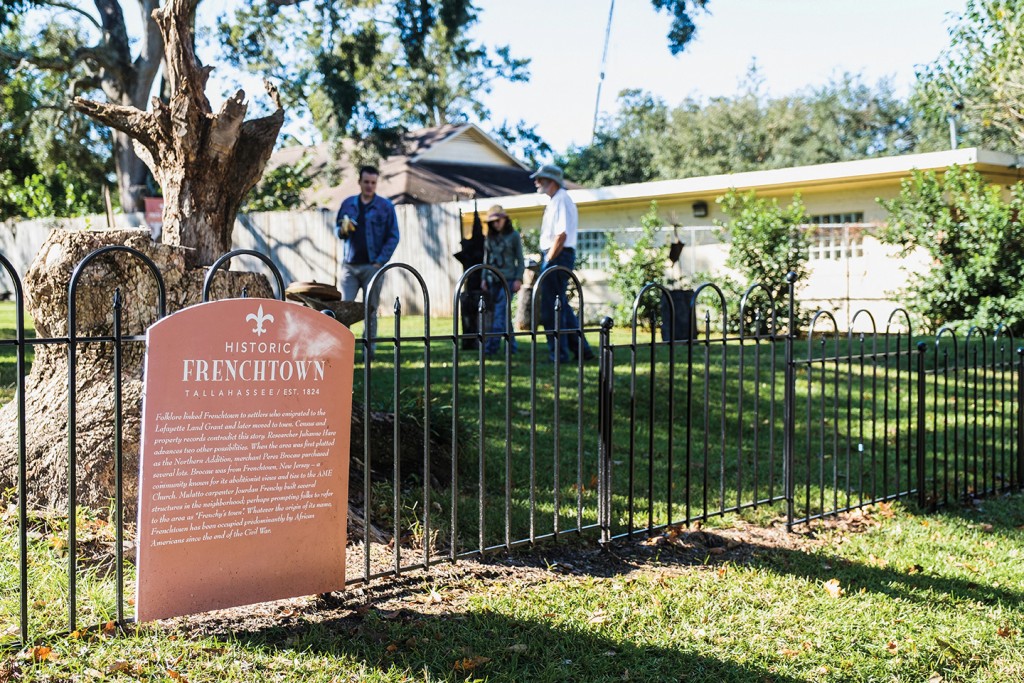 Wayne Tedder, the assistant city manager in charge of development and economic vitality for the City of Tallahassee, understands that an adage like "Rome wasn't built in a day" definitely applies when it comes to local building projects.
During a career that has included service as the director of the Tallahassee-Leon County Department of Planning, Land Management and Community Enhancement, and Blueprint 2000, Tedder has tracked numerous "visionary projects" on their long roads to completion. While many of them have materialized as planned, others have "shape changed," morphing into a different project, contracting or expanding as economic or social forces dictated.
Today, Tedder is involved in what may be one of the most long-lived of Tallahassee's visions: the revitalization of Frenchtown, a large predominantly Black community in the heart of Tallahassee.
With unflinching tenacity and foresight, community leaders have pursued neighborhood preservation and enhancement since at least ı986, when Bethel Missionary Baptist Church's pastor, Rev. R.B. Holmes, and his congregation committed to remaining in the center of what had become a blighted and underserved area. They vowed then to "not give up on one of Tallahassee's most historic Black neighborhoods."
Holmes has led his church for nearly 35 years to acquire and consolidate land and make a $30 million commitment to the rebirth of a place they believe in.
Originally, Frenchtown was named after the French settlers who cleared the area as part of a land grant to the Marquis de Lafayette, a thank you for his help during the Revolutionary War. After the Civil War, African Americans moved in and began to establish neighborhoods — Lehigh Acres, Griffin Heights and Smokey Hollow among them. Vibrant, self-sustaining, filled with Black-owned businesses and churches and schools, the Frenchtown area of the ı930s, '40s, and '50s is now remembered by seniors who grew up there as an idyllic place where "everyone was your mama."
But neighborhoods have a way of changing. The city was expanding, and Frenchtown felt the impact of that sprawl. Also, with the end of segregation in the ı960s, many long-time residents were able to move to other neighborhoods and find other opportunities. Unfortunately, "opportunists" saw an opening. Frenchtown became a hub of illegal drug activity. Local businesses were shuttered, and the close-knit neighborhoods disintegrated.
Holmes and his congregants named their mission "Vision 2000" and laid out plans for what the church would do. The Steele-Collins Charter School and Bethel Christian Academy were built. Bethel Towers for seniors came next, and Carolina Oaks followed. Bethel invested in a restaurant, a mental health clinic and a small shopping strip for retail businesses. The city's Community Redevelopment Agency brought about the offices of the Renaissance Center.
Residents were taking back their neighborhood, but so much more was needed. Partnerships had to be formed.
The CRA, established in ı998, whose mission would be layered and complicated, envisioned a total renewal of the area. Now, the City of Tallahassee, along with Bethel, Jacksonville developer Tony Brown, a Citizen's Advisory Board, the Frenchtown Neighborhood Improvement Association, Frenchtown Redevelopment Partners, university interests, and residents, are working to actualize the scaled-down but ambitious plans currently on the drawing board.
Though the initial vision included an amphitheater, a business incubator, a drug store, large grocery, urgent care facility, financial center, transportation hub and over 300 housing units, plans are currently proceeding at a deliberate pace.
Imminent realities include a 3,500-square-foot urgent care center and a ı0,000-square-foot neighborhood health center. Brown said, however, that the pandemic and its effects on the economy have made it hard to secure a grocery store. Instead, he is now contemplating the possibility of downsizing to a farmer's market where fresh foods and meat can be purchased to address the food desert of Frenchtown.
Keith Bowers, director of the Small Business Development Center at FAMU, said that the FSU and Envision credit unions occupied space in Bethel's strip mall, but those operations have since become mobile due to the financial industry's greater reliance on digital platforms.
Miaisha Mitchell, executive director of the Greater Frenchtown Revitalization Council, knows that economic uncertainty has a lot of players thinking twice.
"Timing has put us in an awkward position with tenants, investors and planners," Mitchell said. And, she acknowledged that revitalization project costs have risen from an estimated $78 million to $ııı million.
Still, stakeholders including Tallahassee Mayor John Dailey are optimistic.
"Frenchtown is the oldest African American community in the state of Florida," he said. "It is important to the entire city of Tallahassee.
"Yes, there are many challenges and many interests involved, but that only strengthens my excitement that so many care about Frenchtown and want to be involved. We can bring it back. It can be done."