Playing in the Ecotourism Space
Tourism officials says region is in good position to compete for adventurers' dollars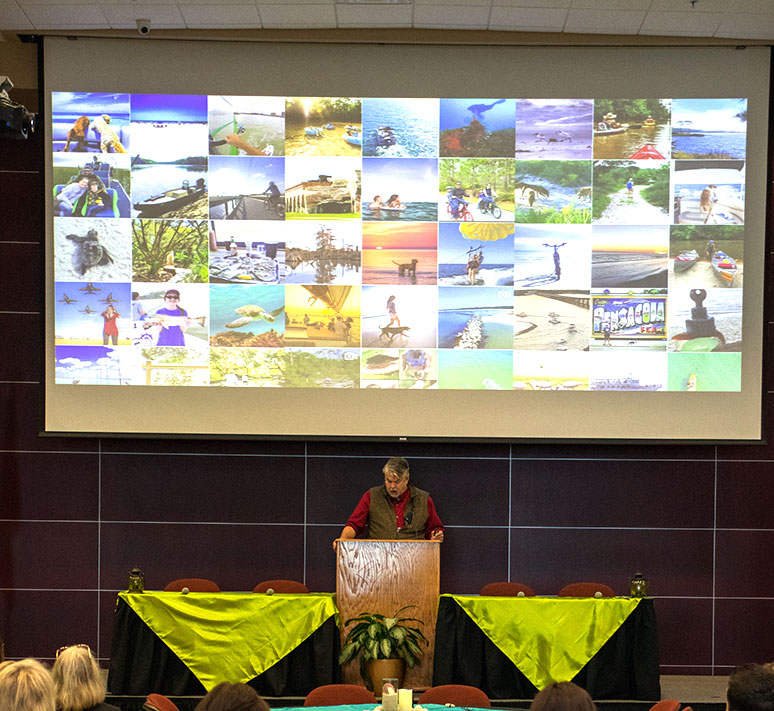 Ecotourism is the stuff of bucket lists, Dan Rowe told participants in a Northwest Florida Ecotourism Summit held Feb. 25 at Florida State University Panama City.
"Elite trips," he said. "Trips of a lifetime. The kind of experience we associate with destinations like the Galapagos Islands, Costa Rica or the Serengeti plains."
Rowe, the president and CEO of Visit Panama City Beach, then challenged his audience to consider whether Northwest Florida can compete in that space.
"Are we legit?" he asked.
Rowe then answered his own question with a resounding "yes."
To Northwest Florida's advantage, he said, is the relative accessibility of priceless experiences ranging from a 2-year-old inspecting a hermit crab for the first time to paddlers coursing Holmes Creek.
Rowe noted a trend — "high tech, high touch" — identified by John Naisbitt in his 1982 bestseller, Megatrends. Naisbitt theorized that in a world increasingly dominated by technology, people will long for personal contact. Or, as Rowe put it, they will seek to "surround themselves with the things they hold near and dear" while reconnecting with others away from life's daily stressors.
"Tourism," Rowe said, and perhaps especially ecotourism, "embodies the American ideal — life, liberty and the pursuit of happiness."
Still, he added, ecotourism is not removed from threats. He cited three:
A concern that ecotourism may harm sensitive environments.
"Flight shaming," an effort on the part of some environmental advocates to discourage jet travel due to its polluting effects.
The coronavirus and fears that it may interrupt travel and produce an economic slowdown leading people to postpone or cancel vacation plans.
Rowe believes that Northwest Florida is well positioned versus those threats. In addition to the accessibility factor, he noted that the region is close to most major U.S. markets, offers a great variety of experiences and affords visitors lots of room to explore.
Rowe encouraged ecotourism operators in Northwest Florida to "leverage destination marketing organizations to collaboratively tell your stories."
At the statewide level, Dana Young is the CEO of such a marketing organization, Visit Florida. She made a case for the quasi-public agency's perpetuation even as Jose Oliva, speaker of the Florida House has argued that it is a waste of tax dollars.
Young, a sixth-generation Floridian, identifies herself as someone who relates more closely to a question about favorite swimming holes — she has a fondness for Manatee Springs — than one about favorite theme park rides.
Young told the summit that for every state tax dollar it receives, Visit Florida generates a return of $2.15. She noted in particular a 2018 Visit Florida "Adventure Campaign" that was focused on ecotourism and generated, she said, a 26.6 percent increase in that activity.
And, Young stressed Visit Florida's value in combatting "negative media coverage" resulting from storms and other climatic events.
Such coverage, if purchased, she said, would have equated to $35 million in the case of Hurricane Michael, $22 million related to recent outbreaks of red tide, and $44 million spawned by Hurricane Dorian.
"Visit Florida is the only entity capable of countering such media," Young said.