Plastics Manufacturer Goes Green
Jefferson County's VizCo-US is Florida's only solar-powered manufacturer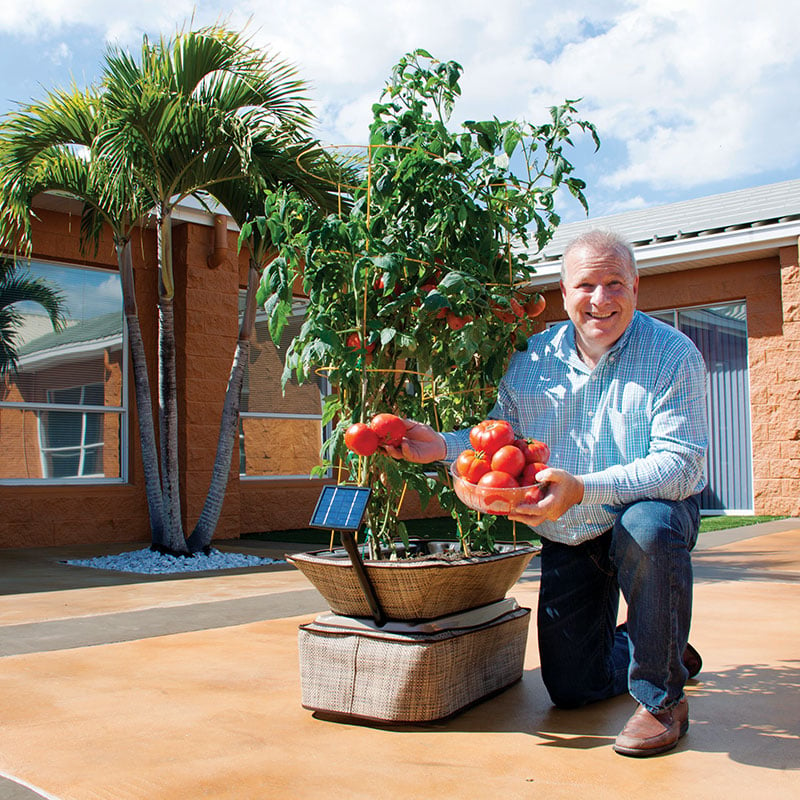 The photovoltaic panels, stacked two high and marshaled row upon row in a seemingly endless array, occupy nearly half of a 10-acre field in the Jefferson County Industrial Park. Composed of 3,280 solar panels, each 3 1/2 by 6 feet, the ground-mounted assemblage of skyward-angled blue-gray reflective boards is designed to generate 1,450,000 kilowatt-hours of electricity annually, more than enough energy to power an adjacent manufacturing plant.
The plant, solar array and surrounding acreage (on which sheep graze, eliminating the need for mowing) are the property of VizCo-US, a manufacturer of "vizionary products" based in Bradenton, Florida. VizCo produces innovative components for the heating, ventilation and air conditioning (HVAC) industry. These products, which include alarms, drain pans and pipe clamps for water heater tanks, are largely fabricated at the Jefferson County facility and marketed worldwide.
Most recently, VizCo added to its offerings the Simple Garden, or "SimGar," described as "the grow whenever, wherever container" or "the world's only anytime, anyplace gardening system . . . scientifically engineered to simulate ideal growing conditions." Which is to say that the SimGar is a solar-powered, self-watering, self-aerating, indoor/outdoor, portable plant-growing unit.
Christopher Cantolino
VizCo's president, founder, idea man and self-described "top dog" is Christopher Cantolino, formerly head and founder of Resource Conservation Technologies Inc. (RCT), a company that for nearly 10 years led in the manufacturing and marketing of condensate sensors and pans for the HVAC industry. As Cantolino explains it, RCT and a competitor merged in 2013 to form VizCo, which was officially launched in January 2014 and emphasizes "U.S. made" in its products.
Cantolino opened the Jefferson County factory in 2007, and in 2014 he expanded the facility in anticipation of increased production, augmenting the plant by 5,594 square feet (to 33,938 square feet total) and adding the solar array. The reason for the array was not only to secure a cleaner and cheaper source of energy but to increase efficiency and maximize production by countering the not-infrequent fluctuations in electrical current that were playing havoc with the manufacturing process.
"It's all about cutting costs and doing things faster, better and cheaper," says Cantolino, whose quest for the competitive edge makes him a passionate adherent of speed, efficiency and innovation.
With the installation of the solar array, VizCo has also seemingly gained a singular distinction in the state.
"To our knowledge, VizCo-US is the only manufacturing facility in Florida completely powered by solar through net metering," says Andrew Tanner, the owner of Region Solar, the Sarasota-based company that installed the array and that installs similar systems across the state and the country.
Tanner's assessment of VizCo's unique status as the state's only solar powered manufacturer, particularly in the Panhandle, is supported by Duke Energy and Gulf Power, the two electric companies that serve the North Florida region. Spokesmen for the two utility companies say that to the best of their knowledge, no other manufacturer in their respective territories is solely powered by solar energy in conjunction with net metering.
Both a concept and set of laws, net metering allows solar power generators to tie into the power system and gain credit for whatever electricity they contribute to the grid. This means that any excess energy that VizCo produces during daylight hours is credited to the company against what electricity it uses at night (it frequently operates on 24-hour shifts), on rainy days or during other periods when its electric consumption exceeds its solar system's output. Duke Energy then bills VizCo only for its "net" energy use.
Cantolino can point to data charts showing that the solar system is producing more than enough energy to run his plant as well as power the nearby Jefferson County Sheriff's Office and jail, should the latter choose to avail themselves of the electricity. That's saying something, given the high energy consumption of the factory's massive thermoplastic-molding equipment.
Indeed, to tour the plant in the Jefferson County Industrial Park is to gain an appreciation of the magnitude, complexity and sophistication of the mega-machinery that create the plastic parts that constitute VizCo's products. These machines include an enormous extruder and several different-sized thermoformers. The extruder converts small plastic materials (beads or pellets and such) into large, solidified plastic sheets via melting, melding and molding. The thermoformers then reheat the sheets and shape them into various configurations, followed by the trimming and finishing process. At this point, the different products are quality-inspected and stacked for shipment.
"One hundred degrees is cool to us when these tools operate at 400 to 500 degrees," says Cantolino, explaining that vast volumes of water are required periodically to cool the machines, thereby conserving energy and minimizing the equipment's wear and tear, as well as lowering the temperature on the newly molded products. "We use a lot of energy, but we're trying to economize."
Examples of that economization include the use of the solar array and the utilization of every bit of plastic in the production process, so that scraps remaining after the trimming process are collected, reground and reprocessed to make new products, ultimately leaving only dust waste.
"We produce 20,000 pounds of finished sheets in a 24-hour period," Cantolino says. "And in a year, we process a million pounds of material. Our inventory of raw material is anywhere from 50 to 500,000 pounds, so space is critical, which is one reason we expanded the storage space."
Although his background is in marketing, Cantolino is always postulating "what if" propositions and coming up with solutions to problems or ideas for new or improved products, a knack he has exhibited since childhood. Among his latest ideas in development: an upgraded SimGar model that makes it more palatable for upscale settings; a system to cool solar panels and improve their efficiency; and a worm-house attachment that would make the SimGar self-fertilizing.
"I come up with ideas out of need," Cantolino says, adding that if he had the time, he would indulge his creativity and the pursuit of his ideas that much more. "Everything I do is because I want something better or nicer."